Advice From Married Women PART 1: YBF Talks To "Baggage Claim" Star LaLa Anthony About The Ideal Man, Cheaters, Relationship Boredom & How To Find Real Love
Aug 21 | by Natasha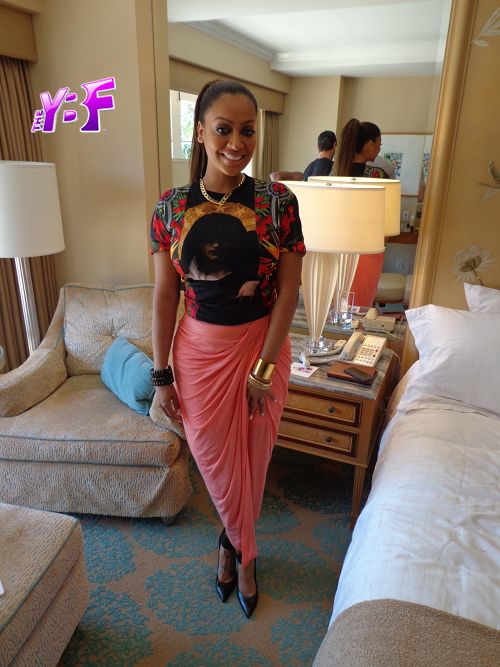 LaLa Anthony is a married woman who has a piece of advice or two for single women...and those in relationships themselves. And with her role in the upcoming romantic comedy Baggage Claim, she's giving her own take on how to find the true love of your life....and how to test his loyalty to you.
Check out our interview with the fab actress, makeup creator, reality star, mom & wife inside...
Recently at the press event for David E. Talbert's Baggage Claim at the Four Seasons in L.A., we caught up with LaLa Anthony, who looked fab in a Givenchy top and a sexy Helmut Lang skirt with Gionbe Del Rossi shoes, about everything women love to chat about: Finding "the one", checking his ass when necessary, juggling kids fabulously while being a working mom, and what to do when the passion runs out of a long relationship.
Oh, and we found out about her first meeting with her friend Kim Kardashian's baby North West.
The "Full Court Life" star (and author of the upcoming relationship book The Love Playbook) has been with her hubby Carmelo Anthony for a total of 10 years, so she's giving us real advice straight from the married woman tip. Soak it up below...
Tell us about your character:
So I'm Tanya in ticketing. I'm part of the scheme that helps Montana find her love and stall him at the airport and I just think its really fun because they are so many airport stories people don't know about -- this hidden culture of things that happen at the airport and its cool to kinda bring light to it through a fun romantic comedy that shows you that sometimes the best things are in front of you and you don't even realize it.
How did you come into this role?
I auditioned for it. David E. Talbert, our director, is just so amazing. He's been so great and when I see the cast even at these press junkets where you run into everybody it's just so cool and it's such an awesome cast.
What are your traveling essentials?
I like to have great reading material. Its a chance to have no phone -- no texting or anything. I'm able to read a lot of things. Catch up on good movies for me and my son. I also find an airplane is a time for us to really talk and there's no interruptions and just really have fun with each other.
What's the secret to traveling with children?
Generally, when I'm traveling with my son he travels with me everywhere so its not about me being comfortable its about him being comfortable so I have an iPad, a DS, fruit snacks, fruit, anything to keep him occupied. Poor kid sitting on a plane for five or six hours is a long time and we travel often between LA and New York. I always do things to make him comfortable.
Has your son Kiyan ever embarrassed you on a flight?
Only when he was younger just because you know with newborns he's tired and cranky and you can't calm him down and I feel for parents now when everyone is giving them dirty looks. Its just something you can't control. I remember just being embarrassed like 'I want him to be quiet but I can't stop him!' Everyone is kinda looking at you like I wish you would shut that baby up!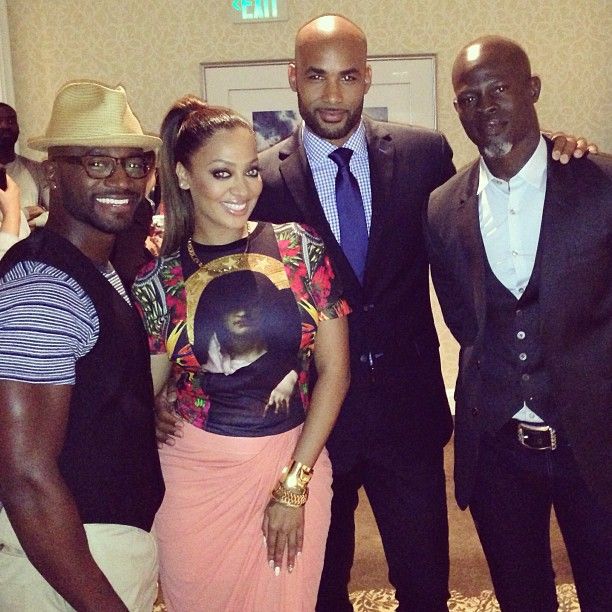 Who from the cast would be your ultimate travel buddy?
Its so many fun people from the cast. Boris and I have a great friendship. He's such a funny guy. I worked with him on "Real Husbands of Hollywood" and he's so attractive that I think people forget or don't know how funny he is. So i feel like if me and him were traveling, me and him would laugh at everyone and anything the entire time. From a girls perspective, all the girls are fun. Paula, Jill, Christina, Lauren they're all really fun spirits and I'll take any of them.
What is your description of the Ideal man?
I think, really, a friend. [SPOILER ALERT] A guy that I'm friends with which is what happens in this story. He was right in front of her and she didn't realize it. Most of the times, the best relationships are based on friendships I would look for a guy that is my best friend that I could be my true self with, that I can strip it all down and be comfortable with.
How far would you go to see if your man was faithful?
I think we've all done something crazy. I haven't been that crazy, but I've definitely popped up at someone's house, I think we've all done that at some point in our lives but thankfully now I'm in a place where I don't have to.
What other projects are you working on right now?
I have a book coming out -- The Love Playbook in January. I'm really excited for that. It's more of a advice relationship book. My reality show, "Full Court Life", is on now. It's on VH1 at 10p on Sundays. We just wrapped Think Like A Man 2 which I'm really excited about. Then, I have a movie coming out with Hill Harper next month as well called 1982.
What advice would you give to single ladies looking for true love?
I would say don't put yourself on a timeline. So many of us have this idea of how its supposed to be. In high school we said by 30 we would be married and have two kids and when it doesn't happen, you feel like a failure. So what you start doing is just settling because you wanna fill this timeline that you set for yourself. There shouldn't be a timeline. Let things happen naturally when they're supposed to.
More kids in the near future?
No. I love my family how it is. I love the three of us. We've managed to figure out our schedules and Kiyan is traveling with one of us at all times and I just like it how it is right now.
Have you seen baby North West?
Yes. I have seen baby North. She's great. I'm going to go see her this weekend. She's beautiful and they're doing well.
We noticed a few cliches throughout the film and want your opinion. Agree or Disagree:
Men are intimidated by strong women: More times than not, yes.
Beside every great man their is a great woman: 100 percent.
All women should be married before 30: Absolutely not!
Sometimes marriage can lack passion and adventure: Yes.
Do you find that your marriage is lacking in some areas?
I've been with my husband [New York Knicks star Carmelo Anthony] for 10 years. I find that if you don't continue to put the work in then those things can happen. I focus on the marriage as much as we focus on being parents or having a career. Making date night, making time for each other, sometimes you get so used to a person that you just kinda feel like they'll always be there and you don't put that extra effort. You always have to remember to do that. It could be the simplest thing -- sending texts just constantly making the person you're with feel good.
Baggage Claim hits theaters September 27th. Part 2 of our Advice From Married Women featurette will be posted tomorrow with LaLa's co-star Paula Patton!
Photo Credit/L.A. Corespondent: Lauren Smith, LaLa's IG