GROUNDHOG DAY: Rapper DMX ARRESTED In South Carolina After Driver Makes An ILLEGAL U-Turn, Claims He Was SETUP! [UPDATED]
Aug 21 | by _YBF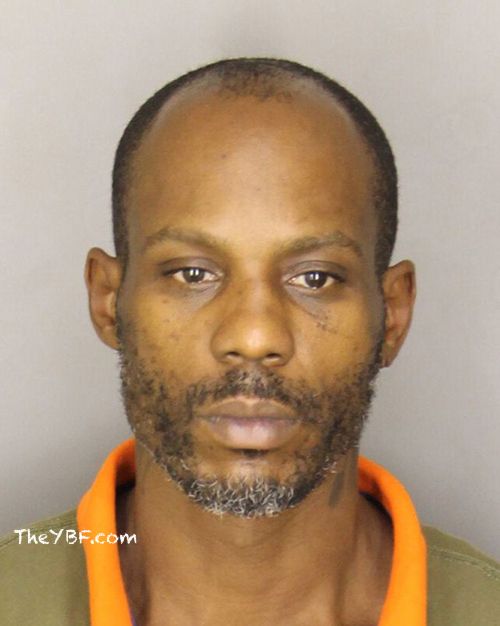 Rapper DMX was arrested in South Carolina last night after cops claims they found weed and discovered an outstanding warrant after a routine traffic stop. Find out more deets inside.....
Last night, rapper DMX and a friend were pulled over in South Carolina after the driver (not DMX) "allegedly" made an illegal U-turn. During the stop, cops say they found marijuana and noticed that X had an outstanding warrant from driving without a license. So you know what happened next....that hauled his ass to jail.
But before he was put in the cop car, the rapper (who's starring in the new Chris Rock project) put on a full-fledged performance while ranting about being "setup." As a female bystander filmed the arrest, the rapper can be heard screaming, "This ain't no normal traffic stop. 18 cops, 5 cars, get the f**k outta here man. It was legal ... they got nothing."
During one part of the rant, you can hear him say, "I'm sweatin' like a motherf**ker, yo." In fact, cops believe he had an asthma attack so they had paramedics come treat him.
According to TMZ, X was taken to jail in Greer County, SC and will see a judge this morning. He is expected to be sentenced to 15 days behind bars, but may only serve 10.
X was arrested in South Carolina just last month for driving without a license, and allegedly driving under the influence (which his rep denies).
*UPDATE* TMZ gave more details about what went down--involving weed smells and drunkeness. Here's the update in full since it's...ridiculous:
According to the police report, obtained by TMZ ... DMX smelled like he was drunk and in possession of WEED at the time of the arrest.

Cops say X was a passenger in an F350 truck that made an illegal lane change. When they stopped the ride, cops say they found a bag of weed sitting on the arm rest of the passenger door, where X was sitting.

Cops say one of the officers recognized DMX during the arrest and knew there was an active warrant for his arrest.

The officers proceeded to search the car ... and found 3 more bags of weed under the driver's floor board. ... so they cited the driver for possession of weed.

According to the report, DMX became "very aggressive with this words and was making multiple idle threats."

X was ultimately cited for weed and hauled to a nearby jail to deal with the warrant.
Watch DMX explain his side of the story to a bystander:
*UPDATE*
DMX's publicist Domenick Nati had this to say,
"DMX was driving in the passenger seat when the vehicle he was in was pulled over last night. Although officers pulled them over for a minor traffic violation, DMX was asked to step outside so they can search the vehicle. Officers then claimed that they found bags of marijuana in the floorboard and arrested X. No drugs were found on DMX or the other passengers and the alleged bags of marijuana were never shown to DMX or the other passengers. DMX was released this morning at approximately 11am EST and is back at his home in South Carolina."
Photo via Splash