Will, Jada and Willow Smith in New York + Gloria Govan CONFIRMS New Reality Show With Laura Govan & Their Men & Kids
Aug 23 | by _YBF
The Smith family was spotted in New York City yesterday. Check out their latest choices in outfits and get the deets on former "BBW: LA" stars Gloria and Laura Govan shooting their own reality show with their NBA men Matt Barnes and Gilbert Arenas.
"Drowning" singer and fashionista Willow Smith was spotted stroll through the streets of New York City yesterday.
Willow sported her signature sporty-street chic look and posted on Instagram, "hey street boy, you want some style?" Oh...

Willow's A-list parents, Will and Jada are also in NYC. The couple were spotted leaving their hotel yesterday.
The ever busy Will has just signed on for a new flick called Focus where he'll play a con man who becomes romantically involved with a novice, who is being played by Margot Robbie. During the action flick, their love begins to throw him off his game while he's staging an elaborate con in Buenos Aires. Shooting is set to take place in New Orleans and Buenos Aires in October.
Oh, and cute shoes Jada!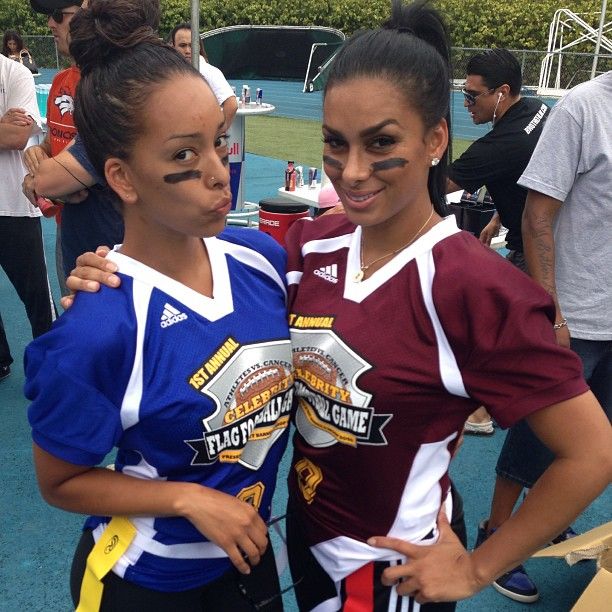 And in new reality shows.....
Following a failed attempt at an acting career with "Clean OPS" (which went largely unnoticed), former "BBW LA" star Gloria Govan is going to stay in the lane that initially made her famous with a new reality show starring solely her family.
During an interview with TheJasmineBrand at Snoop's recent Athletes vs. Cancer Flag Football game (pictured above), Gloria confirmed that she and her sister Laura have being filming a new reality show with their husbands Matt Barnes and Gilbert Arenas about their family life.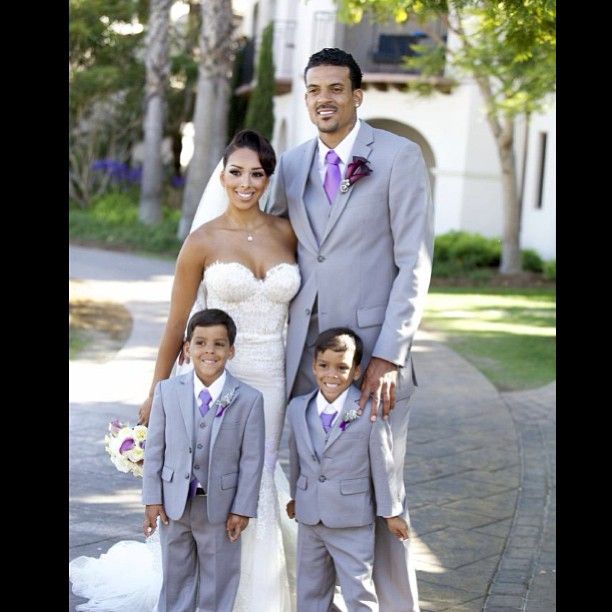 She stated,
"We're working on a family show – me and my sister, Gilbert, Matt, all of our kids – you know, my sister has got like 18 kids. I [was] just saying "Gosh! You have a lot of kids!" Yeah, it's really 4. But it feels like 18, because they're all over the place. So yeah, we're doing a lot of stuff. We have a lot of stuff that we're doing together which is really cool."
When asked if the show would feature any other Basketball Wives, Gloria revealed that's a NO. It's all about the Govans!
"So the show would be just the Govans. I mean the Govan sisters and their husbands and their families. You know Gilbert Arenas is one of the greatest players that has played. Matt is obviously, he just came off from one of his best seasons in his entire career so we're really excited about what that one brings. But really, we just want to show people that the real, true grind of the basketball wives and just being what it looks like to be in that life. Mainly I think it'd really just show us and our families and how much stuff we really have going on."
So far.....Gloria says the show hasn't been picked up, but several networks have shown interest.
And you'll recall that we told you about Gloria's fabulous Santa Barbara wedding to Matt a few weeks ago. She also revealed why she walked down the aisle to "All Eyez On Me" by Tupac.
"Yeah, well you know, that stuff's just crazy. I walked out the aisle – 'All Eyes On Me' with Tupac. And it was crazy is that Matt actually picked out all the music – all the music! So I didn't know what I was going to walk down to. I was like, "Yes, it's going to be like Jesse Powell or like, you know some… I had no clue what I was walking down to, so I was like… "Alrrrrright boy". And when I heard it, I'm like "Damn, that's hilarious". I stopped and posed at the top and then I kept on moving so it was amazing, it really was all 'us' – what we represent and just fun. We have been married for almost a year now so we really just wanted it to be crazy and that's exactly what it was."

We'll keep you posted about the Govans' upcoming series. Will you be watching?
Photos via Gloria's IG, Laura's IG, Splash news