WHAT ODDS? YBF Tennis Chick Victoria Duval Speaks On SURPRISE UPSET At The U.S. Open
Aug 29 | by Natasha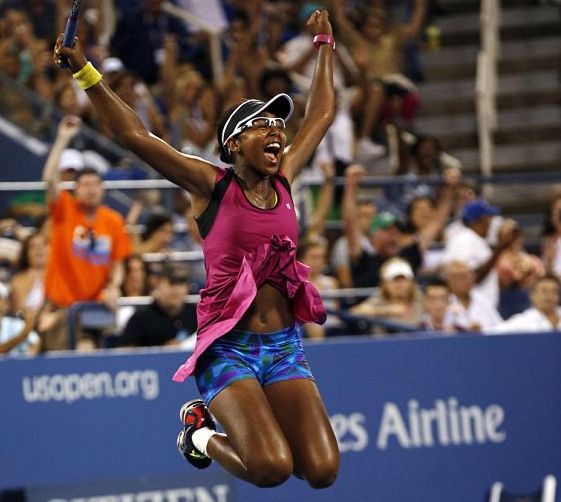 There's another YBF chick tennis star on our radar, and she's only 17. Check out what Victoria Duval had to say about her surprise upset at last night's U.S. Open match....
She and her family have beat the odds in all forms--her doctor father barely escaped death during the Haiti earthquake and Victoria just beat at top 20 player at the U.S. Open, after never even beating anyone ranked over 69th.
Victoria was born in Miami, Florida but grew up in her parents' native country of Haiti. The family moved back to the U.S. after Victoria--at 7--and some of her cousins were taken hostage by robbers. And a tennis pro is what she became.
The 296th ranked (yes, 296th!) teen beat #11 seed and 2011 Champion Samantha Stosur on Tuesday, and we're loving her outlook on WINNING in life. During her post game on-court interview, the bubbly teen told the crowd in Flushing, NY:
'There's a lot to be thankful for. I don't take anything for granted... My Dad is really fortunate to be here....I thank God every day for everything that's happened. Life is short.'
And she refuses to talk about the hostage situation because it's too traumatic:
'It's not a good memory, so I've tried to forget as much as I could about it. I don't remember too much of it anymore, which is great.'
Her dad, who was trapped underneath a crumbled home during the Haitian earthquake after being there for his usual back-and-forth physician work, was there front and center cheering on his baby girl.
The Daily Mail reports:
'One morning we got a call from him and he was (trapped) under the house,' Victoria told CNN in 2011.

'He was sort of giving us his last words and said to my mum, 'Tell the kids I love them.' Mum just collapsed on the floor, but she said, 'No, no, no, you are going to make it.''

Jean-Maurice was buried alive for hours. He did eventually escape but was left with a punctured lung, a shattered arm and five broken ribs.

Real estate developer Harry Kitchen, a friend of the family through tennis connections, paid $30,000 to airlift Victoria's dad back to the U.S., where he received the attention that saved his life.
This Victoria is winning in life, and we're loving it. Congrats! Check out Victoria's inspiring highlights and post-game interview below:
BONUS: Tennis champ Serena Williams was spotted relaxing a bit on Friday at Bagatelle with her rumored boyfriend and coach, Patrick Mouratoglou, before her big matches this week. And she didn't miss U.S. Open practice at 8Am the next morn. Good luck 'Rena!
Photos: Reuters