Kanye West BANKS $3 Million For Kazakhstan Wedding Reception Performance + Azealia Banks LASHES Out At Lady Gaga For DROPPING Her From "Ratchet" Single, COPYING Her Mermaid Style
Sep 02 | by _YBF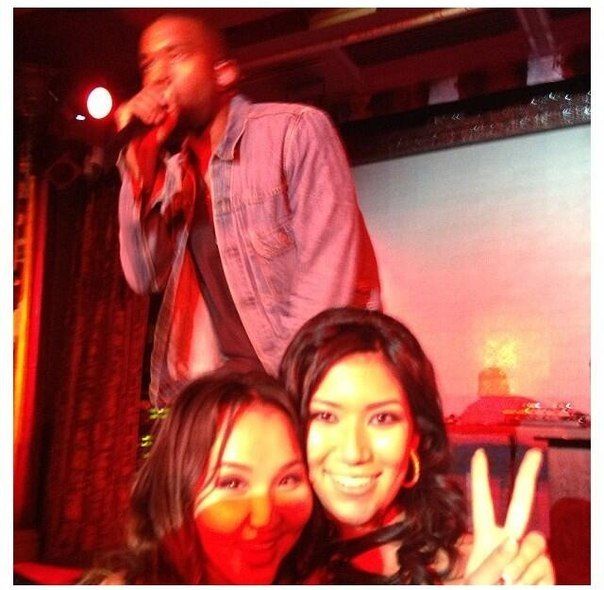 Rapper Kanye West banked about $3 million to perform at a wedding this weekend. See a performance clip inside and get deets behind Azealia Banks lashing out at Lady Gaga on Twitter for copying her style....
While you're chillin' on "Labor Day", Kanye West "labored" in Kazakhstan to the tune of $3 million bucks. According to TMZ, the "New Slaves" rapper was invited by President Nursultan Nazarbayev to perform at his grandson's wedding Saturday night in Almaty at the Hotel Royal Tulip.
Several twitpics and an Instagram clip of Kanye's show, which included "Can't Tell Me Nothing", have been making the rounds on social media since the posh reception. We're not made at 'Ye. It's going to cost a ton of money to protect Kim and North West from the paparazzi of the world. And for three million dollars, we would have HAPPILY worked all Labor Day weekend too.
Watch Kanye in action here:
In other music news......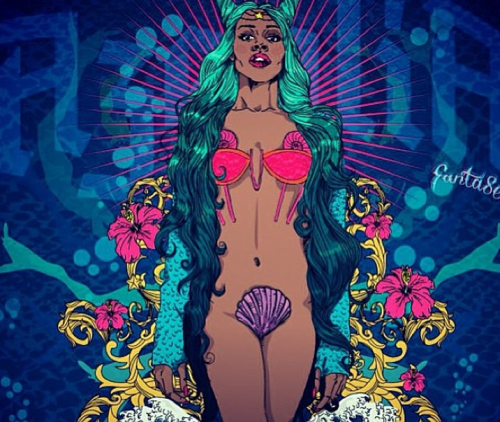 For those unfamiliar with Azealia Banks and her style of music, it's called "seapunk". What is seapunk? Wikipedia describes it as " 90s house and techno, the past 15 years or so of pop and R&B, and the latest in southern trap rap". But, whatevs.

If that doesn't make sense to you.....it will...very soon. Seapunk is about to go "pop" as Lady Gaga has recorded a new song called "Ratchet" for her upcoming ARTPOP album.....and Azealia Banks is not pleased. Folks from the 90s should compare this moment to when Madonna "discovered" voguing?
A little backstory...Azealia's "mermaid" imagery and her Fantasea mixtape are the essence of seapunk, but they've failed to catch the ears of mainstream. And with Interscope failing to release her debut album (despite high profile gigs at Glastonbury) it seems that the only person paying attention to Azealia is Lady Gaga. And that IS NOT a good thing for a struggling artist.
Over on Twitter, Azealia as attacked Lady Gaga for stealing her "mermaid" swagger and also taking the "seapunk" thing and running with it.

And to add insult to injury, Azealia was tapped for Lady Gaga's "Ratchet" single a VERY long time ago, but you won't likely hear her voice on the final recording that makes it into the iTunes store. Again.....Azealia is not happy.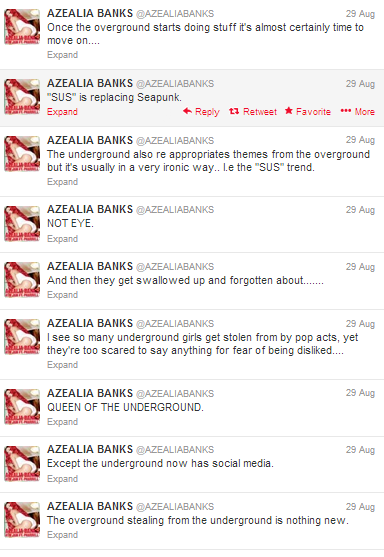 SMH......Azealia may be right about pop stars ripping off the "little" people, but it won't change the game. Over the weekend, Lady Gaga popped up in a sneak peek of the upcoming song "Ratchet" and doesn't seem to care about the Twitter rants of Azealia.
Sadly, none of Lady Gaga's 40 million Twitter followers will care either. SIDEBAR: Azealia has close to 400K followers.
Watch the preview of "Ratchet" minus Azealia here:
Photos and video via Various Twitter/Helengadjilove Instagam/Azealia Banks Instagram/Azealia Banks Twitter