FINALLY MARRIED: Udonis Haslem & Bride Faith Rein Dish About Recent Wedding...And What It Took To Get There
Sep 04 | by _YBF
Miami Heat team captain Udonis Haslem married his girlfriend of 14-years, Faith Rein, in a beautiful ceremony at the Four Seasons Resort Palm Beach a few weeks ago. Get the deets on their ceremony and long courtship inside.
On August 24th, Faith Rein (shown above with her father Richard Rein) wed Miami Heat team captain Udonis Haslem, her long-term boyfriend, and the father of her two sons, Josiah, 6 and Elijah, 2.
Culminating with a beautiful ceremony at the Four Seasons Resort Palm Beach, it was a 14-year courtship with twists, turns and few minor setbacks.
With their guests sipping on Debra's Porch Swing Swizzles (bourbon, Velvet Falernum, ginger juice, mint syrup and ginger served in memory of Udonis' mother) in a silver- crystal- and flower-filled ballroom, it's hard to imagine that what initially struck Faith's interest in Udonis learning that he kept an illegal pitbull in his University of Florida dorm room!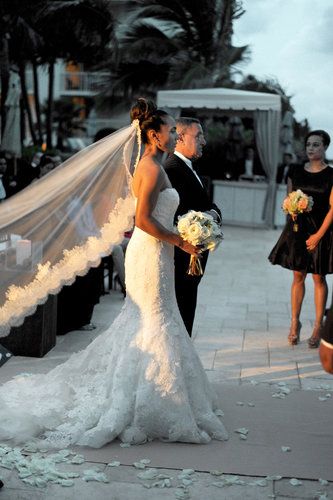 In a recent New York Times profile, the couple, who met on campus, talked about their long courtship and some of the setbacks and challenges they faced as a couple. For starters, Udonis had a healthy fear of marriage.
"I just didn't know how to ask her to marry me. We had never lived together and while she comes from a home with parents who have been together forever, my family experience with marriage had been negative and painful. There was no happy ever after."
Also, the baller had a hard time confiding in Faith because of his own relationship and career insecurities. Faith said, "He can go inside of himself when he feels insecure. I wanted to be strong for him and let him know he had to stay positive, that this setback did not change anything between us."
The couple also dealt with an abortion while they were still in college.
"I am not a huge fan of abortion, but we both had sports careers, plus we could not financially handle a baby," said Udonis. Faith added, "Udonis appreciated that I was willing to have an abortion. I found him caring, supportive, nurturing and all over me to be sure I was O.K. I saw another side of him during that difficult time and fell deeply in love. He had a big heart and was the whole package."
When it came to finally making it down the aisle, things began to change for Udonis in 2010 after the birth of their second son:
"I loved her just as much then as I do now. She proved to be a strong family person and has helped me through rough times. She deserved to be happy, yet I was still afraid of marriage and had convinced myself that with a little more time it would all work out."
Finally, the Heat star was able to overcome his fear and he proposed on Aug. 29, 2012 during a trip to Italy. Faith said:
"All of a sudden Udonis got down on bended knee, opened the ring box and asked me to marry him. I was shocked, but somehow managed a wide smile while blurting out, 'Yes!' "
The list of A-list notables at the nuptials included Dwyane and Gabrielle, Lebron and Savannah, Heat's president, Pat Riley and rapper Flo Rida. They feasted on fried buttermilk-crusted chicken nuggets with waffles and other Southern comfort foods and had a live show from Wale (Faith's favorite rapper, whom Udonis flew in to perform for the reception). Sweet!
Congratulations to Udonis and Faith!
BONUS: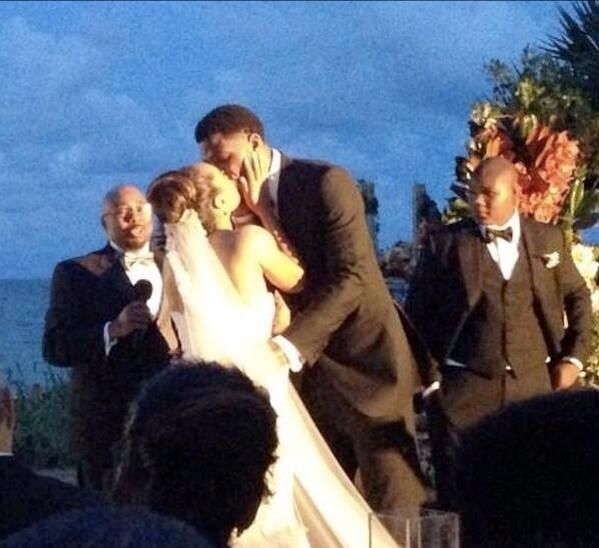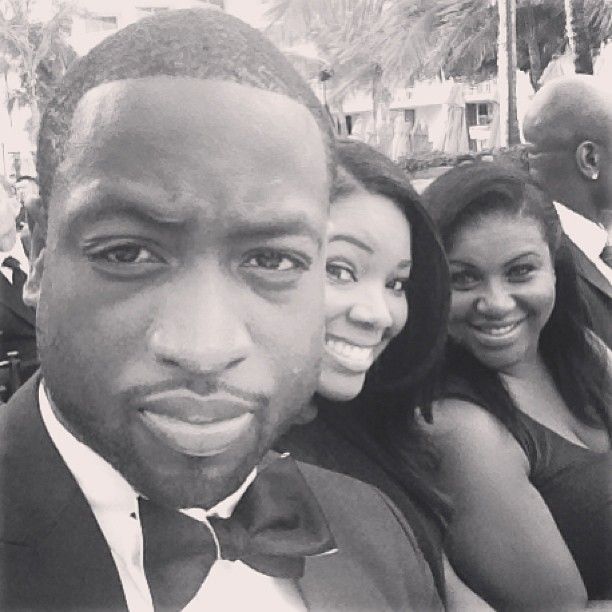 Udonis' teammate Dwyane Wade (who attended with his girlfriend Gabrielle Union) posted a selfie from the wedding with a very sentimental caption,
"We all have had teammates and we've even been fortunate enough to have friends...but finding some1 you can call your brother is rare.... This guy @ud40 has always been my big bro.. So happy for him and his beautiful wife @faithstyleuncut and their boys. Congrats 2 Mr&Mrs Haslem."
Adrienne Bosh posed for a pic of Faith in her gorgeous gown. For the reception, Faith rocked a black Dolce & Gabbana dress.
Photos via Adrienne Bosh's Instagram / NBA Central Instagram / Maggie Steber of The New York Times