D-Wade's Wade World Foundation CELEBRATES It's 10th ANNIVERSARY With KeKe Palmer & More + Ol' Dirty Bastard's HOLOGRAM Performs With Wu-Tang At Rock The Bells!
Sep 09 | by _YBF
Over the weekend, Miami HEAT Champion Dwyane Wade celebrated his annual Wade's World Weekend in support of the 19th anniversary of Wade's World Foundation and the Chicago community. See Steve Harvey, Mindless Behavior and other's who lent their support inside and watch Ol' Dirty Bastard perform with the Wu-Tang Clan at Rock The Bells 2013.….
This past weekend, Dwyane Wade went back to Chicago for the annual Wade's World Weekend in support of his Wade's World Foundation. This year marks the 10th year that Wade's World has been providing programs and opportunities for at-risk youth that promote education, health and social skills.
Dwyane kicked off Wade's World Weekend with an intimate benefit dinner with Michigan Avenue Magazine at Gibsons Bar & Steakhouse. Guests in attendance included Juwan Howard and EBONY's Desiree Rogers.
On Friday, Dwyane hosted the Wade's World Foundation 10th Anniversary Celebration Gala at the Peninsula Hotel. The evening included the unveiling of the "Choose to Live, Live to Dream" campaign and the introduction of the 2013 Excellence in Philanthropy Award. Among the recepients were Steve Harvey and his wife Marjorie. They were honored for their profound commitment to youth. Other guests included Mindless Behavior, Brandon Marshall, Dr. Ian Smith, Otis Wilson, Kenny Williams and T.J. Holmes.
Dwyane's mother Jolinda and sister Tragil Wade both gave heart-warming toasts in honor of Dwyane and the 10th anniversary of Wade's World.
And on Saturday, Dwyane hosted the Choose to Live, Live to Dream Festival at Douglas Park.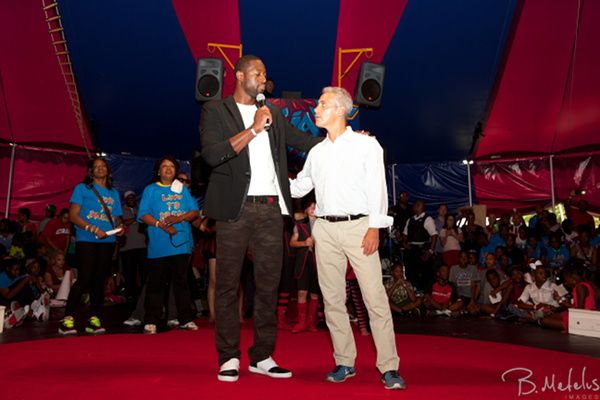 In collaboration with Mayor Rahm Emanuel and the City of Chicago, Wade's World provided a day of entertainment that forged a strong message that youth CAN make better choices when their natural abilities, talents, and aspirations are nurtured through quality programming in a safe environment. Festival participants were encouraged to sign the Choose to Live, Live to Dream Pledge which acknowledged their commitment to being aware of their surroundings, making better choices and reaching for their dreams.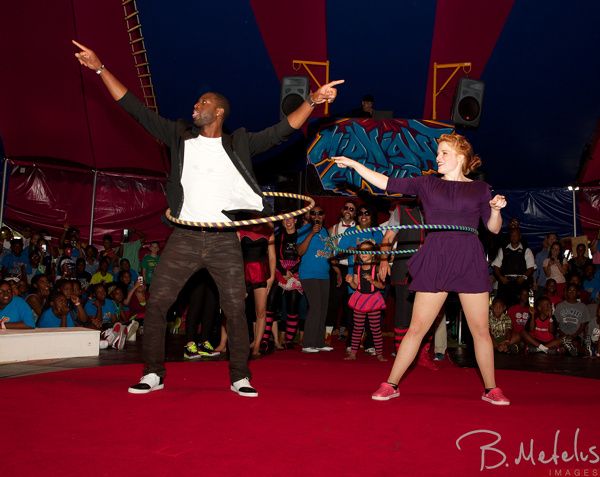 The crowd was entertained by Midnight Circus, Dwyane Wade's Chicago Has Talent winners 2009-2012, and Soul Children of Chicago.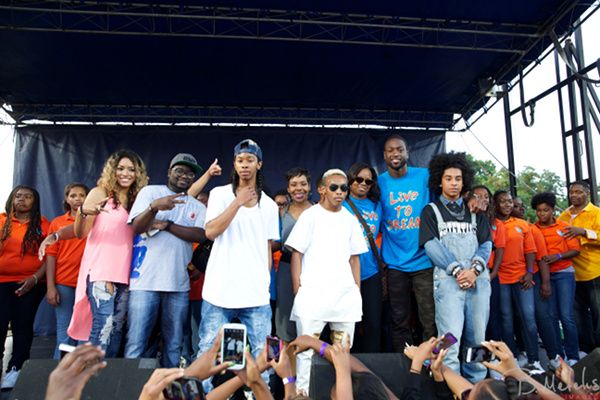 Also, Mindless Behavior peformed their hits. A great event for Dwyane's embattled hometown of Chicago.
Watch a clip from their show here:
And in concert reincarnations.....
Eazy E wasn't the only deceased rapper to make an appearance at Rock The Bells 2103 this weekend. Last night, Ol' Dirty Bastard's hologram performed a few songs with The Wu-Tang Clan in San Bernardino, CA.
Watch the performance of "Shame on a Nigga" & "Shimmy Shimmy Ya":
Really feel like they could have gotten Mariah to surprise the crowd with that "Fantasy" remix. Don't mind us....
BONUS:
In cause you were wondering why Gabrielle Union wasn't on Dwyane Wade's arm this weekend, it's because she was hanging out with lifestyle expert AJ Johnson and a few of their friends in San Fran. They hit up the 49ers game yesterday. She tweeted "Good times at the #49er game w/ @theajzone @telltell_heart @larryjarahsims @jennagreen7 ... #bandwagon #bandwagonspacewaslimited #bringiton"
Photos via Bob Metelus/Gabrielle Union's Instagram/Sway's Instagram