FULL RECAP: Lil Wayne Talks To Katie Couric About Sizzurp, Skateboarding & Dropping Out Of High School
Sep 09 | by Natasha
Lil Wayne made his much anticipated appearance on "Katie" this afternoon. Get the full recap of the taped appearance inside...
It's been a while since we've seen Weezy F. Baby doing an all out sit down on national tv. So he returned to one of his fave ladies, "Miss Katie", to chop it up about his health, his sizzurp, his skateboarding, and schooling.
And while he sounds like he either just woke up or he was into something else back stage, Weezy and his diamond grills told us some things we didn't know.
Here's the highlights:
On what was behind his seizure health scares
"Dehydration, working too much, no sleep. Things like that catch up to you. I found out that I'm sorta epileptic. We went back to my past, and tried to figure out why it's happening to me now when it never happened before. And my mom said no, actually when you were little living in New Orleans, you fainted. We didn't know that's what is was. And we found out one not my cousins suffers seizures real bad."
On speculation of his sizzurp habit causing seizures
I asked my doctor and I said I haven't been drinking sizzurp like that or nowhere near what I was or to cause seizures . He asked what else I been doing? I had been taking pain pills and those have codeine in them. So when I slowed down on the syrup, it was like a reaction of sorts because I hadn't been having the codeine.
On if he still drinks syrup
Naw I can't do that anymore. Because the doctors said so. I was doing doing it in abundance [before] but the doctors said can't nobody tell you what to do, but your mom. And my mom told me not to.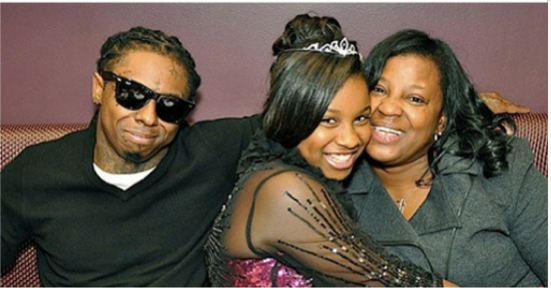 On writing "How To Love" for daughter Reginae
Me and my homie D12--it was his idea--wrote it for my daughter. It's for my daughter and daughters all around the world.
On any regrets about finishing high school after being an honor student
Not at all. But to all my kids, you ARE finishing high school. But it was my mom's idea. I had an album out and it was platinum, thank God. And I was still going to public school. She saw me getting ready for school one day and I was putting my gun in my backpack. She said, 'You really have to bring that?' I said 'Yeah, you don't want me to bring it?' She waited and said "Yeah, I guess I do.' Because she bought the gun for me. For protection. Then she came back to my room and said 'You're not going back to school. If you have to do all that. You're getting your GED.' She said 'Tell Baby and 'em you need your GED.' So, I got my GED and went to college.
On his jail stint
I have to thanks my family and fans. They made it a walk in the park, literally.
On what kids in N.O. need
Thank God I'm such an influence. When I go back to N.O., I see kids who were looking for guns, I see them with skateboards now. [Weezy also opened up a huge skatepark in New Orleans recently.]
Katie gifted him a black skateboard with a "Katie" logo on it and he loved it. Sweet!
Here's a few clips from today's episode: