Arsenio Hall Returns To Late Night With Chris Tucker & Snoop! + Robin Thicke Gets OK From Paula To Pose With 5 Nude Women On "TREATS!"
Sep 10 | by _YBF
Last night, Arsenio Hall returned to late night television with Snoop Lion, Paula Abdul and Chris Tucker as guests. Find out who came through inside and see Robin Thicke on the cover of TREATS! Magazine.
Last night, the dog pound was in full effect as Arsenio Hall made a triumphant return to the late-night talk show circuit after a 19-year absence! He joked, "Leave it to the first black late night host to take 19 years off. And only a black man would think the job would be there when he returned."
The premiere episode of "The Arsenio Hall Show" was jam-packed with star-studded appearances from Jay Leno (who played Arsenio's therapist in the opening segment), Snoop Lion (who performed What's My Name") Paula Abdul (who co-starred with Arsenio in the "Straight Up" video) and funny man Chris Tucker.
During his interview, Chris revealed that he would be interested in doing another Friday movie if the script is good. He says he doesn't want to ruin a classic and it's not about the money. Yassss!
Rapper Nas will appear on the show tomorrow night.
And on magazine racks.....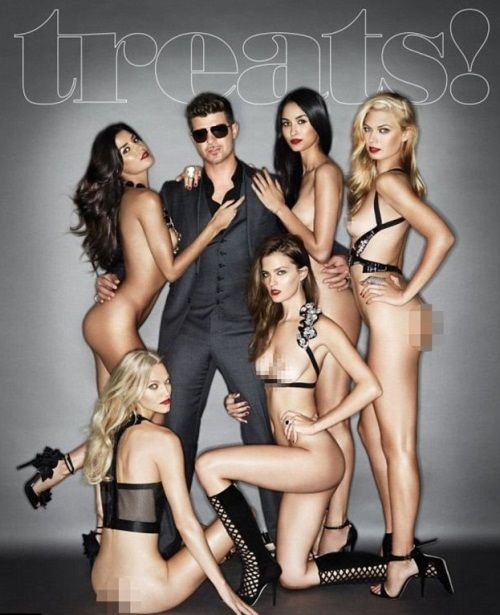 On the cover of the latest edition of TREATS! Magazine, "Give It 2 U" singer Robin Thicke posed with five nude models....at the suggestion of his wife Paula Patton! He told the mag,
'It was very sexy and I like that. At first I thought, ''Okay, let's just do topless'' ...but, again, my wife and her friends were like, ''No way…go all the way.'' I think we definitely pushed the envelope.
Inside the article, Robin also revealed that Paula suggested the racy theme for the "Blurred Lines" video (based on her hubby's love the "TREATS!").
'When I was talking to my wife (Paula Patton) and her friends about the video they said, ''Do something like Treats! because you love it so much.'''
Also, one of the "Blurred Lines" models, Emily Ratajkowski, was plucked right from that cover.
Now that we know Paula is VERY comfortable with scantily clad women fawning over her husband, folks can relax about the "Instagram groupie" and Miley's twerking. Paula is not bothered.....
The fall issue of Treats! magazine will be on newsstands on Sept. 16.
Photos via : The Arsenio Hall Show courtesy of CBS Television Distribution / TREATS! Magazine