Kelly Rowland Talks DIVA Simon Cowell On "Ellen" + Angela Bassett & Gabourey Sidibe In "American Horror Story" (PROMO)
Sep 10 | by _YBF
Kelly Rowland made her debut appearance on "ELLEN" today where she cracked jokes about her "X Factor" co-star Simon Cowell. Watch the interview inside and see the promo for FX's American Horror Story starring Angela Bassett and Gabourey Sidibe.
"Kisses Down Low" singer "X Factor" judge Kelly Rowland made her debut appearance on "ELLEN" today where she was shocked by Ellen's revelation that she was an ORIGINAL member of Destiny's Child. Ha!
Kelly added that Ellen was the one who started all the fights.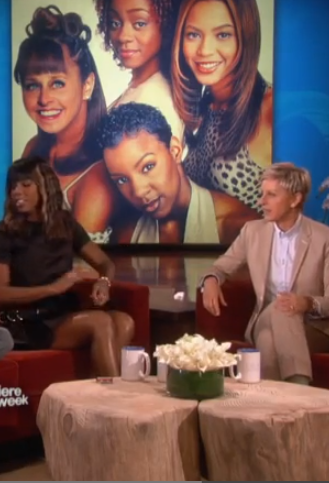 Kelly joined Simon Cowell on the couch as they promoted the new season of "X Factor" (which premiere tomorrow) and shared a laugh about Simon becoming a "baby daddy." Also, Kelly said he's a big diva who has more products and knows more makeup tricks than she does.
All of Kelly's Rowland Stones can catch her on "X: Factor" premiering Wednesday and Thursday, Sept. 11th & 12th at 8/7c on FOX.
Also on television.....
FX has released a new promo of their series American Horror Story which focuses on a coven of witches in New Orleans. Starring Jessica Lange, Angela Bassett, Kathy Bates, and Gabourey Sidibe, the season will span several time periods with Angela and Jessica playing leaders of their separate covens. Gabby plays a young witch being initiated into one of the covens.
Angela talked to Collider.com about her role saying,
Well, I play Marie Laveau. It's been interesting, being in New Orleans, because there's such a regard and respect for who she was. She lived to about 80 years old, and she was a very influential person in the city. My character is based loosely on her.

I read a fictional novel by Tallant, called The Voodoo Queen. I've read two books about her, one that's more historical and one that's her life, but put into novel form. It's just very interesting. We've been filming in the French Quarter. But, I don't know exactly where it's going, so I'm remaining open and just picking up little things. Her father was French Creole, and he gave her gold earrings. Spain occupied Louisiana longer than the French did. I'm also talking to folks from there and just getting a take on how they see her or what they feel about her, to get a sense of who she was and her power in the 1800s, as this black Creole woman.
American Horror Story: Coven is set to premiere Oct. 9.