MUSIC FAB: Willow Smith Brings "Summer Fling" to "Queen Latifah" Show + Pharrell & Daft Punk's "Lose Yourself To Dance" Video + Azealia Banks' "Count Contessa"
Sep 16 | by Natasha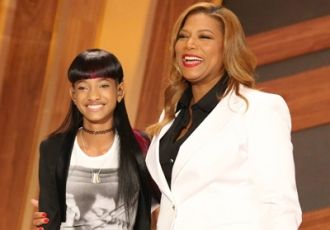 Willow Smith just helped Queen Latifah premiere her new talk show this afternoon. Check out the youngest of the Smith clan belting out her possibly-too-grown "Summer Fling" track, plus Daft Punk's new "Lose Yourself To Dance" vid featuring Pharrell, and Azaleia Banks finally coming through with new music "Count Contessa"....
Willow Smith performed her single "Summer Fling" with her band Melodic Chaotic today on "The Queen Latifah Show". Since Willow's mom and dad, Will & Jada Pinkett Smith, are the show's Executive Producers, it's no surprise they slipped in a bit of promo for their 12-year-old Willow.
As for this new "group" Willow's formed to break out some adult-like music, it was described as: "Willow is Melodic on the vocals and DJ Fabrega is Chaotic on the beats."
Check out the extra long mullet with big bangs rocking Willow perform below:
In other music, Daft Punk , Nile Rogers' & Pharrell's summer anthem finally has a video. You've seen clips of it on tv commercials, now here's the full shebang:
The track is another banger follow up to Daft Punk & Pharrell's other summer anthem "Get Lucky." Fresh off the robotic french duo's Random Access memories album, everybody gets disco fever in the visuals for "Lose Yourelf To Dance." Watch P front the band, Nile on bass guitar and Daft Punk on the beats--with everyone looking real sparkly--above.
And finally, Azealia Banks has taken a break from Tweefing with Lady Gaga and everybody else to reveal her new Roller Coaster magazine cover (above) and drop a new song. It's called "Count Contessa" and it will appear on her next project, Fantasea II: The Second Wave. Azealia made it sound like that project will actually be her sophomore LP--so releasing music off a second LP before even dropping her first LP?
Yep, she's already working on a follow up to her Fantasea mixtape since her debut studio album, Broke With Expensive Taste, got pushed back to early 2014.
Azealia said about the Lone-produced track, "It's a song about a woman with a man's physical strength. Like, literally. Hahaaa. Count Contessa was a Dyke who won the fist fight with Muscle Mike."
Check it out below:
If only she could stay off Twitter....
EXTRAS:
1. The shooting in D.C.'s Navy Yard has resulted in at least 12 dead, including 1 shooter dead. There is a possible second shooter. The U.S. Senate has been locked down. STORY
Photos: Queen Latifah Show/Azealia's Twitter