ANOTHER Woman Claims Sexual Harassment During Tyga's "Make It Nasty" SHOOT + Kanye West PROCLAIMS He's The "Number One Rock Star" On Zane Lowe
Sep 21 | by _YBF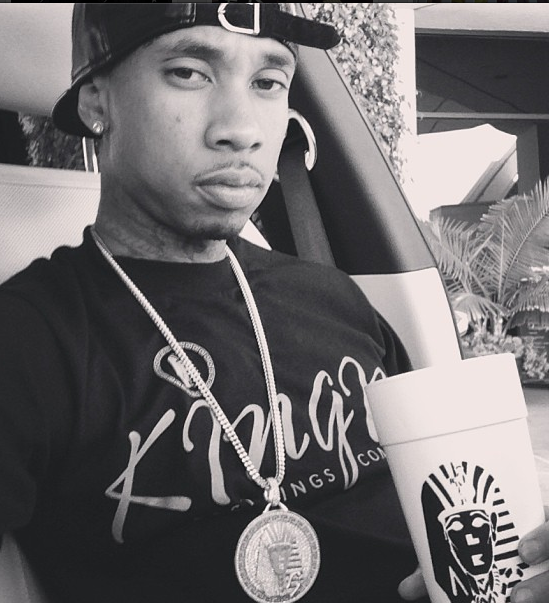 Tyga is facing ANOTHER lawsuit over his "Make It Nasty" video. Get the deets on the latest lawsuit inside and watch a preview of Kanye West's upcoming BBC Radio 1 interview.....
In the saga of Tyga's troubled "Make It Nasty" video shoot, a fourth woman has stepped forth with a sexual harassment lawsuit. You'll recall that three vixens have already sued, and now a fourth woman claims she was plied with alcohol (note: she was under the legal drinking age) and was sexually harassed by a man in a rabbit suit. Yes....a "rabbit" suit.
In addition to getting dry humped by a rabbit, Allison Brown, says a man grabbed her breast and she was "coerced" to remove her top. She's suing Tyga for sexual battery, fraud, invasion of privacy, and infliction of emotional distress. Did you know these video shoots were so stressful?
In other Tyga news, he and his baby mama Blac Chyna have been making the dinner rounds with Kanye West and Kim Kardashian. Check out their double date last night here.
And speaking of Kanye:
In an upcoming interview with BBC Radio 1, Kanye West goes on and on and on about his perfections. What perfections? As if you didn't know....the Dark Fantasy album was PERFECT. Also......he is the biggest rock star in the world. All this according to 'Ye. Take a moment to look into his eyes and you will see that he truly believes everything he's saying. The interview airs Monday at 7pm (check back for the upload). The preview is above.
The Randomness:
1. Taye Diggs joins the cast of "New Girl". Story.
Photo via Tyga's Instagram