Oprah Winfrey Spotted Chillin'....With Diddy, Kanye & Kim
Sep 22 | by Natasha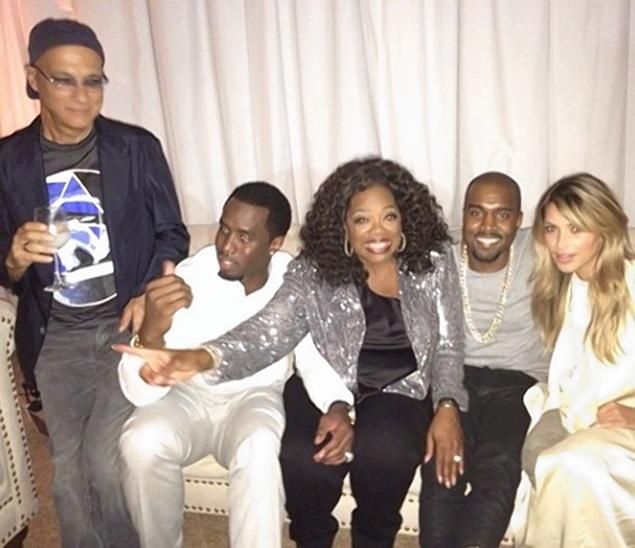 Hov had Oprah chillin' in the projects, now Jimmy Iovine has the billionairess chillin' with the rappers. Check out Oprah hanging out with Puff & Kanye inside....
Let us find out Oprah can kick it....hard...with the hip hop party crowd. "The Butler" maven, who claimed for a long period of time to hate rap music, is surely all in the mix these days. And now that she's got a network to keep buzz around and has already started her own Oscar campaign, she's down for any buzz worthy pics.
Kanye's girl Kim K. took the opportunity to Instagram some pics from Jimmy Iovine's party over the weekend in L.A. where she was by her man's side. And everyone was on a couch chopping it up with Oprah...who looks like she quite possibly had more than a few Moscow Mules...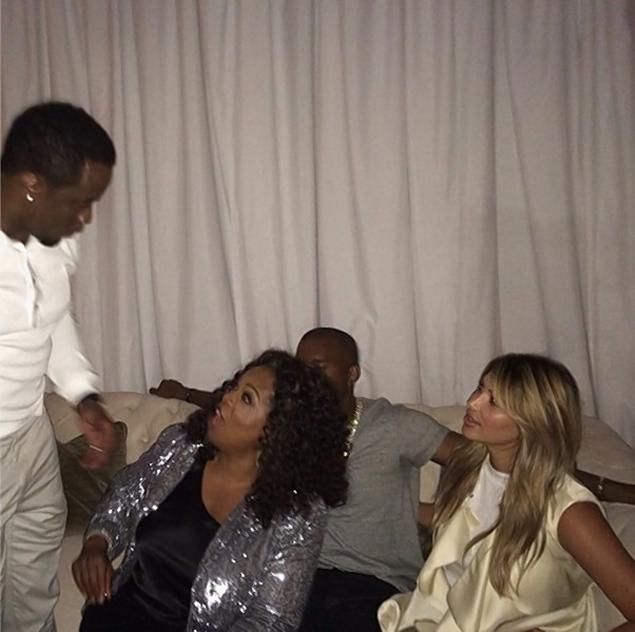 Diddy posted the above pic saying, "Last night was mad real Ciroc and Advil Ye, Kim ,Me and Oprah #CirocNights #CirocLife #CheerUp."
We can only imagine what type of convos went down that night....
Sidenote, Oprah pulled an Anna Wintour and posted a pic....with someone cut out:
She said, "Party Ovah Here! Last night with the Fellas!" Fun times.
And speaking of the Kardashians posting pics with their black props of the moment, Kim's sisters were spotted with the YMCMB gang over in Vegas. Kim skipped out on hitting the iHeartRadio event with her sisters to be by her new baby and her man. But her sisters Kourtney (and Khloe, Kylie & Kendall who aren't pictured here) and Scott Disick snapped a pic at the concert with Tyga and his baby moms Blac Chyna:
Oh....
Photos: Kim's IG/Diddy's IG/Kourtney's IG/Oprah's FB