Lamar Odom's Daddy BLASTS The "Controlling" Kardashians, "They Don't Give A F**k About My Son, Just Their Image!" + Khloe Parties With The Game...At 2 Hotspots
Sep 24 | by Natasha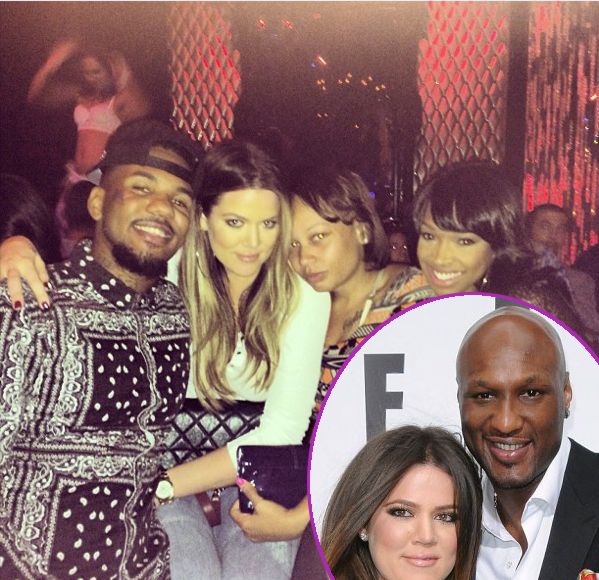 Lamar Odom's dad, Joe, is talking....and he's saying what we've all been saying for a while now. Check out the major bashing of the Kardashian Klan by Daddy Odom and his first hand experiences with them, and why he knows Khloe & her mama Kris are the reason Lamar is currently suffering.
Plus, Khloe seems to be on the hunt for another husband, because she hit not 1, but 2 clubs with rapper The Game last night....
It's the scenario most of America called as soon as news of Lamar's "crack cocaine" problem hit the net.
Lamar Odom is desperate to get out of his marriage to Khloe and to get away from the Kardashian Klan, this according to a new interview with his father Joe. But since their image & their money making trumps all, that family isn't letting it happen for him so easily.
While we do think it's odd Joe admitted no responsibility of his own (as a "former" hard core drug addict) having contributed in any way to Lamar's new drug problem, it's not too hard to believe everything else coming out his mouth.
In a merciless rant with Radar Online, Joe revealed he wishes Lamar would leave Khloe after he saw with his own two eyes the disgusting lengths the Kardashians would go to in protecting their image:
'Someone's got to speak out, I've got to do something about this. It's simple. They brought him down.'

'He would be better off without them. Let him go and get his life together. I think the best thing for him would be to have a clean break, divorce Khloe and as a single man try and get his life back together.'

He added: 'The mother has been talking a lot of trash about my son, saying he's on drugs and stuff like that.

'She's got something against my son, something against my family. Kris Jenner is very negative. She's an evil b***h. She doesn't care about Lamar, she just cares about their image and money.'
He then went on to insinuate the Kardashians have their own demons:
'I blame Kris in particular, she's been through a lot of stuff herself. She's no Cinderella.

I can't really say if the Kardashians are doing drugs, but my son would never use hard drugs. I can't pinpoint right now who's giving it him, but I'm going to investigate. The Kardashians haven't been a good influence on my son.'
And then he lashed out with this little nugget:
'They don't give a f*ck about my son. It's more about the damage they do to the Kardashian brand. They brought him down. He'd be better off without them. Let him go, get his life together.'
Well damn!
Oh, but there's more. Lots more. He went in on Khloe's "private" persona, which is totally different, and meaner, than her public one. At least Joe says so:
I wish he had never got married to Khloe to be honest. She's controlling. Those Kardashian women all are. You get married they think they wear the pants. You just bring them your whole paycheck, that's how it works.

'I saw her totally differently when I heard the way she talked privately. It isn't pleasant. In public she's nice, but if you see her personally you see the real person come out of her.

The mother's like that too. The whole family, they put up an act.'
And the killer:
'I heard Kim say they don't have crackheads in their family. That *issed me off. Look at where she came from. We don't want porno stars in our family.'
Bloop.
Meanwhile, Khloe--who was reportedly rocking her wedding ring last night but hiding it in pics--removed her last names from her social media pages. And hit the clubs with The Game last night:
Game's assistant (pictured in the middle above) Lolo Instagrammed pics with with Khloe, and bestie Malika there as well. And they all hit up Hollywood hotpots Tru Hollywood and Drai's. Khloe's also been spending her days traveling around with her fam---who she constantly shots out on Twitter with rare mentions of her husband--and getting in great shape.
Sounds like she's on a mission. A commenter on IG said about one of the club pics:
Game will marry Khloe before he marries his own fiancee Tiffney Cambridge.
We chuckled...
Photos: Game's IG, E!, leauxsteez's IG