Mike Will Made-It's "23" Video Ft. Miley Cyrus, Juicy J & Wiz Khalifa (Plus Kanye Gives Miley Words Of Worship....And 5 Pairs Of Shoes)
Sep 24 | by Natasha
NoW that Miley Cyrus and producer Mike Will Made-It have convinced the masses they're now dating, or whatever you want to call it, Mike has taken his "rebound" position and put it in a basketball themed vid set in high school.
Check out his new "23" video ft. Miley, Wiz Khalifa and Juicy J inside...
The lead single off Mike's forthcoming Est. in 1989, Pt. 3 LP now has a video treatment. "23"--a shoutout to the Chicago Bulls legend Michael Jordan--brings together this random group of folks: Mike Will, Miley Cyrus, Juicy J. and Wiz Khalifa.
Everybody goes back to school to suit up in their fave gear (in Miley's case--as little as possible) and their fresh J's at Brooklyn's Bishop Ford High School.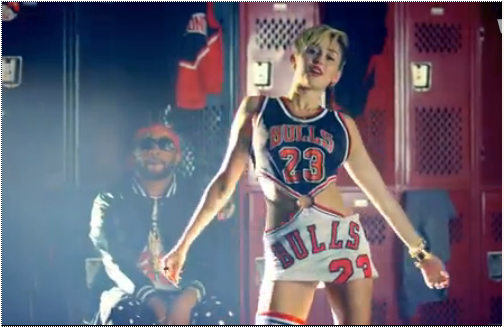 And this ish ensues. Check out the video below:
BONUS: Kanye is the latest rapper to sing Miley's praises as if she's the first ratchet-wannabe blonde chick and we should all, for some reason, credit her with developing ish people have been doing for years. In Miley's new Rolling Stone interview, she revealed that 'Ye came into her dressing room right before her much-talked-about VMAs performance and gave her some words of worship that calmed her down.
And after they recorded together and he bought her umpteen pairs of shoes, Miley says they've become "homies." Check the excerpt below:
Miley admits that before the telecast, she was feeling a little nervous. But then she got a visit in her dressing room that made her feel better. Kanye West had seen her rehearsals and wanted to talk to her before she went onstage. "He came in and goes, 'There are not a lot of artists I believe in more than you right now,'" she recalls. "The whole room went quiet. I was like, 'Yo – can you say that again?!'" She laughs. "I just kept repeating that over and over in my mind, and it made me not nervous."

After the show, Miley and Kanye met up at a Manhattan recording studio to work on a remix for his song "Black Skinhead." The next day he sent a text: "He said, 'I still can't quit thinking about your performance,'" Miley says. She also happened to mention that a pair of fur Céline slippers she'd bought were falling apart, and Kanye bought her five more pairs. "Kanye is the shit," she says. "I kind of have a good relationship with him now. It's good to have someone you can call and be like, 'Yo, do you think I should wear this?' 'Do you think I should go in the studio with this guy?' 'Do you think this is cool?' That's what homies are supposed to do."
Kanye's unfortunate worship of trashy porn/stripper acting (or their actual occupation) chicks continues. #WeMisOldYe