WE'RE TAKING YOU INSIDE: Laura Govan Hosts A Lavish Birthday Weekend With Gilbert Arenas, Matt Barnes & Gloria Govan & More
Sep 24 | by _YBF
"I Dream of Nene" star Laura Govan celebrated her birthday with a huge bash thrown by her husband Gilbert Arenas and many of their celebrity friends (including Tank and Chris Paul) were attendance. See the pictures inside and our red carpet interview with the lady of the night....
On Saturday night, former NBA star Gilbert Arenas threw a huge birthday bash for his wife Laura Govan at a private home in the Hollywood Hills. And, as usual, she had on the most minimal clothes as possible.
TheYBF.com was in attendance at the lavish affair (which was a small piece of a much larger birthday weekend for Laura). She began with a movie night for her close friends Friday, followed by a pre-birthday BarBQ on Saturday afternoon. After Saturday night's party, Laura and her friends split into teams and had a paint ball shoot-out with a $20K prize and a post-outing dinner on Sunday.
On Saturday night, she rocked a custom designed "dress" by Michael Costello. Not bad for a mother of four!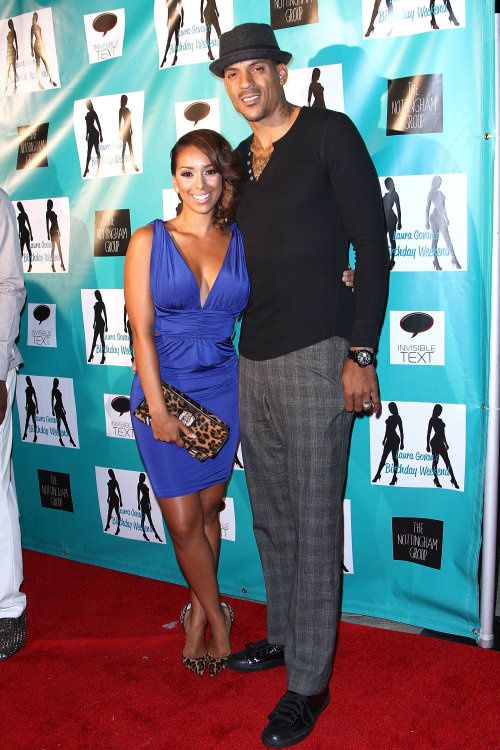 Laura's sister Gloria Govan posed with her husband, Matt Barnes. The Govan sisters shooting their own reality show and Laura hinted that they deal is done. Though she wouldn't reveal any deets, she said "God Is Good. Things are happening."
We caught up with the sexy Gloria and asked about her former "BBW" stars. She revealed to us that she doesn't talk to ANY of them, but added that she's been cordial to Jackie Christie (depending on which of her multiple personalities is in the room) and that Imani Showalter is "sweet".
Singer Tank walked the red carpet with baby moms Zena Foster. We talked to him about the rendition of the national anthem at the Floyd Mayweather fight and the uproar is caused. When asked if folks were mad, he said, "They were mad at the time, but by the end of the fight....they understood me." He also agreed with us that this live performance by TGT was a "disaster."
Los Angeles Clippers baller Chris Paul attended with his wife Jada. We asked them about LeBron & Savannah's wedding and they said it was "lovely".
Daphne Wayans was there.
Actress Naturi Naughton rocked a floral print dress with a black bustier.
"Married To The Game" star Tiffney Cambrige came out to support Laura. Are we feeling this outfit?
Comedic actress Torrei Hart told us that her ex-husband Kevin Hart is super supportive of her career. Well isn't that sweet...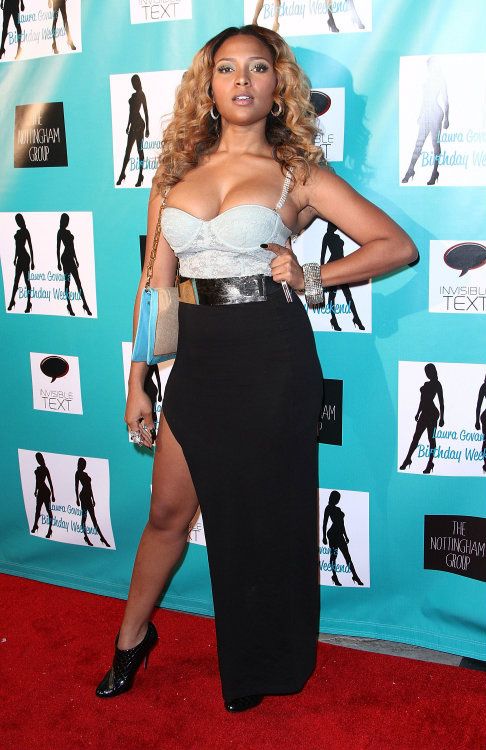 Rumored new "LAHH LA" star Teairra Mari was there. Are these new boobs...or just an ill fitting bustier top?
Actress Porscha Coleman wore a mesh cut out fitted dress.
Boxer Sugar Shane Mosley walked the red carpet.
"The Soul Man" star Wesley Jonathan toasted Laura and her special day.
Tank serenaded Laura with Happy Birthday....after she made an outfit change.
And there was lots of live entertainment.....
Of course Gilbert...
Watch red carpet coverage from the party here with Tank, Torrei Hart and more below:
Photos by Nottingham Group / Video by Correspondent Kourtney Richard and TheYBF.com