DRIZZY ON RADIO: Drake Dishes On BEEFING With Nicki Minaj, RAP BATTLES With Kendrick Lamar, And If He's As GOOD As Jay Z & Kanye
Sep 25 | by _YBF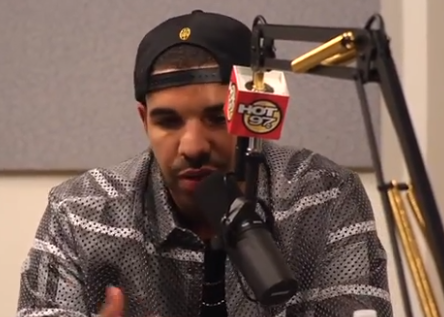 Drake is on the road doing promo for "NWTS" and we have a roundup of a few of his interviews. Find out what he revealed about his fight with Nicki Minaj, what he thinks about Kendrick Lamar's "Control" verse and how he compares himself to Jay Z and Kanye West inside.....
A few days ago, Drake dropped by "Chelsea Lately" to set the mood for the release of Nothing Was the Same (in stores) and now, he's branched out to various radio outlets on both coasts about the disc.
During a stop by Big Boi's Power 106, he discussed the "Tuscan Leather" song, which hints at a riff with Nicki Minaj and a break-in their friendship. When asked where the two rappers stand with each other today, he said,
"I was at a point with Nicki when I made that song. The first song is not where I'm at right now. That song picks up at an earlier point in my life. I have done something that I had to reevaluate and fix. We're good. I choose to express personal things in my music. I don't ever do it with malice. I hope when she hears that line she knows that she's necessary in my life and I care about her."

Listen to the Power 106 interview here:
And on Hot 97.....
Drake stopped by Angie Martinez's show where he addressed the infamous Kendrick Lamar "Control" verse (sigh) and where he stands on battling with Mr. Lamar.
"Then let it be real, then. 'Cause those were harsh words, right? You can't just say that and then see me and be like nothing ever happened. That's not like the nature of battling. There's passion behind it. There's anger behind it. I personally enjoy making, like, great music and bodies of work over, like, being the talk of Twitter for, like, five days ... I don't know if it was worth it. Because there's a lot of people that were mentioned that I feel like can't really go back and fuck with that guy after that."

Angie also asked Drake about his relationship with Jay Z and he said, "[It's] one of the strongest, if not the strongest [ with any rapper] ... He's just like an incredible mentor to me."
And in case you were wondering if Drake thinks of himself as a rapper of the same caliber as Jay and Kanye West, he said, "I'll forever be looking up at those guys but, I do have the best album of the year, I will say that."
Snaps.
In other Drake news, Page Six reports that he and Chris Brown have allegedly buried the hatchet. Apparently, a "peace treaty" was worked out by Def Jam music exec Abou Thiam, one of Chris' managers (and Akon's brother). Sources say Abou is "very friendly with Drake, and worked to try and get him and Chris together to put their differences aside."
A spy said Drake and his crew watched Chris' entire set at the iHeartRadio Music Festival in Las Vegas over the weekend. The source said, "They were backstage hugging and drinking."
Well....we're glad that's over.