RAPPERS' DELIGHT: Irv Gotti & Ja Rule OPEN UP About Beefs With Jay-Z, Ashanti & J.Lo + Nicki Minaj GOES Braless For "ELLEN", SAYS She Won't Go Back To "IDOL"
Sep 26 | by _YBF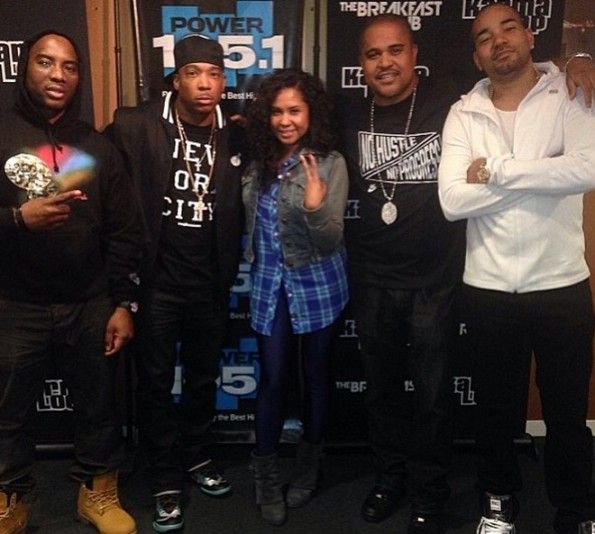 Irv Gotti and Ja Rule talked to The Breakfast Club about the good old days of Murda Inc. and the beefs and battles along the way with everyone from Jay Z to Jennifer Lopez. Listen to the interviews inside and see a preview of Nicki Minaj's interview with "Ellen."
This morning, Ja Rule and Irv Gotti had an in-depth conversation with The Breakfast Club about their glory days of groupies, drugs, and number one records. For the record, their drug of choice was Ecstasy. Irv said, "Ecstasy was good. We made all those records you love. We was very high."
Irv was definitely the star of the hour as he joked about his time in the industry and the beefs he had. In addition to dishing on Superhead, Chris Lighty, and Diddy, his most entertaining moments focused on Jay Z, Ashanti and J Lo. Here are the highlights:
On producing "Superugly" and ruining his friendship with Jay Z:

I wanna do great, great things. Nas is my brother. I would've shed blood with these guys. But me and Jay is…I've know Jay since' 87. I should've never did that. It worked out great for Nas. It tarnished me and Jay's relationship a lot. It's nothing I could say. He's right. I was 100% wrong. It was a mistake that I made. I'm stupid and crazy. Confirmed.

On if he ever slept with Ashanti and if he has issues with her:

Here's the real, me and Ashanti have a unique and special bond. We made great music together. No, we didn't have sex. I never slept with Ashanti. Let me tell you about our relationship. Listen, we at Murda Inc. is like a family. What happened when I fell upon hard times, certain people bailed. She bailed. I'm a cancer. We love hard and we hate hard. I don't care what I'm going thru. Like ride with me. Still ride. She didn't wanna be a part of Murda Inc. no more. She's this princess that I created and the 'murder' wasn't good for the image anymore.

On Jennifer Lopez:

Irv joked that his friendship with J. Lo ended when he told ELLE Magazine that she had a "weak" voice and needs a man like him to produce her because she couldn't compete with Whitney Houston and Mariah Carey. In his defense....he was high on Ecstasy.
Watch both interviews here:
And on "ELLEN".......
Nicki Minaj stopped by ELLEN to promote her latest fragrance, Minajesty and to talk about her life post-American Idol. Airing on Friday, Nick spoke about her "American Idol" experience saying, "I wouldn't trade it for the world. It was a great learning experience, honestly," she said. When asked if she would ever go back, Nicki said "No."
Also, Ellen gifted Nicki with a "Ellen" thong and had jokes for Nicki showing up for the interview with her boobs out.
The Randomness
1. TMZ now claims that Lamar Odom DID send that tweet defending the Kardashians. The site says that he called the Kardashian home and spoke to several members of the family via speakerphone. Mmhmm. Story.
Photo via Angela Yee Instagram