Jay Z Reveals In VANITY FAIR What Selling Crack Taught Him, Blue LOVING His Music & How He Nabbed (And Turned Out) Beyonce + The Official Cover
Oct 01 | by Natasha
Jay Z--no dash--is opening up in the November 2013 issue of Vanity Fair about his experience of selling crack back in the day in the BK streets. Find out the skills he said he learned from it, what made him quit, and why he won't be quitting rap anytime soon. He also talks how he finally woo'd his wife Beyonce...and later turned her gangster.
Plus, Mr. Carter's official cover and an inside pic...
You've seen the sneak peek, now peep the official cover. The dapper dad/rapper/business man/sports agent is putting his best style on display, with the help of stylist June Ambrose, for the November issue of Vanity Fair magazine.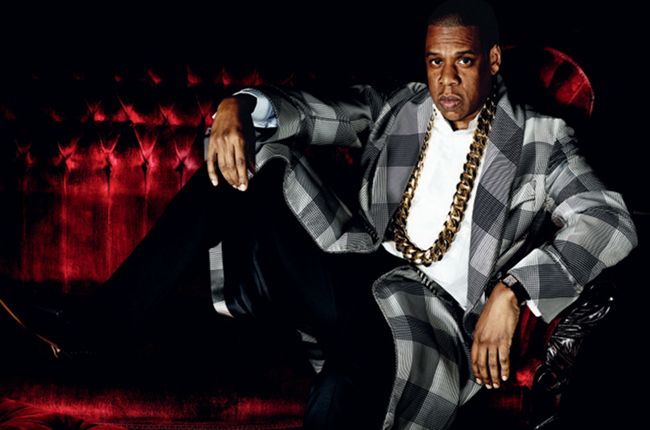 And Jay didn't keep it all frilly for the iconic fashion magazine. He dished on his well known crack dealing days in Brooklyn. He says he's never done crack himself. But it's pretty clear those basic business skills he learned back in the day while struggling economically have carried over into something more legal. His ROC empire.
"I know about budgets. I was a drug dealer. To be in a drug deal, you need to know what you can spend, what you need to re-up."
He said about the importance of an exit strategy:
"If you want to start some sort of barbershop or carwash — those were the businesses back then. Things you can get in easily to get out of [that] life."

"You have to have an exit strategy, because your window [for dealing drugs] is very small. You're going to get locked up or you're going to die."
As for what got him out that life:
"Not until later, when I realized the effects on the community. I started looking at the community on the whole, but in the beginning, no."

"I was thinking about surviving. I was thinking about improving my situation. I was thinking about buying clothes."
The proud papa gushed about his baby girl when asked if it was true that Blue Ivy didn't like her mom Beyonce Knowles' music. He said it's absolutely untrue, and easily talked about everything else Blue:
"That's not true. She does like her mother's music—she watches [Beyoncé's concerts] on the computer every night. But my album came out and I don't know if Blue ever heard any of my music prior to this album—she's only 18 months old and I don't play my music around the house. But this album was new, so we played it. And she loves all the songs. She plays a song and she goes, 'More, Daddy, more . . . Daddy song.' She's my biggest fan. If no one bought the Magna Carta [album], the fact that she loves it so much, it gives me the greatest joy. And that's not like a cliché. I'm really serious. Just to see her—'Daddy song, more, Daddy.' She's genuine, she's honest, because she doesn't know it makes me happy. She just wants to hear it."
Such a daddy moment.
Speaking of his wife, Jay revealed in the excerpt below how exactly he nabbed the hottest chick in the game over 10 years ago--and how he turned her out:
Jay says that when he and Beyoncé were both featured on the cover of Vanity Fair's 2001 Music Issue "we were just beginning to try to date each other." Try? "Well, you know, you've got to try first. You got to dazzle . . . wine and dine." He tells [writer] Robinson that "of course" he pursued Beyoncé, and when asked if he hadn't been Jay Z—say, he had been a gas-station attendant and she pulled up—would he have been able to date her, he responds, "If I'm as cool as I am, yes. But she's a charming Southern girl, you know, she's not impressed. . . . But I would have definitely had to be this cool." Jay confirms that the line on his latest album, "She was a good girl 'til she knew me" is about Beyoncé, and when Robinson asks if she's not a good girl anymore, Jay laughs, saying, "Nah. She's gangsta now."
And if you're wondering when the 43-year-old, almost half a billion dollar man will finally quit the rap game....he doesn't even know himself:
"I know I said I wouldn't be doing it when I was 30 so that's how I know I love it. Thirty years old was my cutoff, but I'm still here, 43 years old."
Hov kicks off his Magna Carta Holy Grail tour November 30th.
Photo: Mario Testino for Vanity Fair