MODEL FAB: Naomi Campbell TALKS Mentoring, Maturity And Racial Equality In Fashion With "Net-a-Porter" Magazine
Oct 03 | by _YBF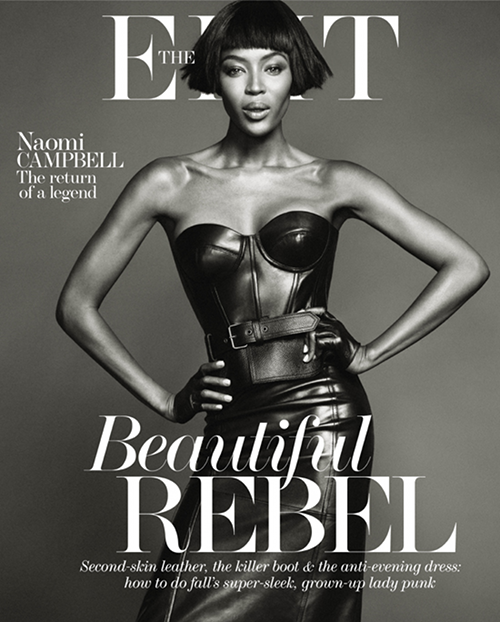 In the latest issue of "Net-a-Porter" Magazine, supermodel Naomi Campbell talks mentoring, maturity and fighting for racial equality in the fashion industry. See her photoshoot inside....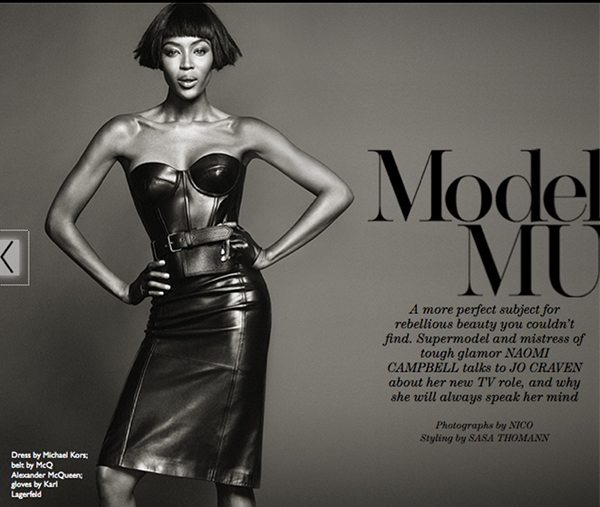 In the latest issue of Net-a-Porter's EDIT shoppable magazine, supermodel Naomi Campbell reflects on her over the top career and tells where she's headed with her tv empire ("The Face"). She's looking simply stunning in every pic. Of course.
Here are the highlights:
On mentoring:

"I want people to really understand what the world of modeling is about, and how hard we work. I like the mentoring aspect, as opposed to sitting in my chair and judging someone. It's really rewarding to see the models transformed and it makes me feel like I'm doing something right."

On building relationships:

"I LEARNED something from each photographer I WORKED with, their different styles and how they WANTED me to be

On Nelson Mandela:

"There will never be anyone like him again. When you meet him, you just get such a positive aura. It's incredible."

On how she stays in shape:

Since I had my operation on my knee [in 2012, after being reportedly mugged], Pilates has become very important. I don't want to build muscle, just to tone. I'm not extreme about what I eat – I let chocolate and crisps come in at times. You have to allow the little things that make you happy. For ten days prior to the Versace show, I just drank juice – carrot, ginger, pineapple – to cleanse."

On racism in the industry:

"I do think there is still racism. Joan Smalls and Jourdan Dunn and I speak with each other and, sometimes, I'm a little horrified with the things they tell me."
See Naomi's shoot here.....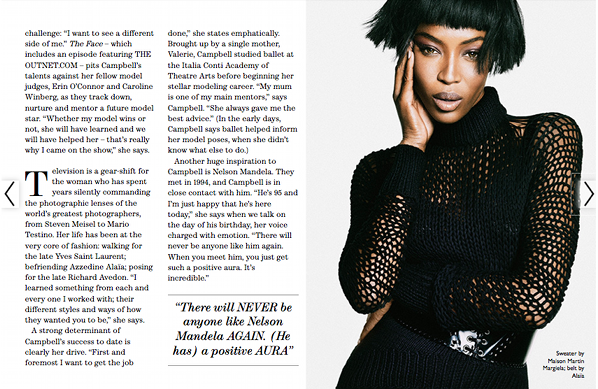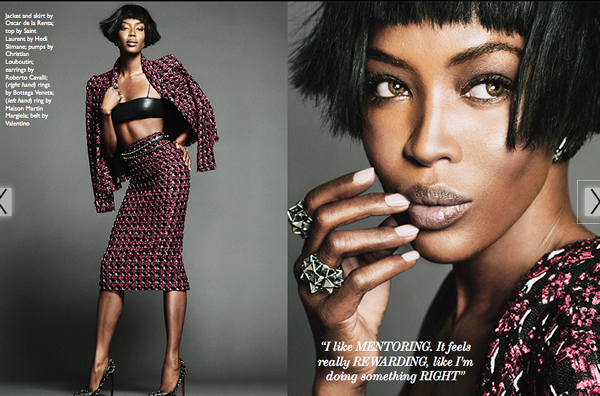 And watch the BTS video below:
http://www.youtube.com/watch?v=PE63N02W7Eo&feature=c4-overview&list=UUZp...
Photos via Net-a-Porter