Halle Berry LANDS Lead Role In New CBS Series + Nelly PERFORMS On "WENDY", STAYS SECRETIVE About Tae Heckard
Oct 04 | by _YBF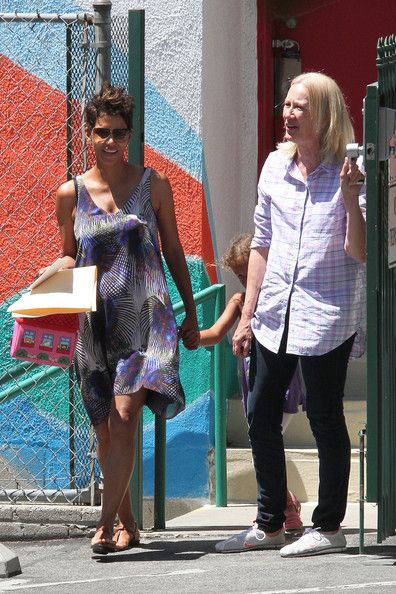 Halle Berry had landed the lead role in a new CBS series. Get the show deets inside and watch Nelly talk about dating Tae Heckard on "Wendy".
The very pregnant Halle Berry has landed the lead role in the new Steven Speilberg-produced sci-fi series "Extant". Set to air on CBS, the network has picked up 13-episodes for next summer.
According to Deadline, Extant "centers on an astronaut (Berry) who returns home from a year-long solo mission in space and tries to reconnect with her husband and son in their everyday life. Her experiences in space and home lead to events that ultimately will change the course of human history."
Steven talked about Halle's casting saying:
"There's only one Halle Berry and we are incredibly honored that she has chosen Extant to expand her illustrious career. As she does with everything she touches, she will bring a deep authenticity to her role and I very much look forward to working with her."
Halle's statement about the new role:
"I'm always on the lookout for amazing roles and when you see material that contains this strong of auspices, nuance and complexity it compels me to run toward it no matter the medium. For five months a year I'll get to live with and play this incredibly intelligent and vulnerable woman, and for the remainder of the year I'll continue to look for other roles that move me as deeply as this one."
Hope this pans out well for her.
Also in television news...
Nelly stopped by "Wendy" earlier today to perform his latest single "Rick James" off his new album M.O. After the performance, Wendy asked Nelly if he was dating "The Game" actress Tae Heckard.
The rapper (who famously refused to claim Ashanti in public) got very uncomfortable and said, "Tae's a pretty girl. I don't know what to think at this point. It's not like you're making it out to be, Wendy. Yes we're friends....we enjoy being friends."
Ummm...based on our past experiences with Nelly, we'll take that as a confirmation.
BONUS:
Ellen invited three-year-old Heaven King and her mom, Atlanta dancer Tianne King, on her show to recreate their Beyonce-inspired dance moves that have gone viral. Enjoy!