LIAR LIAR? Video Proof Leaks Of Braylon Edwards Attacking Photog Outside Nightclub....
Oct 08 | by Natasha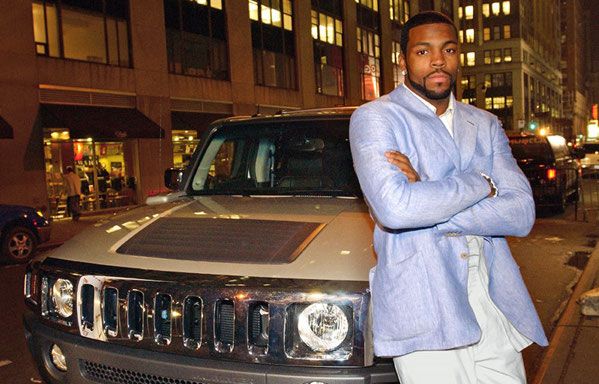 Sigh Braylon Edwards. When will these ballers (or former ballers in Braylon's case) that almost anything is videotaped these days when it comes to a public figure acting out....in public?
After Braylon tweeted a life of denials over the weekend that he committed NO wrong doing in the case of attacking a photographer outside a nightclub in Detroit, video proof has surfaced...
What's done in the dark...always comes to the light (of video).
Over the weekend, a photographer filed a police reportaccusing former Jets baller Braylon Edwards of grabbing him by his ankles and flipping him over on the concrete outside a Detroit nightclub.
Braylon said people were just trying to stick him for his paper and his celebrity because he never committed any wrong doing. And he claimed the photog was never harmed.
Really Bray? Because newly leaked video footage shows you did exactly what the photog claims you did.
The video shows a photographer and Braylon exchanging words (likely over the photog not deleting video that he took of Braylon shoving someone else) and then the photog walking away. We see Braylon attacking the photog whose back is turned by yanking the photog's ankles and flipping him face forward on the concrete.
Check it below:
Maybe he was too drunk to remember what he actually did (no confirmation he was drinking that night but we're just saying it's a MAJOR possibility if you're partying all night and can't remember something that clearly happened).
A couple of days ago, Braylon denied ever hurting the photog saying anyone who believed the story "might need help." He also tweeted:
The reports are blasphemy. Was joking with friends and a guy was filming us. I asked him to delete it, he said no. He wasn't harmed at all.

Also there were many officers in attendance at the alleged incident, and never stepped in, because there was no wrong doing.

This is another case of some1 trying to "come up" off a persons status. My name will be cleared of this nonsense soon. Story is ridiculous.
Alrighty then...
Photo: AutomotiveRhythms.com