Jennifer Hudson Hits the Red Carpet With SWEATY Armpits! + Mariah Carey POSTS Letter To "Lambs" About Her Injury And Upcoming Album
Oct 12 | by _YBF
Jennifer Hudson made a "sweaty" splash on the red carpet during the Chicago International Film Festival. See JHud's sweat stains inside and read Mariah Carey's latest letter to her lambily....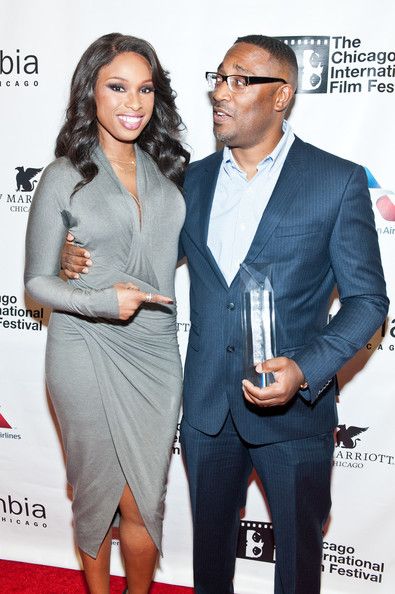 Yesterday, Jennifer Hudson appeared at the 2013 Chicago International Film Festival at AMC River East Theater for the premiere of her film "The Inevitable Defeat Of Mister And Pete". The Alicia Keys-produced film was shown during the the Black Perspectives Presentation and made as big of an impression on the audience as the Oscar-winner's sweat stained red-carpet stroll.
Jen (shown above with the film's director George Tillman Jr) took an unforgettable walk down the red carpet with some VERY visible sweat stains under her arms.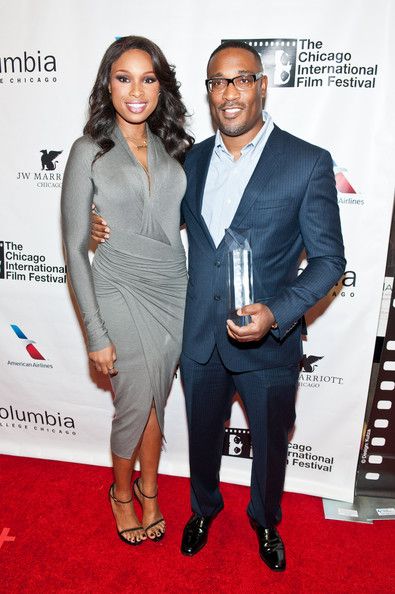 We're not sure if the bright lights of the red carpet caused Jen to break out in a sweat or if she simply forgot to wear deodorant, either way, the stains ruined the look of an otherwise attractive dress.
In other festival news, George was honored with a Career Achievement award during the event. His film credits include Soul Food, Barbershop and Beauty Shop.
In music news....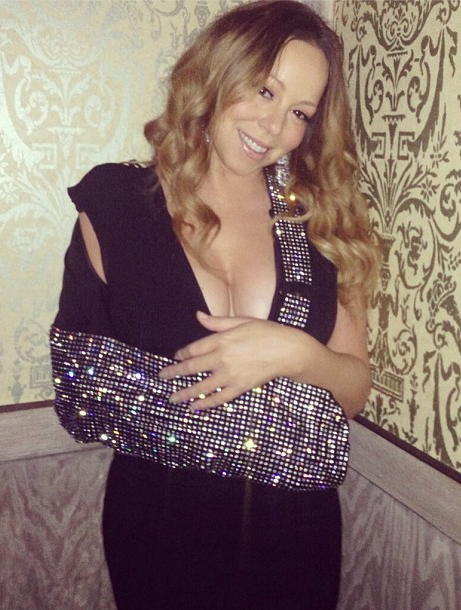 Mariah Carey posted a letter to her fans on Facebook where she talked about the months of therapy she's endured after injuring herself earlier this summer and her new album. Here's the good news.....she says her upcoming cd is a "classic"!:
Hiiii lambs!!

I'm so happy to be able to catch up with everybody here on Facebook. The last three months of my life have not been easy. Getting through this injury has been the toughest experience of my life. It took me three months to get to this point but thank God I was able to recover and get my arm back. It's a huge deal, it should have taken eight months and even my doctors can't believe it. It's been a long journey, the physical therapists have been incredible and I am very grateful to all of them for helping me.

When people expected me to go "Here I am, I'm back and everything's great!", it didn't happen because my hand was still in tremendous pain and it took this long for it to heal. I've been working day and night, and it took a lot of rest (though I did sneak in to the studio a couple o' times!) but I can finally say that I am on my way to a full recovery.

There's a lot of excitement that I'm going to reveal to you very soon, and sooner than you know it, you're going to understand why but more than that, you're going to feel what I've been feeling for the past- not three months- but three years.

This is, to me, one of the most important albums I've ever made in my life. If you're a lamb, a fan, or just a human being that needs to feel good, happy, sad, miserable, joyous... "I gotcha" (said like Roc- you haven't heard how he says it yet but you will soon, it's a complete+total classic!)

LYM!!!! --MC
We told you earlier that Mariah had announced a musical merger with Jermaine Dupri and we expect it will have a large impact on her upcoming The Art of Letting Go disc. We're not sure what they have in store...but we're excited about it.
Photos via Mariah Carey's Instagram/Timothy Hiatt/Getty Images North America