TLC--The Originals & "The TLC Story" Cast--Dish About Pebbles Drama & More On "Wendy"
Oct 17 | by Natasha
T-Boz, Chilli, Lil Mama, Drew Sidora and KeKe Palmer are spilling all during their promo appearances about how Pebbles messed the original girl group over and caused them to go broke. And today on "Wendy", the "TLC Story" cast also dished their weird connections to the members of the group.
Check it inside...
How gorge are these ladies? Lil Mama, Drew & KeKe joined T-Boz & Chilli today on "Wendy" to chat about the upcoming VH1 movie "CrazySexyCool: The TLC Story".
Lil Mama, who's looking amazing by the way, revealed the weird "spirit like" things that happened on set every time they filmed a sad scene. As she plays "Left Eye" in the movie, an ambulance and sirens would always pop up on the street during the filming of sad scenes involving Left Eye.
Drew revealed how she has always been a T-Boz lover, and always played her every time her and her school friends impersonated TLC. She's also been the spokesperson for Sickle Cell Disease (which T-Boz lives with) for years as her dad is a doctor and he's involved with a Sickle Cell organization. So she felt that was her connection to Tionne Watkins--who's a Taurus like her--before they even started filming.
And KeKe revealed that in every school talent show--she played Chilli. And it's a full circle moment for her to play her in an actual movie now.
As for what T-Boz & Chilli had to say about Pebbles--the legendary woman who discovered them at LaFace and has been accused of setting them up for bankruptcy--it wasn't pretty.
The girls threw a little shade saying they're sure Pebbles would love to tell her own story. But Chilli revealed Pebbles once kicked her out the group because of her relationship with Dallas Austin (who ended up being Chilli's baby's daddy). Pebbles apparently swore it was Chilli's "daddy issues" that caused the relationship to happen in the first place, so the only way she was allowed to re-enter the group (after they tried to replace her) was for her to go to therapy.
P.S. Pebbles has already snapped back earlier this week on Twitter saying it's all lies and she's lawyering up!
Check out the video below of today's revealing chit chat:
BONUSES: Lil Mama hit up the screening of 12 Years A Slave at AMC Empire 25 in NYC last night looking pretty fab: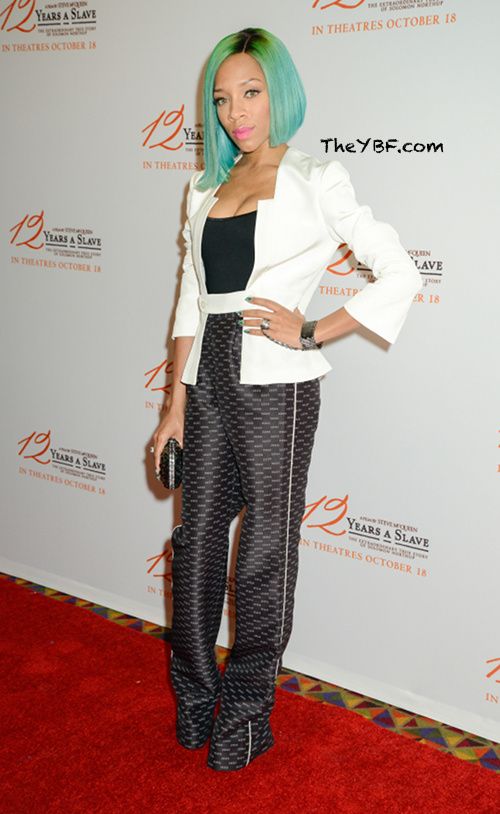 And KeKe hit up "Bethenny" (airing Friday, October 18th) to talk about how she got her abs of steel for the movie: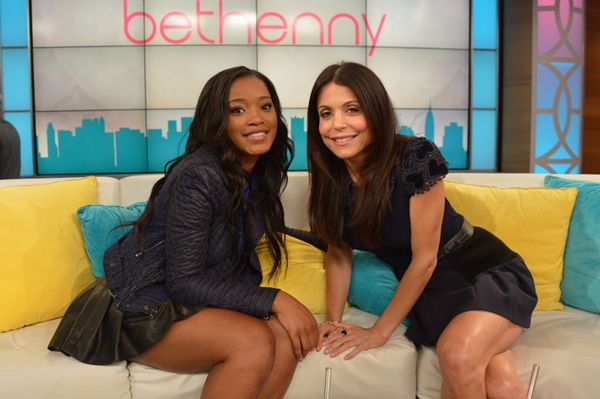 She said about nabbing Chilli's abs:
Those abs were out of control. I had to do too much. I was eating nuts and berries only like a squirrel. I don't know why I do this to myself, I am so over the top with everything that I do I overanalyze everything, I make myself so anxious for no reason. I don't know how I work so hard because I always make everything so extreme.

...So when I went on this diet I was working out every minute, every second. We would be doing choreography and I was still doing gym in the morning, gym in the night, eating barely anything. Doing all this type of creepy stuff. I was like this is too much.
But it all paid off boo!
Photos: Wendy Williams/INF/Bethenny