Solange Knowles Flaunts Her Legs At EBAY Collections Event, Reveals R&B Compilation With Cassie & Others + Janelle Monae Covers UPTOWN
Oct 22 | by Natasha
Solange Knowles made her way to the Ebay Collections event in New York City today. Check out her hot look inside, plus her new R&B compilation announcement. And, we've got Janelle Monae's UPTOWN magazine cover inside..
Solo has never been shy to flex those killer legs for the cameras. So this morning, she helped Ebay announce their new 'Collections' feature, a Pinterest-like tool that will update the website and make it more current, while rocking black super short-shorts and a buttoned up printed blouse.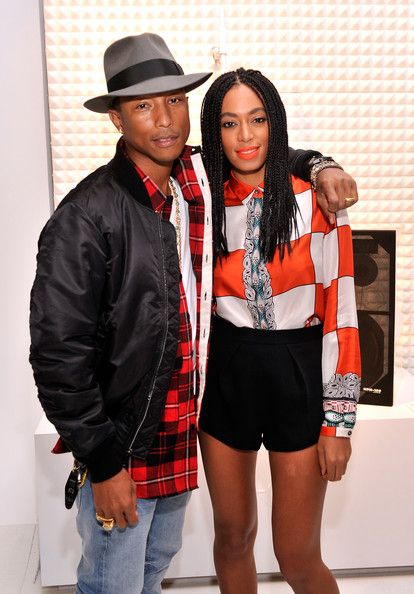 She snapped a pic with host and newlywed Pharrell too. Cute!
Solange also announced today the newest project off her Saint Records label. It's a collection of music called SAINT HERON, described as "a compilation of contemporary genre defying R&B visionaries." Cassie, Jhene Aiko, Solange herself and the following will all be featured:
Nice!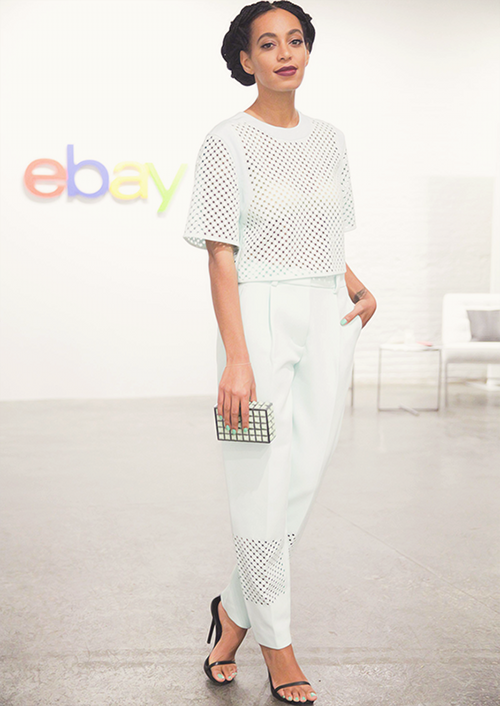 And for the afterparty, Solo changed into an all white Phillip Lim perforated blouse & pants, her Saint Laurent heels and a Kotur clutch.
In other fab chicks in music news, Janelle Monae is rocking the October/November 2013 cover of UPTOWN Magazine.
The Electric Lady sat down with the mag over in Paris. And gushed about all things chic and girly girl:
"I love it here," she says. "Parisians are so warm, welcoming and dangerous. I feel like a beetle that is carefully held and protected in Paris. They are so fun and free and crazy. Plus, Claude Monet actually stole my name and put an 'e' and a 't' on it, which stands for 'extra terrestrial.' There are a lot of weird things going on over here in Paris, but I can dig it."
And about why she stays so mysterious:
"It is my goal to mislead you into believing one thing," she continues with her best sense of irony. When talking with Janelle Monáe, I must warn you, metaphorical winks come in such rapid-fire succession that only later do you realize that you are struck. And not from a shocking crimson drip, à la Walter White; it's more of a delayed Big O "aha" moment. "There has to be some misinformation out there about Janelle Monáe," she teases.
And about those misconceptions:
People think I am so straitlaced and buttoned up. There is a lot of life underneath this tuxedo. I like to have fun. I enjoy practical jokes. I enjoy rolling around the mall in wheelchairs. I enjoy taking someone's baby and putting it on my hip for about two hours straight and then giving it back.
Check out the full story over at UPTOWN.
Photos: PCN/Uptown/The Chamber Group