DOUBLE TAKE WORTHY: Rihanna Goes Medusa For December 2013 BRITISH GQ Cover + Nicki Minaj's CamelToe Snap
Oct 25 | by Natasha
Rihanna tapped into her mythological side for the brand new December 2013 cover of BRITISH GQ. Check out the snakey cover inside, plus Nicki Minaj's newest camel toe pic....
Rihanna's rocked many-a-magazine covers through the years. But never one where she's overrun by snakes!
For the December issue, which doubles as GQ's 25th anniversary cover, Rihanna teamed up with famed art director Damien Hirst to embark on an art project like we've never seen.
Ri is rocking a bed of snakes on her head, with a huge python (or python-like) snake wrapped around her neck Britney Spears style. Oh, and she's going totally nude to show off her beneath-the-boob tattoo.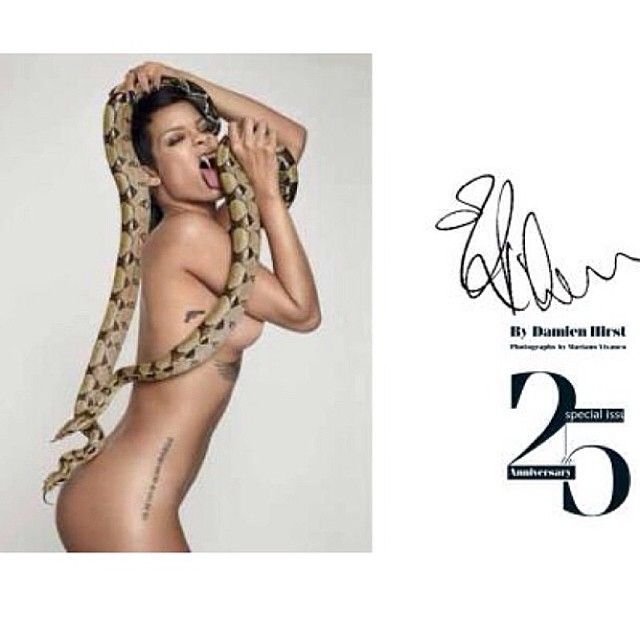 The full portfolio for the special anniversary issue will be on newsstands and available to download on October 31st.
P.S. Rihanna's new show "Styled To Rock" premieres tonight at 8/7c on @Bravo.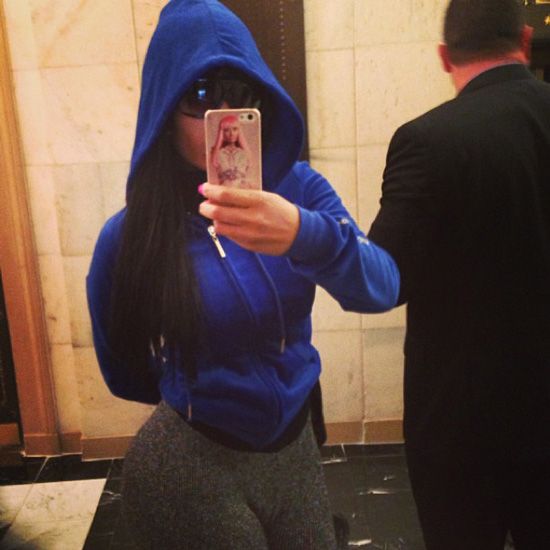 Meanwhile, Nicki Minaj is snapping up her own double-take worthy pics over on IG. She snapped this pic while walking past a mirror--don't act like y'all don't do the same--while rocking skin tight leggings and a hoodie.
And we can only assume Nicki was purposely giving her fans a peep into her most private of places--not just her heart.
It's the slight camel toe that had Twitter in a tiff. The folks over at VH1 asked if she knew what happened when unnecessary dampness occurred beneath the belt region and told her to free herself from her constrains. Hilar.
Oh Nicki...
Photos: GQ/Nicki's IG