Chris Brown To Be Arraigned Today In D.C., Bow Wow Offers Up Support
Oct 28 | by Natasha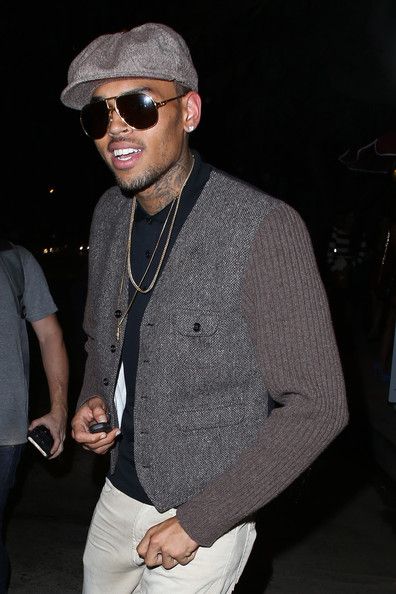 Chris Brown is scheduled to face a judge at the D.C. Superior Courthouse this morning. Deets inside...
"Love More" singer Chris Brown is about to face the music this AM after a scuffle with another man went down outside the W Hotel in D.C. early Sunday morning. The fiasco caused Chris to cop a felony assault charge.
A 20-year-old man from Beltsville, MD claims he attempted to jump in a picture Chris agreed to take with a female fan. He says Chris punched him and he suffered bruising and swelling in the nose area. He was treated and released from the hospital.
According to Chris' camp, though, they say the real story is that the victim didn't (only) photobomb, but he tried to board the tour bus. And they were reacting to his trespassing.
The police report also states, as told by D.C.'s WUSA9 News, it was Chris' 34-year-old BODYGUARD....not Chris like other reports stated....who said, "I'm not into that gay sh*t...I feel like boxing."
Since Chris is still on probation for the Rihanna domestic violence incident, his probation is now in danger of being in violation. Check out the news report below:
And by the way, Breezy does have some support from a celebrity friend. Bow Wow posted a message on his social media saying:
Been homies since day 1. Im talking bout got money together so much like bros if you aint have it on you my nigga it was nothing i got you! Same on both ends! Keep yo head up stay focused you got a gift that your fans appreciate. Dont give these people no more reason to talk. Deliver them hits and focus on what YOU gotta do! Love my G #Freemyhomie! Hood & @wackstar yall scream at me let me know the 411! Hit No word if he'll be back home in time to host his Halloween Costume Party at L.A. live.
And tweeted:
#Teambreezy yall got to stand by the homie. Remember keep yo head high and never down! Stay up! @chrisbrown #Freemyhomeboy
We'll keep you posted about today's hearing...
Photo: PCN