EJ Johnson Underage Parties With Miley Cyrus In NYC + Chris Brown's LAWYER Calls Out "Hater Hoes" On Twitter
Oct 29 | by Natasha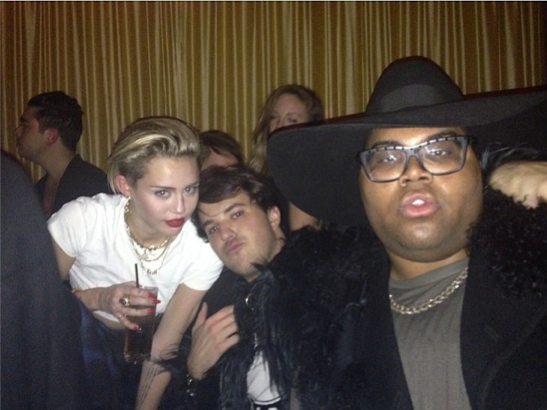 EJ Johnson was spotted partying it up alongside Miley Cyrus and friends the other night at 1Oak. But the only problem is....they're both underage. Find out what folks are saying inside, plus the foolishness coming out of Chris Brown's lawyer's Twitter page inside...
So while EJ Johnson is filming his reality show "Rich Kids of Beverly Hills",, he has no problem showing every aspect of THAT life. Even when it's a bit illegal. But hey, rich kids in Beverly Hills live like this with no consequences right?
His homie Andrew Warren posted a pic Andrew, EJ partying hard with Miley Cyrus at 1Oak in NYC saying:
Insane crew at oak @ej_antoinette @mileycyrus #clique
Too bad Miley & EJ are only 20...inside the 21 and up club. And allegedly, Miley was not shy about knocking back alcoholic drinks.
"Miley and EJ were at 1OAK… Miley was drinking alcohol in the club," one eyewitness told Radar Online.
And in other social media foolery:
Chris Brown nor his lawyer Mark Geragos have spoken out officially about yesterday's arraignment which turned into Chris copping a misdemeanor charge after punching a man. But...it didn't stop Mark, the professional lawyer in this situation, from tweeting his thoughts.
He tweeted several thank you's to "Team Breezy" and told them how much they rock. Then, he called out "Hater Hoes" in response to someone criticizing his client. Yes, really.
The outspoken Geragos is not a stranger to saying semi-shockworthy things. He's often a talking head on CNN & other political networks. But...things are suddenly starting to make perfect sense....
Photos: Andrew Warren's IG/Getty