Inside The "Love & Hip Hop" Premiere Party: Newbie Tara Talks Slapping Her Baby Daddy's New Wife, Tahiry Jose Talks Finding Herself (With Joe), & More
Oct 29 | by _YBF
TheYBF.com spoke to the cast of VH1's "Love And Hip Hop" during a screening of the show's season four premiere. See pics from inside the screening and find out what the show's stars revealed to us....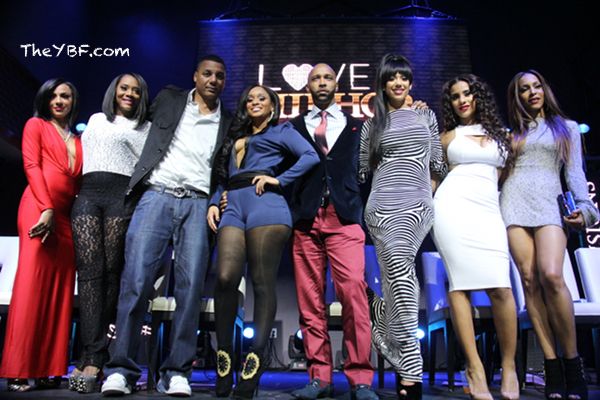 Last night, the cast of VH1's "Love And Hip Hop" gather at NYC's Stage 48 for a screening of the show's season four premiere. And if you're still one of the one's watching the series, we have some dish from our chit chat with a few of the cast members.
We'll stick to speaking only about those who respect the media who help make their careers. And those who don't get mad at us for their own basictry...
Although some fans complained that Mona Scott Young (shown above with Jennifer Williams) and her flagship series had grown stale, she and the producers pulled a few tricks out of their bag this season with story lines that will rival the Atlanta franchise in shock value and pure ratchet behavior. You know, if that's what you're into.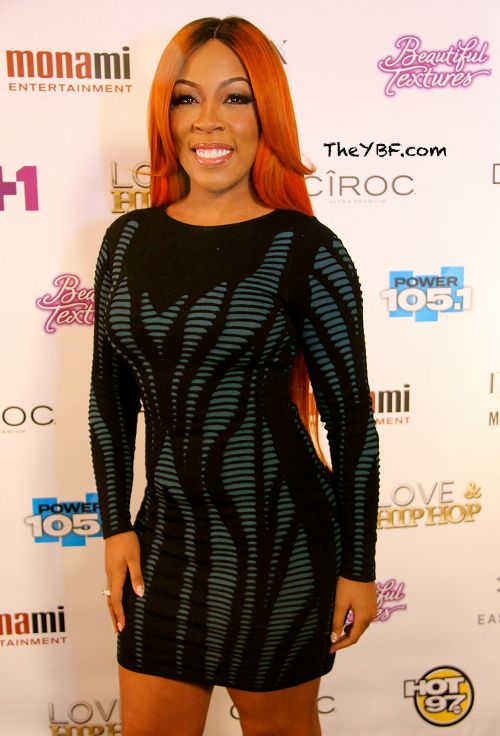 Flower-tossing "VSOP" singer K Michelle has been added to the NY cast where she builds her music career and revels in the success of her album Rebellious Soul. Great move for her. And we're kinda loving this new hair color.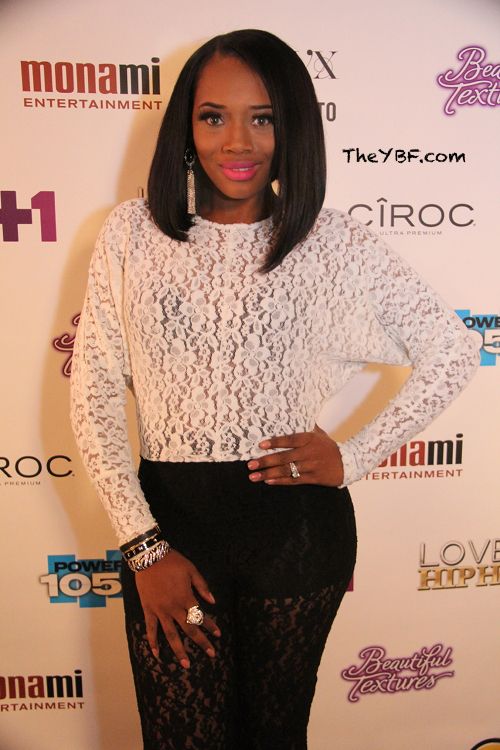 Yandy Smith opened up to TheYBF.com about being a single mother (Mendeecee is still in jail), her new record label with Rich Dollaz and how she balances her career, motherhood and reality tv.
On starting Lenox Ave Records with Rich Dollaz:

Well you know Rich is kind of the ying to my yang. I make sure the dollars connect and I felt like if I'm going to do anything I need someone that's really great at making records. So I thought why not Rich. You know we both been in the industry for over 10 years. We have amazing relationships with everyone. I felt that this was the time. And I'm excited about it.

On having it all:

You know one of the mottos of the EGL brand is you can be Suzie the homemaker and Oprah at the same damn time without compromising one without the other. I believe you can be great at both. So I wanted to show women you know my life and my life is I work hard and I'm a great mom.

On controlling her brand and tv perception:

You know there's been times where I been put in situations where they wanted to get a rise out of me and I'll just walk out. Cause they can't use the season. But I'm not gonna do that for TV. Like you're not gonna have me belittle who I am. The years I spent to build my brand I'm not gonna let the split of a second to be taken away. This is not my only job. This is one of my jobs. And that was something that was important to me and that was important to my brand.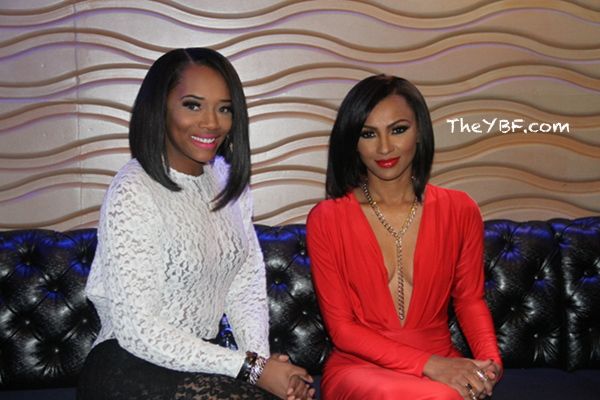 Yandy posed with castmate Tara Wallace who'll soon become a household name (much like Stevie J/Mimi Faust and Joseline Hernandez) thanks to a particularly MESSY love triangle with her NEWLY married baby's father Peter Gunz.
On slapping Amina (Peter Gunz's new wife)

I blacked out in that moment honestly. That was a bit of information you have to handle with care. Write a letter. You don't deliver it like that. That was a moment of black out. I snapped.

On semi-living with her (now married) children's father Peter Gunz:

He's still in the house. I have changed the locks and he comes knocking. And we have two kids so it's not like he can't be there. Do I find that very difficult though? Yeah. I find it very difficult. Sometimes I just need a minute to myself. I'd like to make a clean break and perhaps if I didn't have kids that would be pretty simple but I haven't found it that simple right now. It's been a little difficult.

On Amina and her marriage to Peter:
She'd like to walk around with the butterfly halo but that's just not the case. And I also think that she's not being honest with the nuances as to why they are married. And that's something that she can't talk about........ With the facts that I know about the marriage she shouldn't even say anything. She shouldn't even tell anyone. It should remain a secret. The way it was before the show started.


Chile...
Amina Buddafly is Peter Gunz's new artist AND his wife. She is involved in a nasty love triangle with Peter and Tara (the mother of his two kids).
On being "happily" married to Peter:

You know it's ups and downs especially cause of the show. And he's like dealing with a lot of drama with his kids mother and it's still hard but we're still happily together and hopefully it's all going to end up a positive ending. You never know in life. That's the thing, with me, with knowing relationships, and now that I'm married for the first time in my life, and he is too. He's never been married before and this is his first time being married. I hope, I'm so hopeful, I can't do anything but pray about it.....and it's gonna last. But we'll see.

On getting slapped by Tara:

I've never been smacked in my life. And it honestly felt like a punch and it was bad. And you're going to see. Better stay tuned for that. Everyone keeps saying I deserved that. I just keep staying by my real true honest response which is I really had no idea. It all came out - which is a good thing cause I think if we didn't do the show it all would kind of be like—I still wouldn't know what's going on. And I still would think that—still believe his lies. And she would still believe his lies and now he's exposed. It's like he's the one to blame. Ah, I hate doing that cause I love him so much.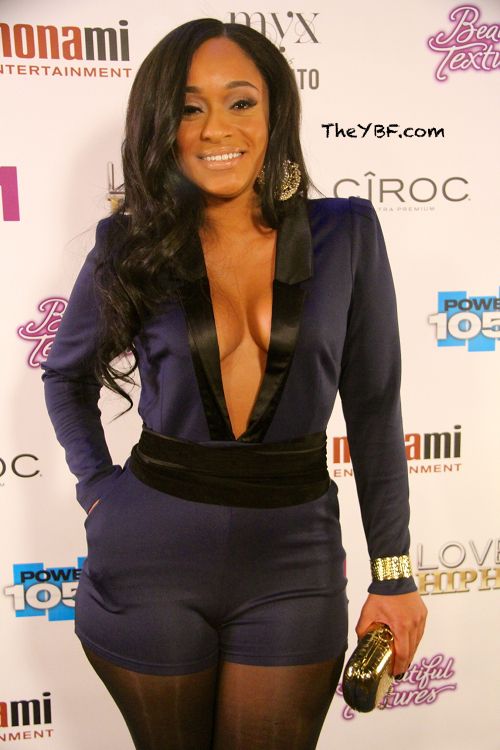 Tahiry Jose talked to us about hooking up with Joe again and breaking up Joe again!. Also, she revealed that she's come to understand herself better.
On finding herself:
I fell for Joey's antics again I guess. No, I'm joking. I truly have been able to, kind of like assess my life and try to figure out why I was so hurt between my dad and Joey and all my issues when it came to men. I finally gave it another chance and I did and I'm not—I don't regret it to this day. It's the best thing that's ever happened to me... getting back with Joe. Because now I know.

On loving Joe Budden:
I love Joey dearly. You know, there's certain people in your life that you've shared special moments with, you've grown with, you've shared experiences with and they become permanent fixtures in your life whether you're able to carry a relationship or friendship with them or not. These are people you care about so I will always care for Joey. Do I know how Joey and I will wind up? I can't tell you today. Am I ok where I'm at today? I am so much at peace than I was a year ago and I thank Love And Hip Hop for it. This was therapy for me.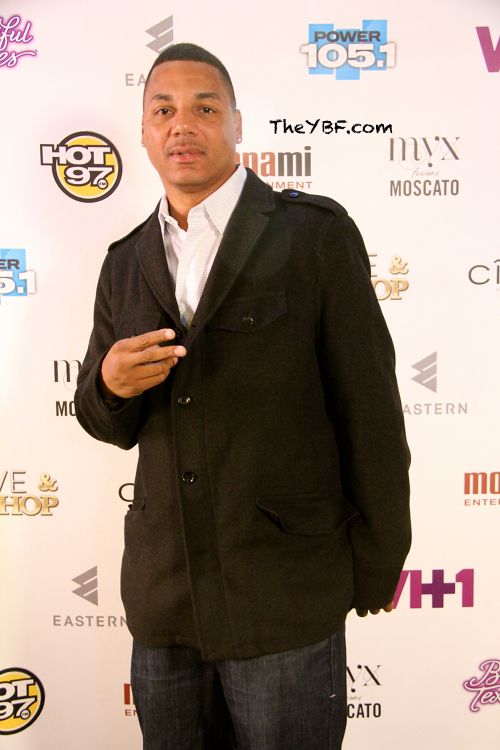 Rich Dollaz told us about his venture with Yandy Smith.
"It's going great. I think we're going to be distributed through Warner Brothers. We're bringing Timbaland aboard so all things considered, I think that this is not just a story line, punch line. I'm looking for a real live act that's going to be big. I'm looking for the real deal and me and Yandy are doing our thing. "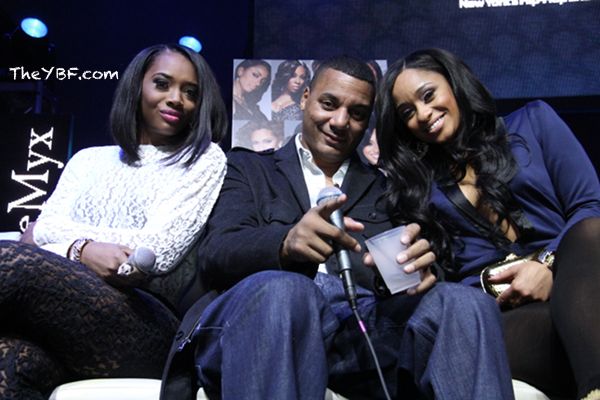 Joe also told us that he's working on a solo project called "All Love Lost" in addition to another Slaughterhouse project. He also hinted that the love saga between him and Tahiry isn't over.
"Life always brings us back together. I'm there for her when she needs me. She's there for me when I need her. Our love is so much deeper than just like boyfriend, girlfriend. That's real storybook sh*t."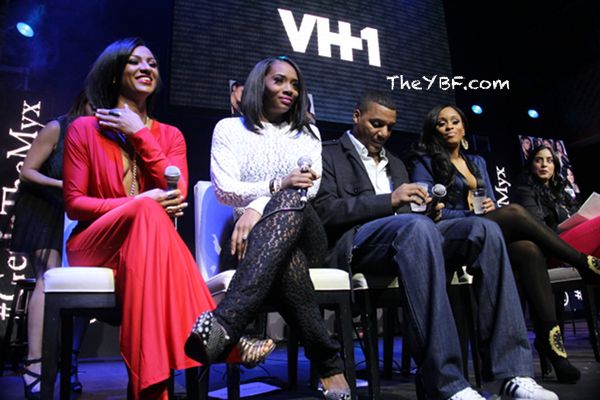 In case you missed it, watch the full episode here:
"Love & Hip Hop NY" airs on Mondays at 8pmET on VH1.
Photos via Rodney Gibson/Shirley V. Williams