SPEAK ON IT: Should Kanye West Sell Confederate Flag Designed T-Shirts At His L.A. Pop-Up Shop?
Oct 29 | by _YBF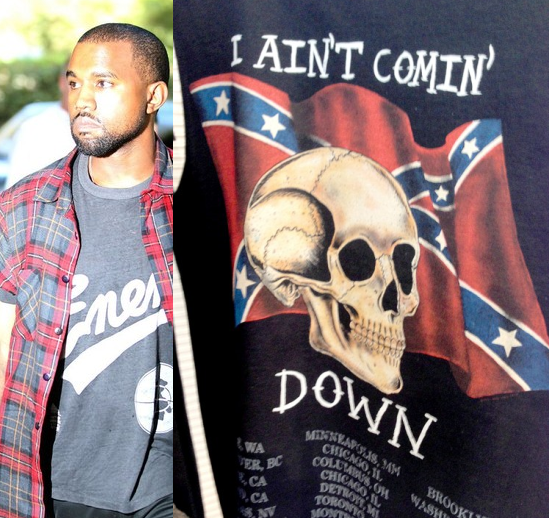 Kanye West is sparking outrage for using the Confederate Flag to push merchandise for his Yeezus tour. But we all know he loves to spark a little controversy to get people talking about social issues. Is this one of those times? And should the rapper profit from the selling of one of America's most iconic symbols of racism? Speak on it inside.....
Kanye West has sparked anger in some folks for selling Yeezus tour merchandise with the Confederate Flag emblazoned on it.
The controversial items are on sale AND on display at his LA-based pop-up shop (next door to Kim Kardashian's DASH store) on Melrose Avenue. The items (which include t-shirts, posters and pictures) also come with slogans like "Yeezus wants you", "The Winning Team" and "I Ain't Coming Down" (likely an answer to the slogan that usually accompanies Confederate flags--"The South Will Rise Again").

If you're wondering what the hype is all about, Kanye is very aware that his actions are going to make people uncomfortable. He told LA's 97.1 AMP,
"React how you want. Any energy you got is good energy. I represented slavery, my abstract take on what I know about it, I wrote New Slaves. So I took the Confederate flag and made it my flag. What are you going to do?'
Now that you know Kanye is selling the shirts for a greater purpose than shock value, how does it sit with you? Will the items in his pop-up store spark a larger conversation about racism in America...or just serve to line his wallet?
In other Kanye news, remember when Kanye called out Louis Vuitton for their excessive prices? After a closer look at his own items, we found it odd that the line he recently designed for French casual brand A.P.C. carried a $120 plain white T-shirt and a $280 hoodie. Bearing in mind that he's also designed for Louis Vuitton in the past, is Kanye talking out the side of his neck or is he so rich that $120 t-shirts aren't considered "excessive". Or, is he simply saying controversial things for the sake of controversy?
Speak on it...
Photos via Splash/FameFlynet