Porsha Pops Back At Kenya Moore, Accuses Her Of Being SURGICALLY ENHANCED + Mariah Equates "Idol" With Working In HELL With SATAN!
Nov 13 | by Natasha
Porsha Stewart is really pissed at Kenya. After Kenya Moore tried to read Porsha in her Bravo blog about Porsha insinuating her estranged husband Kordell Stewart is gay, Porsha popped back with some more accusations.
Deets inside, plus Mariah going in about "Idol"....and working with "Satan"...
Earlier this week, Kenya had some words about her "RHOA" co-star Porsha causing drama with all this talk about Kordell being gay and the reasons for the end of their marriage. In her Bravo blog, she wrote:
I find it quite disturbing that Porsha and her family go on and on about the fact that Kordell may be gay. After all, she told the world she had a "picture perfect life" and married the "man of her dreams." Cut to Porsha sitting with the attorney agreeing to take him back if he abided by a "list." Well, a thinking person with a brain would ask the question that if the main problem was that he is possibly gay, why would you want him back? I don't think Porsha is telling the whole truth. That's always been my opinion of her and it remains the same after listening to her recall the "facts" about their marriage.
Fast forward to today when Porsha was apparently up to her short coiffed wig tip about the matter. And she responded with this little nugget: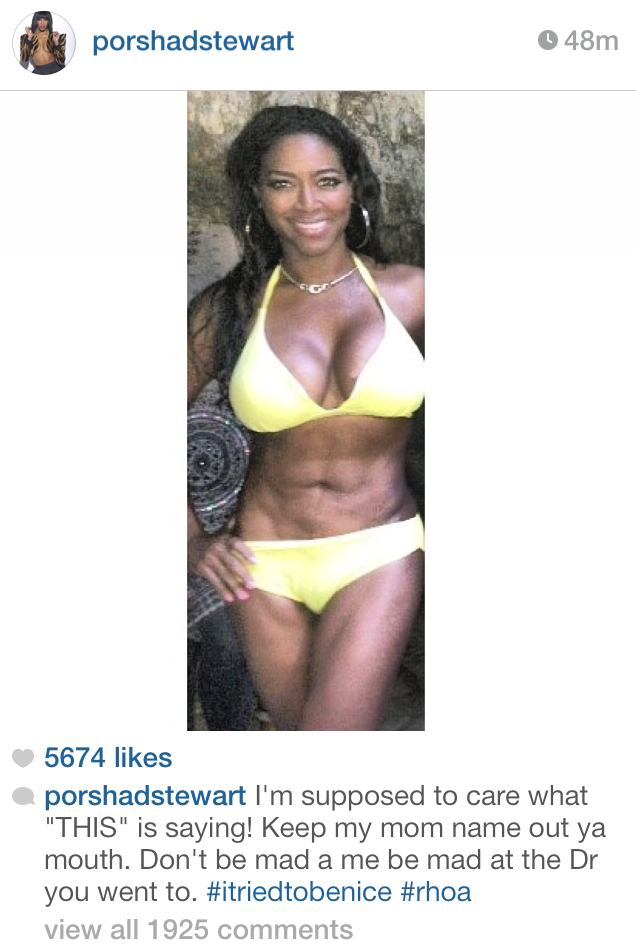 She shaded Kenya about her allegedly surgically enhanced body. BLOOP. Her "Pastor Porsha" conscious must have taken over because she removed the photo....after 1925 comments were made on the pic. She later posted another pic saying she was "unbothered" by it all...but deleted that too.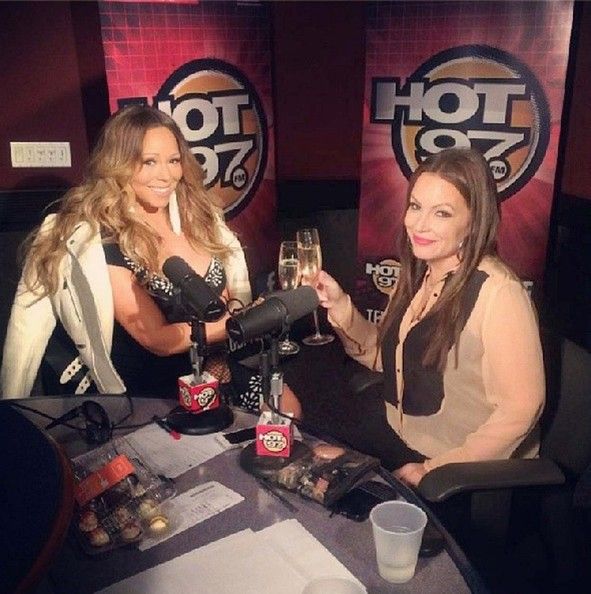 In other shady news, MiMi made her way to Hot 97 studios to do some promo for her upcoming album Art of Letting Go yesterday. She chatted up Angie Martinez about many things, but it's what she said about working on "Idol" last season that is classic Mariah.
She confirmed what we all thought--that she never signed on (for lots of cash) thinking she would be the only female on the panel. And working on the show was HELL for her with all the Nicki Minaj feuding..
"Honestly, I hated it. I thought it was gonna be a three-person panel. They gave me a nice dangling monetary moment."

"It was like going to work everyday in hell with Satan. Nah, I'm just playing. It didn't affect me that much. I was disappointed. But I loved the contestants. It was disappointing when for political reasons they wouldn't put people through."
We're sure her version of "Satan" rocked a pink wig and was named Nicki Minaj. Shhhhhhhade.
Oh, and she wishes her husband Nick Cannon (who calls himself Mr. Carey) would stop oversharing to the public so much about their relationship.
"I look at certain relationships in the public eye and I go, 'See that's class when you don't need to talk about the relationship that much. I would prefer he silencio just a little bit."
Ha. Peep the interview below:
The Randomness:
1. Rashida Jones will unveil her brand new jewelry collaboration with DanniJo at a Nov. 13 dinner at Chateau Marmont. STORY
Photos: Hot 97's IG/Porsha's IG