First Lady Michelle Obama Hits "106 & Park" + Forest Whitaker, Sanaa Lathan & Anthony Mackie In "Repentance" (TRAILER)
Nov 20 | by _YBF
First Lady Michelle Obama stopped by "106 & Park" to promote education and President Obama's "North Star Goal". Watch the interview inside and see Anthony Mackie, Sanaa Lathan and Forest Whitaker in "Repentance".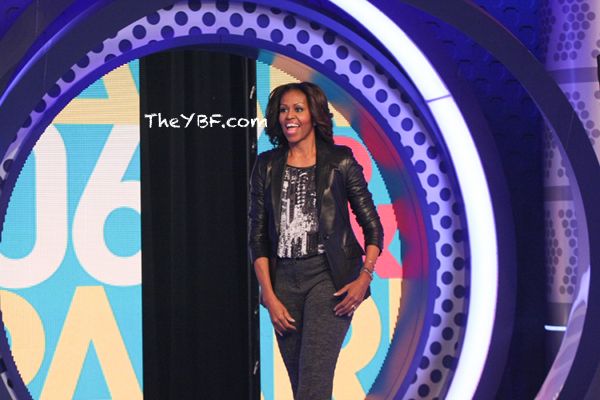 First Lady Michelle Obama, looking trendy in Burberry's 'Fitted Nappa Leather Jacket' with Melange wool trousers' and a black and white graphic tee, appeared on a special 1-hour episode of "106 & Park" yesterday.
And she was there to tout President Obama's "North Star" goal to place America back at number one as the country with the highest proportion of college graduates in the world by 2020. Mrs. Obama Mrs. Obama engaged in a discussion with the audience alongside Jeff Johnson and hosts Bow Wow and Keshia Chante.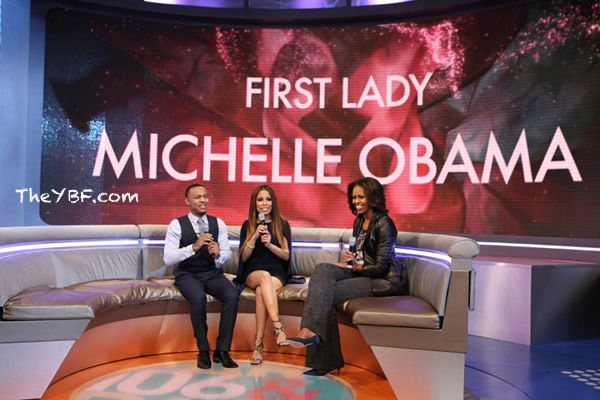 The First Lady told the audience of teens, "I want all people to understand that there is nothing more important they will do for themselves than to focus on their education. It starts with taking high school seriously, doing your homework and being in class on time."
She added, "I have to say, I was a pretty serious student … I wanted to make sure that I didn't peak in high school. You don't want your best days to be in high school. I wasn't doing too much partying in high school, I was trying to get myself into college."
School 'em Mrs. O!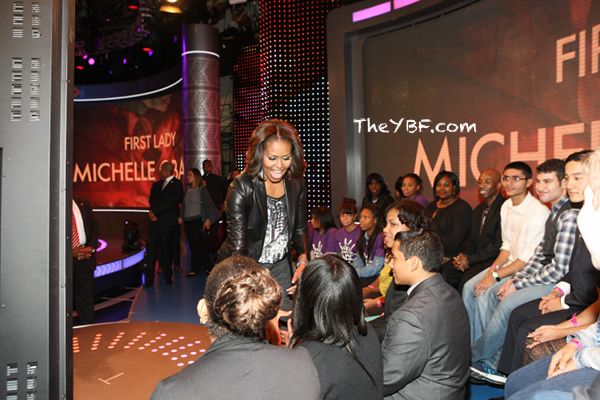 The First Lady ended by sharing with the audience that you never stopping learning, growing or questioning yourself. "I'm still discovering what I want to be. I'm still thinking about what I want to do when I leave the White House."
But she is looking forward to one thing after this Presidential term is over. She revealed, "Anonymity. Being able to walk out your front door without agents and … go to CVS to buy some toothpaste." We doubt you'll EVER have that level of anonymity again Mrs. O...
Peep the videos below:
The First Lady's advice to her younger self....
At the movies.....
Forest Whitaker is putting Hollywood on notice. We already expect him to get an Oscar-nod for "The Butler", and after you watch the trailer for Repentance, it's pretty obvious that he's gunning for a nomination in 2015 too (provided the Academy or others don't overlook this flick).
The film stars Forest with Sanaa Lathan, Anthony Mackie, Mike Epps and Nicole Ari Parker and it's a scary thriller. Here's the synopsis:
"Years after a drunken car crash that almost took his life, Thomas Carter has reinvented himself as a therapist/spiritual advisor who advocates a synthesis of world religions and positivity. He's parlayed this vocation into a successful book release that one day draws the attention of Angel Sanchez, a profoundly troubled man fixated on the "untimely" death of his mother. When Carter takes on Sanchez as a personal client in an effort to raise funds for his indebted brother Ben, things quickly take a turn for the worse. Angel needs much more than a simple life coach."
The movie drops in February 2014. Check out the exciting trailer above....
Photos via Bennett Raglin/BET