Kevin Hart Hilariously STANS OUT For Beyonce At MCSWT In L.A. + Alicia Keys' "I'd Die Without You"
Dec 04 | by Natasha
Kevin Hart is a damn riot! He made his way to Beyonce's Mrs. Carter Show World Tour stop at the Staples center last night. Find out how Kevin reacted when she threw her sweat-towel at him stage side, plus Alicia Keys' newest unreleased song "I'd Die Without You"...
Not sure how Bey kept a straight face through all of this, but Kevin Hart had everybody cracking up during her show last night. He and girlfriend Eniko (and Christina Milian) were at Bey's feet at her second stage during "Irreplaceable". And when Bey spotted the comedian in the audience, she had him sing and he acted the fool: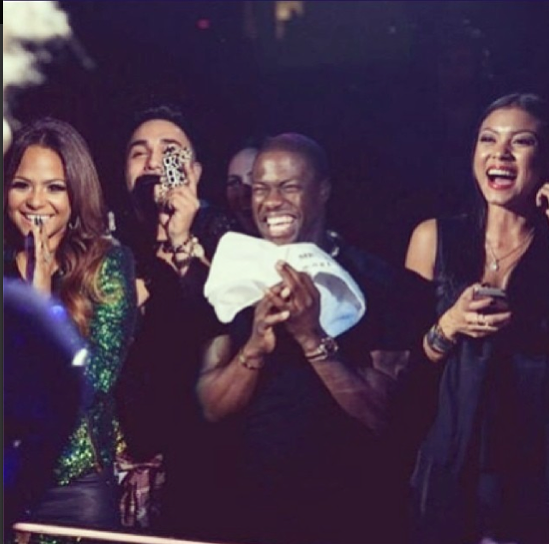 Kevin posted pics saying:
This is the face that THUGS make when they catch Beyonce's towel at her concert #DblockNi$$as #Thuggin #BeeHive #RealRapRaw #BestConcertEver

That moment when you realize that you know the words to all of Beyonce's songs.... #iFainted #iWasInTheBeeHive #iThinkiTwerkedLastNight #iWasLostInTheMoment #FuckYall #ShowWasTheShit
Ha! Check out video of the moment below:
Kevin is starring in the upcoming comedy flick Ride Along, out January 17th.
Alicia Keys went and covered one of our fave songs of all time, P.M. Dawn's "I'd Die Without You". As part of her new AK Vault website release, the singer/actress/movie producer posted the unreleased cover she recorded back in 2007.
Check out Alicia's sultry version below:
And congrats to Mrs. Keys Beats for crossing the 30 million fans mark this week on Facebook!
Photos: Kevin's IG/Alicia's FB