Former Dirty Money Chick Kalenna & Husband Tony Are Newest "Love & Hip Hop: Atlanta" Cast Members? + Scrappy To Help Family Of Woman Fatally Shot Outside His Concert
Dec 09 | by Natasha
Remember Kalenna from the Dirty Money era? She was one third of the group alongside Diddy and Dawn Richard. We've learned she's taking her talents to VH1 to join your fave foolish hip hop reality show. Details inside, plus what "Love & Hip Hop Atlanta" star Lil Scrappy is doing about the fatal shooting outside his concert this past weekend....
We've learned that former Dirty Money chick Kalenna is the newest addition to the next season of "Love & Hip Hop Atlanta". She and her husband Tony, pictured above hitting up Keri Hilson's birthday party this past weekend, will have their ow storyline when the show kicks off its new season.
Details about their storyline are not yet known, but we do know Kalenna's been trying hard for a solo career. We shall see.
But she's gone from catching the Last Train To Paris to...sharing screentime with "former" strippers. Hey, it works for some...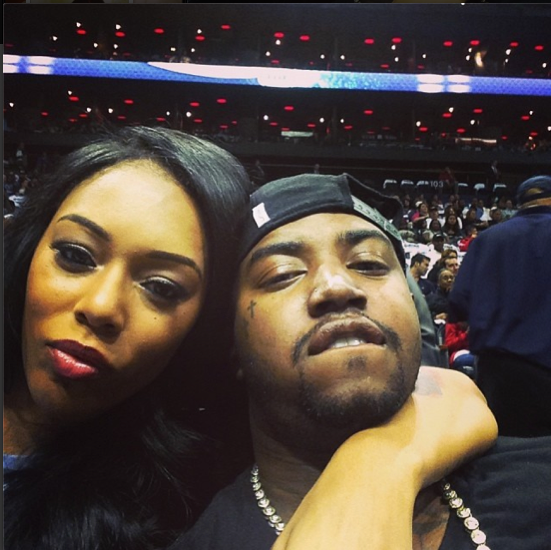 And speaking of "Love & Hip Hop Atlanta", its current star Lil Scrappy is working to make things right after a fatal shooting outside his San Fransisco concert this past weekend. While giving a concert at a Vallejo park on Friday night, a gun battle went down in the area. One woman ended up injured and a 34-year-old woman was shot and killed.
Vallejo police Lt. K. Bartlett said:
"...The women likely got in the middle of the gunfight and may not have been the intended targets.

Multiple cars were shot up during the gunfight and different caliber bullets were located at the scene, indicating multiple shooters, Bartlett said.

The rapper, Lil Scrappy, who is known for his role on the VH1 reality show Love & Hip Hop: Atlanta, was performing at the Foley Cultural Center at the time of the shooting. The concert ended early as a result of the shooting, Bartlett said."
Scrappy is stepping up to help out the family of the slain woman. His label reps reportedly said to 4umf on behalf of Scrappy:
"It is disgusting what happened Friday night at the Dan Foley Park concert. On behalf of Lil Scrappy, we at Chinga Chang Records will be assisting with costs related to the shooting. Our thoughts and prayers are with the family of the victim who lost her life to such a senseless and heinous crime and hope for immediate justice to these terrorists."
Meanwhile, Scrappy spent yesterday singing the praises of his newest chick Bambi. He posted the above pic saying:
Hol up hol up b4 y'all jump to another conclusion I just wanna say this women is the bomb always take great care of me an makes sure I'm good she's a very great person to me an my daughter an she's instrumental to my life

Thanks Bam for being around when there was no camera n I needed somebody these fake ass fans only c tv they dnt knw u for the real u or the other people on tv they r watchers we are doers
Clearly a slight at Erica Dixon, his baby's mother and ex. And that's all we'll say about that...
Photo: Scrappy's IG/Dbtfilmz