Idris Elba Chops It Up On "Chelsea Lately" + Jeezy Reportedly Blaming His Baby Mama For Arrest Over His Son
Jan 08 | by Natasha
The yumminess that is Idris Elba made his way to "Chelsea Lately" last night. Check out what he had to say about his Golden Globe jitters, plus an update on that Jeezy arrest situation....
Mandela star Idris chopped it up with Chelsea Handler--who did way less flirting than we thought she would--last night. And he revealed he's super nervous about Sunday night's Golden Globes (despite winning one already a couple years ago).
And they didn't discuss his baby mama situation, but they did discuss how he and Chelsea go way way back....to the days he was a bouncer at Caroline's comedy club.
Check out the video above.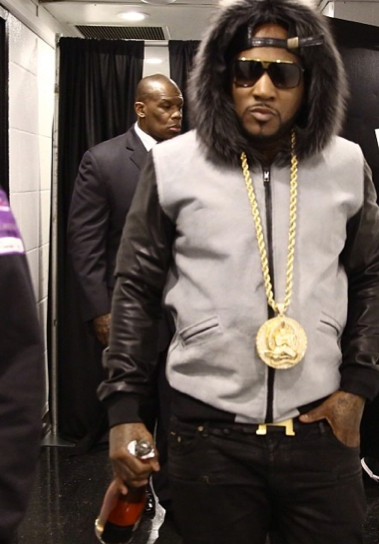 Meanwhile, sources are saying that Jeezy is telling folks he in no way brutalized his 17-year-old son Jadarius...but he surely kicked him out of his house for being a "punk kid with an attitude".
Jeezy turned himself in to Atlanta authorities a few days ago after a warrant for his arrest was issued on charges of battery, terroristic threats and false imprisonment.
The legal paperwork accuses Jeezy of slamming his son into a glass shower door, beating him in his face several times, and preventing him from leaving. But TMZ reports Jeezy is blaming his baby mama, Tanesha Dykes, for being the "b*tch" who exaggerated what happened.
Sources connected to Jeezy tell TMZ ... the rapper and his 17-year-old son Jadarius did indeed get into a nuclear argument in Sept., 2012, but it never turned really violent. We're told it started when Jeezy told the teenager he had turned into a punk kid with an attitude and he didn't want the kid staying at his house.

Our Jeezy sources say Jadarius became belligerent and the two starting screaming at each other. Jeezy claims he never hit, choked, or dragged his son, but admits he shoved him to the ground when Jadarius got in his face.

Our sources claim at the bottom of it all ... Tenesha Dykes, whom they say is brainwashing the son against his dad and trying to squeeze every penny she can get from Jeezy.
Goodness.

The Randomness:
1. Chris Brown is due in court today in D.C. after that October fight incident outside a club. STORY
Photos: Jeezy's IG/Idris' IG