A voodoo doctor from Detroit gave "American Horror Story: Coven" star Gabourey Sidibe a pass to smash anyone she wants in New Orleans! Watch the interview here and see what Waka Flocka said appearing on "LAHH ATL" and getting married.
"Coven" star Gabourey Sidibe stopped by "The Arsenio Hall Show" last night where she dished about filming the hit show in New Orleans and visiting with psychics and voodoo doctors during her downtime (including the head voodoo priestess of New Orleans - a white woman from Detroit!).
She revealed that one psychic gave her some interesting advice about sex and relationships. She said about her convo with the psychic,
"Well, you're not going to find [a boyfriend] here. You might as well f--k who you want then. "I was like, are you giving me the bang pass?.....A psychic told me to be a slut. How do I explain that to my gonorrhea doctor? He's already really mad at me."
Teeheee.....
The season finale of "AHS: Coven" airs Wednesday at 9pmCT.
In other interviews...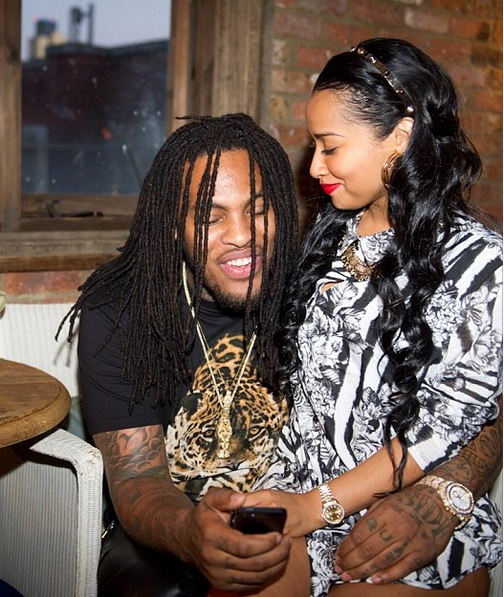 Waka Flocka chatted it up with 93.9 WKYS in D.C. about his fiancee Tammy Rivera and their upcoming wedding and appearance on "LAHH ATL". Here are the highlights:
What about the rumors of Mona Scott trying to get you on Love and Hip Hop ATL?

Yea I'm on it. My fiance' she on it, so you know I'm backing her up 110%. She like baby you gotta do it, I'm on there…but I'm not doing it by myself.

You're not worried? Because you know how they say reality tv can mess things up?

They know not to play with me. I'd go sit behind that metal for mines. But its not even about that. To me, a person can't do nothing you don't let them. Like if you said it out your mouth, you meant it. Nobody can make you say nothing. The cameras cant make me say nothing I don't mean so I'm not worried about it. I don't play with nobody. I'm a stand up person. I'm super loyal.

Did you ever think you would be getting married?

Hell Naw! I'm like, I'm a scumbag. Nobody want me man but it's like, you don't know what you want until it walk in your face. You don't know your taste until you get that smell. You know, that food ain't good until you smell it. You like damn, I need to try that. I guess it always takes one person to change your opinion and your mind on things and I met my one person.

Is Waka involved with the planning of the wedding?

Hell No. I suck! I'm not even romantic. That's the only thing my girl complain about. I have no romance! Ya, know bevaise I grew up so hard..like my momma so hard too…All I know how to do is get her flowers .

What was special about your fiance' to make you say, 'You're the one'?

If I say one or two things, I'd be a liar! It's numerous. She's everything in one body.
Photo via Tammy Rivera's Instagram