Porsha Williams Is Really Attempting A Music Career...Single "Flatline" Due Next Month + Beyonce & Jay Z Top BILLBOARD Power List
Jan 24 | by Natasha
So, "RHOA" star Porsha Williams just dished about her upcoming music single & EP. So yeah, she's serious about making us hear that voice of hers. Deets inside, plus how Kim Zolciak is throwing SHADE....
Oh Porsha. That sound you call a mix of Beyonce, Rihanna and whoever else you thought o at the reunion show last year is finally getting its shine. or something.
The newly divorced "RHOA" star told The Dish that not only is she releasing a single....but she's releasing an entire 5-song EP.
"I just finished the first single. We're going to be releasing the single within the next two weeks! I'm so excited!"
Oh.
The first single is called "Flatline", and a songwriter apparently helped her pen her feelings about her breakup and the epic fallout with Kordell Stewart.
"I've been working on this song throughout the whole divorce and the whole season [of RHOA], mapping out my emotions and putting in things that I've gone through," she explains of her "soulful" sound. "It's really kind of a documentary of everything that I went through to become who I am now.

"It's emotional and it's me really being vulnerable and just saying the things that a lot of people feel when you have a heartache and break up with someone," she adds.
Well, this should be interesting. Especially since Porsha said this isn't just for show and she's "serious" about her music career:
"I know that I'm taking myself seriously. This is not my first time in the studio—I've done demo tracks before," Porsha explains. "I didn't become a Housewife and say, 'Oh, I want to sing!' I just decided I had the time to put into it, to actually release something this time. When you go through something like I did, you lean on music. It was really important to me and I decided I wanted to share that with everybody else."
But former "RHOA" star and "Tardy For the Party" legend Kim Zolciak is still throwing shade:
"@RLBANKZ: These "housewives" stay trying to put out music but no one will beat @Kimzolciak's #TardyForTheParty"
But Porsha didn't go with Kandi Burruss to help her with her music like Kim did:
"We didn't work together on any of these songs, but she did stop by the studio once or twice while I was working on a couple songs and gave me a few angles and pointers," says Porsha. "[Kandi] was such a great friend—pushing me and telling me she believed in me. She was very encouraging."
And how she feels about her music:
Porsha says she broke down when she heard her new track for the first time and can't wait to see how other react when it's released next month. "When we first put it together, I literally cried," she says. "I was like, 'Wow, this embodies everything that I have ever felt, and any of my girlfriends have ever felt, when they were coming out of a breakup. It's just a beautiful song."
So....who's ready to blast "Flatline"?!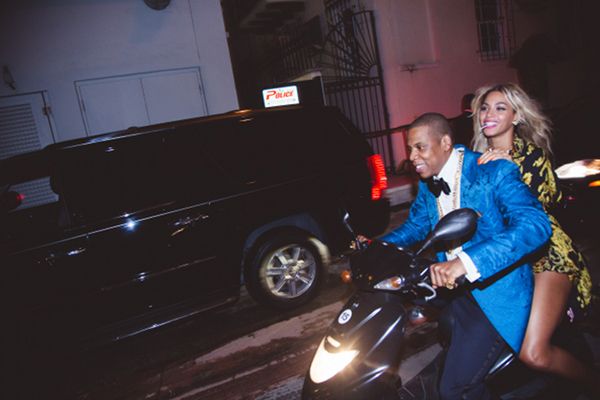 Beyonce & Jay Z are still riding high from their epic success in 2013. Bey changed all the rules with her secret yet record-breaking release of her visual album Beyonce. And Hov changed the rules of what makes platinum sales platinum with his Magna Garta Holy Grail album and collabo with Samsung.
So it's only right BILLBOARD recognizes them as the top of the Billboard Power 100 list.
"She took a high risk and was highly rewarded for it," said Guy Oseary, who manages Madonna and U2. "I love what she did. Thank you, Beyoncé—it brings much-needed excitement and buzz to our industry."

"Artists have always had the power but courage is in short supply. It's just that the hip-hop generation believes in the possibilities," said Jay Z's longtime associate Lyor Cohen. "Jay and Beyoncé don't listen to the noise—they make the noise."
Congrats to the Carters! The full list is over at BILLBOARD and the issue hit stands today.
Photos: Porsha's IG, Bey's Tumblr/Billboard