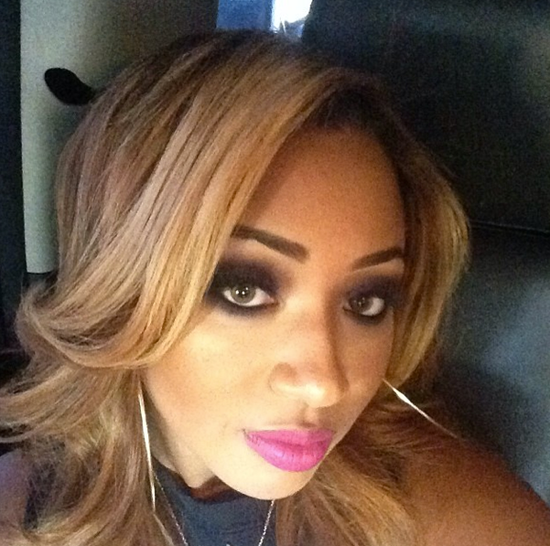 Looks like Brittish Williams owes taxes on her house in Missouri and she is addressing her behavior on the latest episode of "BBW: L.A." Find out what she had to say inside…
"Basketball Wives: L.A." newbie Brittish Williams makes claims to be a "business woman" with many businesses but one good rule to follow when handling your business is to pay your taxes!
Brittish owes the state of Missouri $1,816.84. for personal property taxes she skipped out on paying. Now, a lien has been placed against her property as a result of unpaid taxes. As of today, the lien is still present via the department of taxation website.
(CLICK DOCUMENTS ABOVE FOR FULL SIZE)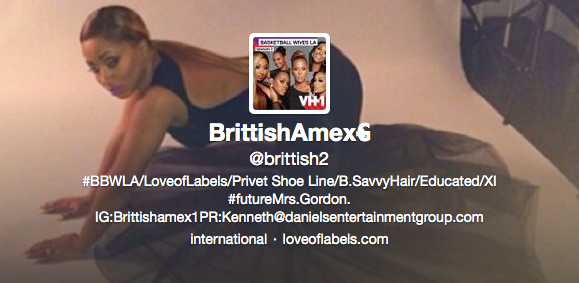 Also, her online clothing store (which she promotes on her social media pages daily) Love of Labels Boutique has received an "F" rating by the Better Business Bureau!
The company has received 30 complaints over the last 8 months including shipping issues, problems with the product and failure to respond.
According to the BBB, factors that lowered Love of Labels Boutique's rating include:
23 complaints filed against business
Failure to respond to 7 complaints filed against business.
Business has failed to resolve underlying cause(s) of a pattern of complaints.
BBB does not have sufficient information to determine how long this business has been operating.
BBB does not have sufficient background information on this business. BBB made two or more requests for background information from the business. BBB has not received a response from this business and/or has not been able to verify information received from this business.
BBB does not have sufficient information to determine size of business. BBB evaluation of business is based on rating formula's smallest size classification.

Customers have complained on Twitter and Instagram: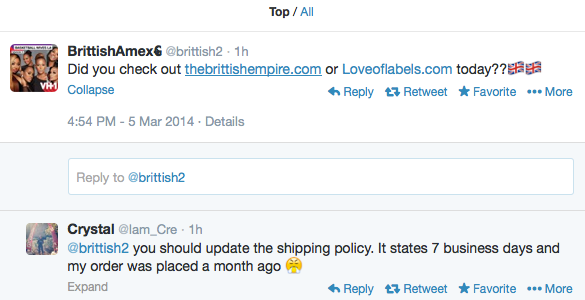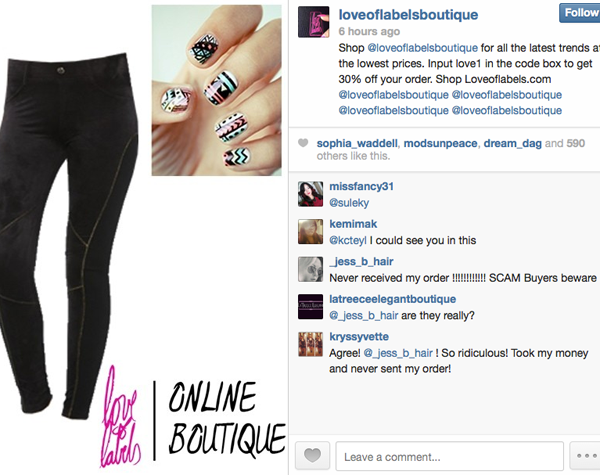 Brittish claims she had issues with her distributor and that business grew faster than she could expand.

She released a statement to Fox 2 Now on her iffy business practices saying:
"I would like to sincerely apologize as the founder/creator of Love of Labels to all those who were affected by the delay in items shipped. Love of Labels takes this matter very seriously, which is why we have switched to a larger manufacture that allows us to ship ALL orders the next business day. I can assure you that your concerns are not being overlooked and that we are working effortlessly to accommodate every request."

Do you think she really had distribution issues or do you think some shady business going on?
Also…
Brittish and "BBW: L.A." newbie Brandi Maxiell have been at each other's necks since the first episode.
The two got into a heated argument during Brittish's Turkish themed tea party, which has prompted Brittish to publicly speak on her actions.
Brittish took to her blog and said:
Tonight was a very interesting episode, if I must say so myself. I was embarrassed by the way I behaved last episode. I didn't even want to discuss it. But sometimes we all have bad days that we aren't proud, so it's time to let go and move on.

She threw in a little shade towards Draya:
In other scenes, I see I am the topic of discussion tonight: Aunty D (Draya), Brandi and Malyashia. I was amazed that Aunty D had the nerve to give me advice about how to be mature and last episode she expressed that she had just started wearing underwear??? MMMMMM . . . And why does she care if I hang out with Jackie??! Everyone in the group is AT LEAST 6+ years older than me. And we all know Jackie isn't 50. . . Stop it.
Funny. Hope Brittish realizes being a business woman actually means handling your business.
Thoughts?