MESSY: "Basketball Wives: L.A." Cast Draya, Malaysia & Brandi Call New Co-STAR Brittish "The Chubby One" On "Arsenio"
Mar 05 | by _YBF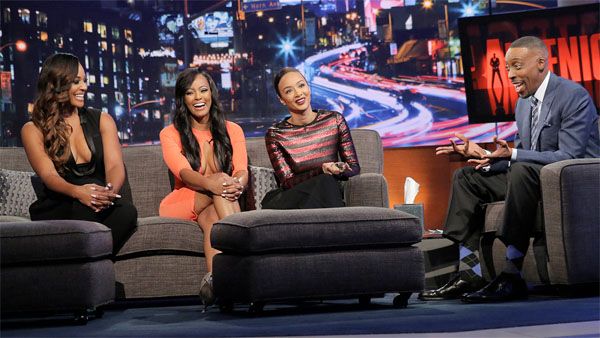 Draya, Malaysia Pargo and Brandi Maxiell hit up The Arsenio Hall Show last night and the ladies wasted no time throwING shade at their new cast mates on the show, Sundy Carter and Brittish Williams, or as they named Brittish--"The Chubby One." Messy!
Check out the interview inside...
Apparently, the ladies of "BBW:L.A." aren't getting along because Arsenio Hall said it was suggested to him to have the ladies come on the show in two different groups. We could have told him that...
The first group -- Jackie Christie, Sundy Carter and Brittish Williams -- stopped by the show a few weeks prior.
Draya, Malaysia and Brandi hit the show last night and wasted no time throwing shade at the other ladies. They said they don't even know their new cast mates that well so they don't understand why the other ladies are doing TV shows and interviews discussing them in a negative way. Draya then named Brittish "The Chubby One", as she did on a recent episode. Very mean-girl of her, seeing that Brittish isn't calling her "The Stripper One"....
Draya said:
"It's a big shady tree we all rest under. We all can't really fit, so we just try to do our own thing over here and we try to let them do their thing over there."
Draya says she's friends with Malaysia and Brandi, and who the other ladies are friends with (referring to Jackie Christie) is NOT something to brag about.
Draya revealed her and her boyfriend Dallas Cowboys cornerback Orlando Scandrick are doing well and will be celebrating their one-year anniversary. All despite his alleged cheating ways.
Arsenio asked Draya did Orlando offer her money to leave the show and she responded:
"In a jokingly way, he said 'We're not doing this anymore, it's a set up for you to be sabotaged and God has a different plan for us and me and my relationship and my family.'"
Or...he didn't want anymore chicks coming forward claiming he cheated with them....
Check out the BBW ladies on the show below:
So does this mean this is Draya's LAST season on "Basketball Wives: L.A.?"
BONUS:
Peep this clip from the last episode of "BBW: L.A." when Jackie tells Draya that her boyfriend is CHEATING on her...with her daughter Chantel. And by cheating, Chantel meant he was atempting to get at her by saying things no "taken" man would say:
Womp!
Photo: Arsenio Hall Show