Chad Ochocinco Says He STILL Loves Ex-Wife Evelyn Lozada & Explains Why He Just Can't Stay Faithful To One Woman
Apr 02 | by _YBF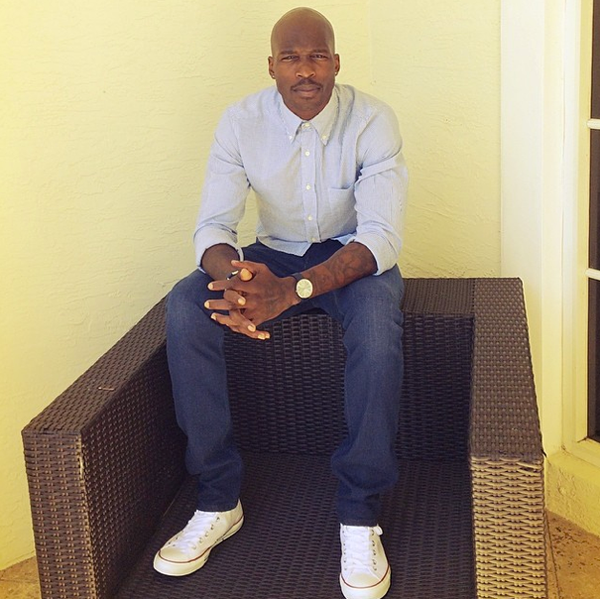 Former NFL star Chad Ochocinco is speaking out about his love for his ex-wife Evelyn Lozada, even after she has moved on with baseball player Carl Crawford. Find out what he said about Ev and his explanation of why he can't remain faithful inside…
Disgraced football star and former reality TV star Chad Ochocinco is opening up in a candid interview about the love he still has for his ex-wife Evelyn Lozada (who recently delivered a baby boy she shares with LA Dodgers baller Carl Crawford).
After Ocho and Ev's failed 40-day marriage, his 2012 arrest for domestic violence (for headbutting Ev) and going back and forth on Twitter on how he hates Ev one minute and then loves her the next, he's finally admitting that he does still have love for her and that he messed up.

Ochocinco sat down with Peter Bailey in South Beach for his NiteCap series and talked about wanting to finish his career in the NFL, how he's not disciplined enough to stay faithful to one woman and that he still loves his ex-wife, despite everything that went down.
Here are the highlights:
On if he still loves his ex-wife Evelyn:

"Love don't go nowhere like that. I will always love her. Matter of fact, I love every goddamn body to an extent. It ain't going no where. I got to know another Evelyn besides what everybody else knew. I don't care how she operate. I don't care what it looked like to society. I don't care how it all played itself out. I don't care the fact that she's moved on. I love that being."

On why he can't remain faithful:
"Discipline, I lack it. Dealing with one woman…it didn't have anything to do with South Beach or living in Miami. I don't care how fine you are..for every fine woman you see there's a dude who's tired of that same woman. Human nature is undefeated. What I've always done, even in past relationship, was tell the truth from jump. I never lied. Why sell you a dream? There are men out there that are willing to give their all and have the discipline to be able to give them that story book ending, that fairytale as I so call it. I think I'm good for that for about a good 6 months but at some point I don't care how fine you are, I'm going to lose interest."

On if he was himself on reality TV:
"Anytime I was on that camera, there was no script. I ain't role playing, I'm giving you Chad…that's raw and un-cut. Anything came out my mouth was raw and un-cut, never had a script."
Six months? He only gave Ev 40 days...
Check out the full interview below:
Photos: Ochocinco's IG/Evelyn's IG