Kandi & Todd Tucker's OFFICIAL Wedding Photo & $20,000 Gown + Did Bridesmaid Fantasia Ruin Reception With A DRUNKEN TOAST?!
Apr 09 | by Natasha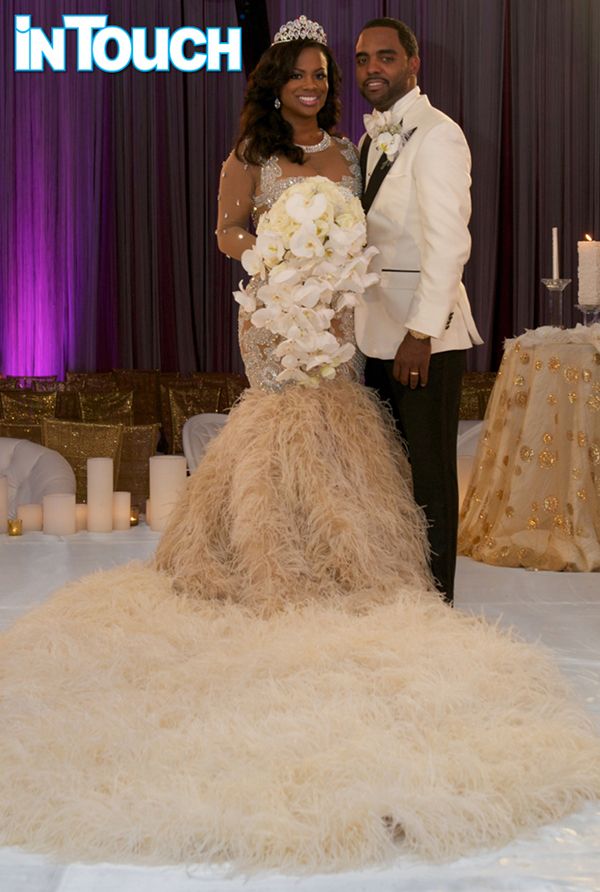 So that wedding (mini) dress Tameka "Tiny" Harris posted of Kandi Burruss' wasn't the wedding dress afterall. Kandi's ACTUAL wedding dress is a $20,000 feathered custom creation by Reco Chappele. Check out the Tucker's official wedding photo, plus the drama with Kandi's bridesmaid Fantasia!
Kandi & Todd became Mr. & Mrs. Tucker on April 4th. Now, their official wedding photo is out. And that wedding gown is full of dramatics. Kandi, who sparkled from her tiara to her toes, said, "The whole thing was like a fairy tale!"
And a custom $20,000 Reco Chappele custom wedding gown with a 12-foot train and bottom half made of ostrich feathers is indeed fairy tale like.
The nuptials, which didn't go down without shade thrown from Mama Joyce, took place at Atlanta's Le Fais Do-Do event facility in front of 300 guests. It will air on Kandi's upcoming wedding spinoff special on Bravo.
Kandi revealed to In Touch Weekly about planning this huge wedding in just a month, "I didn't know if I was going to be able to pull this all together....I couldn't wait around hoping things would get better. I just had to do it and hope for the best."
Agreed!
And Mama Joyce may have had some shady ish to say afterwards, but at the ceremony and reception, the mother of the bride was on her best behavior. Moms told In Touch Weekly, "Time will tell if Todd gets my blessing, but if Kandi's happy, then I need to be happy for her."
This woman...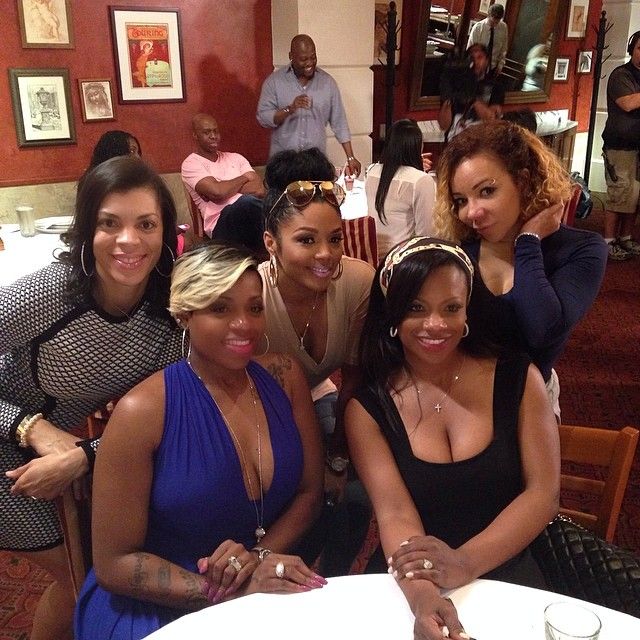 Kandi's bridesmaids--who all wore white--included matron of honor Tamera Wynn, maid of honor Carmon Cambrice (wonder what Mama Joyce had to say about THAT!), former Xscape groupmate Tiny, Fantasia Barrino, Love & Hip Hop Atlanta's Rasheeda Frost, and RHOA's Phaedra Parks and Joyce Dallas.
We've also learned co-stars NeNe Leakes and Kenya Moore were not at Kandi's wedding.
And speaking of Fanny....we hear she CUT UP at the reception!
Tabloids were reporting that Fantasia--had allegedly too much to drink--was cursing and using completely inappropriate language throughout her toast. Kandi was supposedly horrified and left the wedding.
However, Sherri Shepherd--who attended the wedding--revealed today on "The View" a little nugget of info. She said she's bound by a confidentiality agreement she had to take a picture with (LOL), but she knows Kandi did NOT leave her wedding. She was dancing the night away.
Sherri said she was not going to confirm or deny the story about Fantasia (her body language totally confirmed it though), but she posed the question of whether you would allow your bridesmaid to give a toast if you KNOW their behavior changes with alcohol.
Ha!
*UPDATE* Kandi has now told media that she was NOT offended by Fabtasia's F-bomb filled wedding speech. They've been friends a long time, and the bride loved it all.
Photos: S2S; In Touch Weekly; Tiny's IG