MORE Donald Sterling Audio Released! NAACP L.A. Branch IXNAYS His Upcoming Lifetime Achievement Award, Obama Denounces Racist Remarks
Apr 27 | by Natasha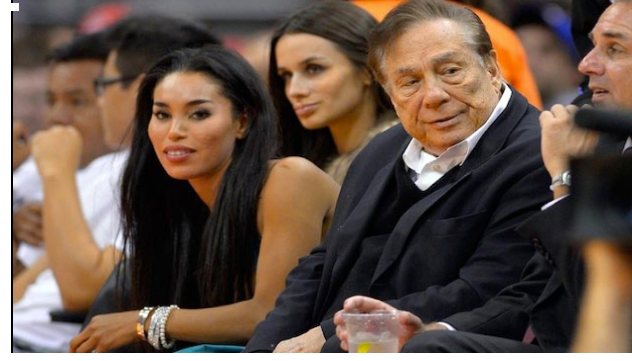 The foolery continues. MORE audio has been released in the racist case of L.A. Clippers owner Donald Sterling. Check out the latest extended tape inside where Don says he puts food on black people's tables and MUCH more, plus the NAACP's latest statement about his Lifetime Achievement Award....
While pouring this man Don Sterling some juice and catering to everything he wants, we can hear Don showing his true colors to 20-something girlfriend V.Stiviano on the extended leaked audio. Don really is trying to convince this woman, who we're pretty convinced only SOUNDS like she's baiting him but she likely just sounds like this all the time, that he's NOT a racist.
He actually believes that it's only the rest of world who's racist. And he's simply catering to who and what the racist people (who he obviously values) want and don't want to see.
GF: "I don't understand, I don't see your views. I wasn't raised the way you were raised."

Sterling: "Well then, if you don't feel -- don't come to my games. Don't bring black people, and don't come."

GF: "Do you know that you have a whole team that's black, that plays for you?"

Sterling: "You just, do I know? I support them and give them food, and clothes, and cars, and houses. Who gives it to them? Does someone else give it to them? Do I know that I have—Who makes the game? Do I make the game, or do they make the game? Is there 30 owners, that created the league?"
And there's more. V., who is half black and half Mexican, explained that she didn't remove MLB baller Matt Kemp from her Instagram pics (after their original fight over her posting IG pics with black people)...because he's MIXED and LIGHTER THAN HER:
V: Honey, if it makes you happy, I will remove all of the black people from my Instagram.

DS: You said that before, you said, "I understand."

V: I DID remove the people that were independently on my Instagram that are black.

DS: Then why did you start saying that you didn't? You just said that you didn't remove them. You didn't remove every—

V: I didn't remove Matt Kemp and Magic Johnson, but I thought—

DS: Why?

V: I thought Matt Kemp is mixed, and he was OK, just like me.

DS: OK.

V: He's lighter and whiter than me.

DS: OK.

V: I met his mother.

DS: You think I'm a racist, and wouldn't—

V: I don't think you're a racist.

DS: Yes you do. Yes you do.

V: I think you, you—

DS: Evil heart.

V: I don't think so. I think you have an amazing heart honey. I think the people around you have poisoned minds.
They then went on to a conversation of equating Don's beliefs, especially as a Jewish man, to that of the Holocaust. He wasn't pleased.
DS: It's the world! You go to Israel, the blacks are just treated like dogs.

V: So do you have to treat them like that too?

DS: The white Jews, there's white Jews and black Jews, do you understand?

V: And are the black Jews less than the white Jews?

DS: A hundred percent, fifty, a hundred percent.

V: And is that right?

DS: It isn't a question—we don't evaluate what's right and wrong, we live in a society. We live in a culture. We have to live within that culture.

V: But shouldn't we take a stand for what's wrong? And be the change and the difference?

DS: I don't want to change the culture, because I can't. It's too big and too [unknown].

V: But you can change yourself.

DS: I don't want to change. If my girl can't do what I want, I don't want the girl. I'll find a girl that will do what I want! Believe me. I thought you were that girl—because I tried to do what you want. But you're not that girl.
Check out Deadspin's full audio HERE.
Meanwhile, folks were up in arms this weekend when it was discovered that the L.A. branch of the NAACP was set to give Donald Sterling his SECOND Lifetime Achievement Award this month. After much outcry, the NAACP's California Conference President has put out a statement calling for all black fans to NOT go to games, as Sterling requested. And the L.A. branch has retracted the award:
#DonaldSterling will not be receiving a lifetime achievement award from the LA Branch of the NAACP. #MTP

— NAACP (@NAACP) April 27, 2014
Sterling has a long public history of lawsuits and accusations involving racial discrimination. So the question remains, why was this man ever considered for this award in the first place....and for the SECOND time?
President Obama has even weighed in on the matter, all the way in Malaysia today, calling Sterling's remarks "racist" and "incredibly offensive".
"I don't think I have to interpret those statements for you. They kind of speak for themselves.

"When ignorant folks want to advertise their ignorance, you don't really have to do anything, you just let them talk."

"I suspect the NBA is going to be deeply concerned in resolving this."

"We just have to be clear and steady in denouncing it, teaching our children differently but also (remain) hopeful that part of why some statements like this stand out so much is because there has been a shift in how we view ourselves."
Agreed!
In other news, the NBA has ordered Sterling to "stay home" instead of attending today's Clippers playoff game at the Oracle Arena in Oakland....