Foolery Reaches EPIC Level On "Basketball Wives: LA" Reunion: Sundy's Boyfriend Accused Of Joining Fight, Audience Crashes Stage & Draya Films Reunion SOLO
Apr 29 | by Natasha
If you missed last night's BBW: LA" reunion show--which was just as disappointing as the entire season--pat yourself on the back. But for those who want to know about the ratchetry that went down....and why certain reality stars do not need a platform to spew their venom....check it inside....
For last night's "BBW: LA" reunion show, Moderator John Salley had to go back to his BOXING OUT days to separate the women, the audience, and apparently a man.
Tensions amongst the ladies -- and we use that term loosely -- have been at an all time high over the last few months. To the point where they are not even allowed to do appearances together...or mention each other's names in interviews.
So last night, all were brought together at Phillippe Chow in Beverly Hills for the reunion show. All but Draya....who has attempted to wear the Queen Bee crown all season. The stripper turned alleged mistress turned reality chick who seems deadset on becoming NFL boyfriend Orlando Scandrick's wife said she didn't want to be around a bunch of women who did nothing but made it a point to send her to a place she doesn't like to be in. She wanted to be "comfortable in her own home". So Shaunie O'Neal hopped on the opportunity (you already know her mess-loving self did) to blow that up. She interviewed Draya--solo--for her own reunion portion.
Basically, Draya had the opportunity to talk as much ish as she wanted to with out having to say it to the women's faces and suffer consequences.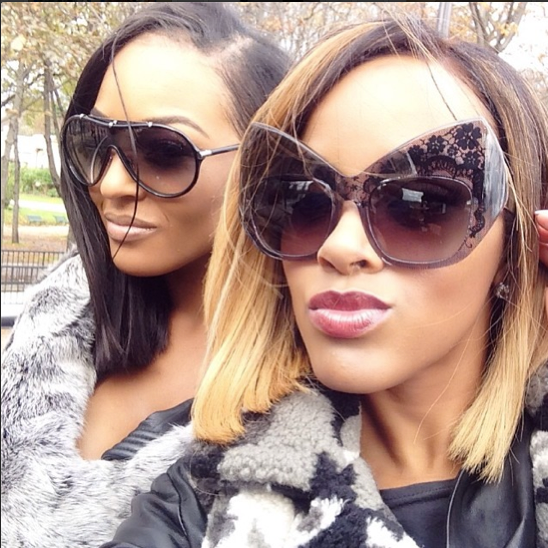 Back on the main stage...Malaysia Pargo admitted she and her husband Janero Pargo have been having their issues. And despite the many rumors circulating they have split, she was still wearing her wedding ring. And she said when they're ready to say something, they will.
Then all hell broke loose once Brandi Maxiell called out Sundy Carter for being a mistress. Sundy got super heated....because you know mistresses who are actually mistresses...never like to be called what they are. One thing led to another and shoes came off and an all out brawl took place. WITH the audience getting involved too and crashing the stage (they were messy the whole time to be honest). Jackie Christie claims that Sundy's boyfriend 'grabbed up' Brandi in the middle of everything:
"I didn't see the actual blows being thrown, but Sundy told me that she swung a shoe and hit Brandi with the shoe in her face. I don't know because I didn't see it, but I do know that it was straight chaos. It was a free-for-all. People were fighting, Sundy's boyfriend grabbed Brandi up, you know, and told her 'you're not going to touch her.' She was cursing at him; it was crazy. People were fighting, camera guys got hit by accident trying to film. It was an all out brawl pretty much."
Chile...
Brandi and Malaysia returned alone--with no audience--to discuss what had just happened and their future on the show (they wouldn't reveal of course). And Brittish, Sundy and Jackie returned separately to give their last take on everything. And Sundy still doesn't fully grasp why attacking Brandi for not being able to have more kids to her CANCER TREATMENTS....is beyond "attacking below the belt". It was quite gross to listen to....and it became even more clear that not everyone deserves a platform.
Oh...and Brittish thought it was cute for her "fiancee" Lorenzo to propose to her for a second time on the show...to make up for getting caught cheating with some chick in Houston. Again.
Sundy tweeted during the show:
I came with the intent to make peace but ya intentions were to fight clearly!!

— SUNDY CARTER (@SUNDYCARTER) April 29, 2014
Um, ok. Check out the full reunion show below.
Photos: Malaysia's IG/Sundy's IG/Draya's IG