Robin Roberts REVEALS On "Ellen" Why She Waited Almost 10 Years To Come Out Of The Closet
Apr 29 | by _YBF
Robin Roberts revealed she was in a same-sex relationship back in December. Now the "GMA" host is opening up on why she waited so long to go public with her relationship with girlfriend Amber Laign. Find out what she said inside…
Earlier this year, "GMA" anchor Robin Roberts opened up about her not-so-secret 9-year relationship with massage therapist Amber Laign.
Despite going through very public health challenges (breast cancer and myelodysplastic syndrome) and the death of her mother, Robin was able to keep her relationship a secret until one day she decided to take "one for the team". She revealed via her Facebook that she was happily in love with a another woman saying," I have never been happier or healthier than I am right now."
But why was it a secret for so long?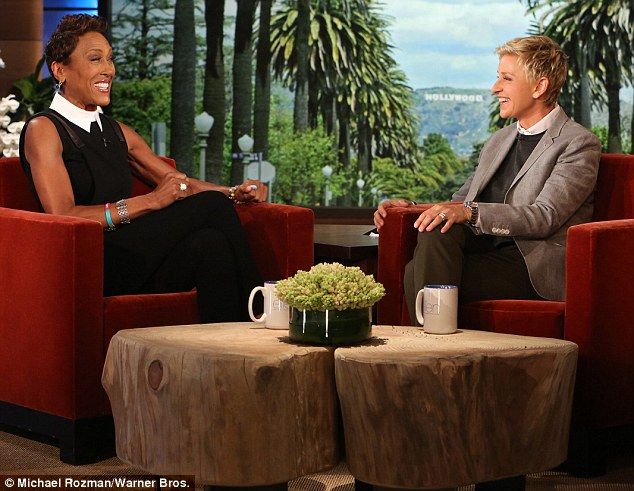 In an interview airing on "The Ellen Degeneres Show" today, 53-year-old Robin revealed she waited so long because her girlfriend is not a fan of the spotlight.
She said,
"Well because she doesn't really like spotlight. Like she's here right now. I can't get her to come out. You know not everyone wants to be in the spotlight."
"She's very, very supportive and she's been right there beside me every step of the way and it was actually the end of the year on my Facebook and I had been thanking my doctors, and nurses, my sister who was a perfect match and rightfully so."

"I asked her I said, I really want, I want to say thank you and in the book she takes the caregivers point of view and it's really funny that sometimes we didn't see the same thing eye to eye and I thought it was very powerful for people because there's so many that care for their loved ones and so to see her side of it and to see my side of it it was pretty interesting."
How sweet. Robin then went on to explain how she met the love of her life on a blind date:
"Mutual friends set us up on a blind date. I liked the fact that she had no idea who I was. She rarely followed sports, so she never saw me on ESPN, and her office mates at the time watched a different morning show … ouch!"
The "GMA" host has penned a new book titled Everybody's Got Something, and in the book she has a page dedicated to her girlfriend who stood by her side through everything she has had to endure.
Sweet!
Check Robin on "Ellen" below:
Photos: Robin Roberts' Twitter