Is THIS The Dream's NEW Chick He's Dating AFTER His Baby Mama Drama? + The Dream SPEAKS After Assault Arrest
May 09 | by _YBF
Does The Dream have a new chick? It's clear he and his baby mama Lydia Nam have called it quits. Find out who his alleged new boo is inside…
Right before producer The Dream turned himself in to police for allegedly attacking his baby mama Lydia Nam...he posted a picture (below) of whom we thought was his ex-Lydia.
It's possible that they could have kissed and made up (i.e. Ray Rice & Janay Palmer) since their physical altercation, but it seems the super producer has a new lady in life.
We have learned he's possibly in a new relationship with a young lady named LaLonne Martinez (above).
LaLonne seems to be the mystery woman in the picture since she also posted the exact same pic on her IG two weeks earlier: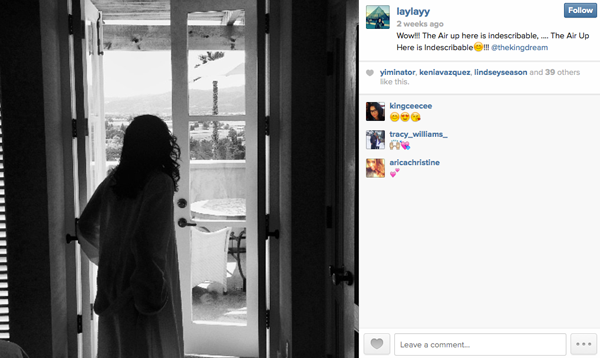 And there's more...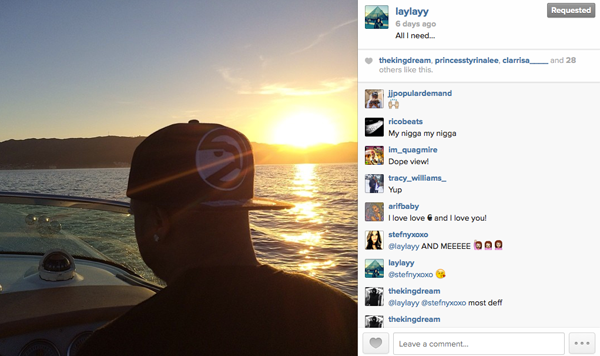 Lay Lay also posted the picture above of what looks like the back of Dream's head (y'all know he loves a hat) as they admired the sun setting on a boat captioning, "All I need..." Also note The Dream 'liked' and commented on her pic as well. He also "Liked" all of her pics of the flowers her secret boo--very likely The Dream--sent her at work.
Wonder if his new chick is current on the details behind his recent arrest and his collection of ex-wives and baby mamas (Christina Milian, Nivea, etc.)...
Also…
The Dream is speaking out after turning himself in on the alleged allegations from his baby mama Lydia Nam.
He took to his Instagram and posted a picture of the definition of the word "con" with the caption,
"As my mother would say "you've taken my sweetness as a weakness" I feel sorry for whoever has to live without Love in their heart. Yet I might smile to keep from crying, that hurt isn't caused by one thing or one person it's caused by the others who choose to speak at me as if I am worthless. I gave my whole life to all of you through myself and others. I have sang you to sleep, I have sang at your weddings, I've empowered women through words and through others, on top of that my LOVE for the woman period is infinite, my only fear I carry is my Mother Reva M Nash looking down on me and being a shame of me. If I have no life outside of music it's because I've given almost everything to you, I would give any and everyone the shirt off of my back. Retain the sympathy I picked this life so I am fine with the non sympathizing , I am blessed and I have seen things others can only dream of and I know I am fortunate. My mind and heart is clear and I will not retreat and I will not Kneel to the face of Injustice .When the light shines on these days in the near future I will welcome you all back with open arms so you can understand what love is. I've already forgiven you. #FreeDream #black #under-attack #CONSIDERTHESOURCE #LOYALTY #PROONYX"

Thoughts?
Photos: LaLonne's IG/The Dream's IG