UNTOUCHED & UNBOTHERED: T.I. SLAMS Black Eye Rumors With Instagram Video + Tiny Kicks It Poolside UNFAZED After T.I. & Floyd Mayweather Brawl + Floyd CELEBRATES In Strip Club
May 26 | by _YBF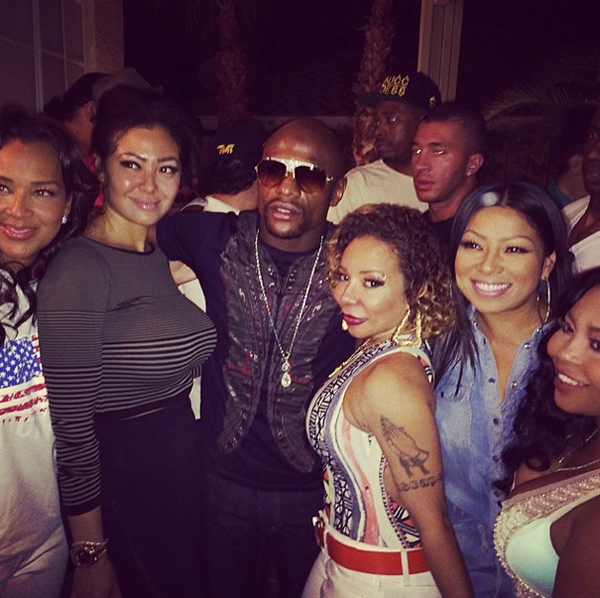 After all of the madness that went down between Grand Hustle and The Money Team Saturday night, T.I. and Tiny have both responded on social media. Floyd Mayweather got in on the action too. Find out what they had to say inside….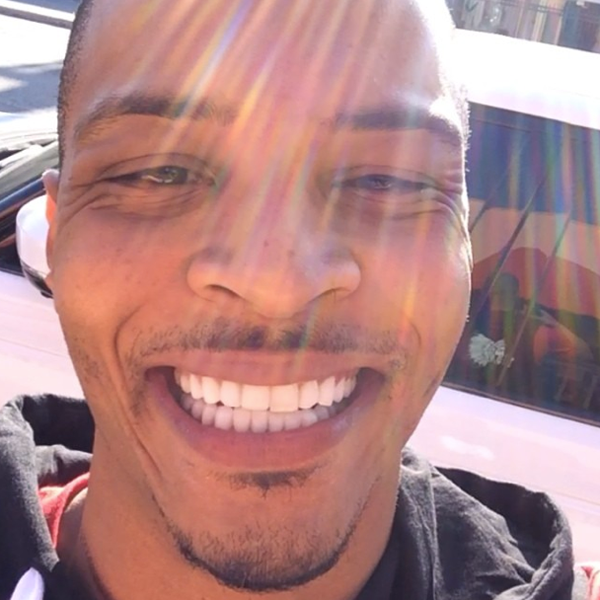 It was damn near World World III in Vegas this Memorial Day Weekend. T.I. allegedly confronted boxing champ Floyd Mayweather about his wife Tiny which resulted in a full-out chair throwing brawl inside a Fatburger restaurant.
We believe Tip confronted Floyd about hanging out with his wife a little too much, especially after Floyd was caught on camera yelling, "You need to control yo b*tch!" Ouch.
Tiny and her girls partied at Prive nightclub with Floyd on Friday night and then on Saturday night Mrs. Harris hit up Floyd's daughter Iyanna's 14th birthday bash at the MGM ballroom. Tip was scheduled to host in Vegas at Prive on Saturday night as well.
Well…he never made it to Prive. Before making his way to the club, he stopped by Fatburger (where Floyd was eating) and all hell broke loose.
The next day, Floyd spoke out about the incident, insinuating Tip had two black eyes and that was the reason he cancelled his club appearance. Of course the Kang of the South wasn't going to let that ish fly, so he posted a video to IG to prove he has NO black eyes…but did admit he messed up his hand.
He posted the video below with the caption, "T.I. black eyes: Two black what?????? C'mon now. Never in da history of Nigga-dom. But nice try tho. Lol"
His wife Tiny also hit up IG to show she clearly isn't fazed by her man "defending her honor." Posted up poolside in a neon bikini with a friend she wrote, "Me & @msdecordon Just Kicking It in the room! Unbothered "
We bet.
Mrs. Harris also hit the comments on her IG responding to critics who blamed her for starting the fight between her husband and the boxing champ.
In one response she said, "I aint put that n*gga in sh*t! U see that n*gga in the media with different b*tches don't come at me with that sh*t about no pix with a friend...f*ck you & whoever feel like u!!!"
And in another response she ranted, "nicca you should be asking why I put up with him! F*ckutambout!!! U been seeing him in the net time after time on f*ck sh*t!!! So f*ck you hoe & how you feel! You can shove that respect up yo a**!" See the screenshots here.
And what did Floyd do on the night after the fight? He made it rain in the strip club to Chris Brown's "Loyal":
His new girl got in on the action too:
Sighs…
Photos/Video: Tiny's IG/T.I.'s IG/Floyd's IG/@adotportah