Columbus Short's ESTRANGED Wife INVESTIGATED For ATTACK Video + Antoine Dodson Says He Doesn't Want His Son To Be GAY
Jun 01 | by _YBF
For Sunday Shockers...Antoine Dodson says he wouldn't be "shocked" if his son was gay, but will "help him" if he is, while Columbus Short's estranged wife is being investigated for her own violent behavior. More inside....
By now, we all know Columbus Short has a hot temper. And you'll recall that his estranged wife Tanee McCall isn't afraid to open a can of whup-ass either. Now, the fight video we posted (between Tanee and Columbus' friend Tilly Key) reportedly has LAPD's interest.
A few days ago, Tilly went to the cops after she noticed some "suspicious" followers on Twitter and began receiving strange phone calls. The last straw was when Tanee "favorited" one of Tilly's tweets. Tilly immediately shut her down...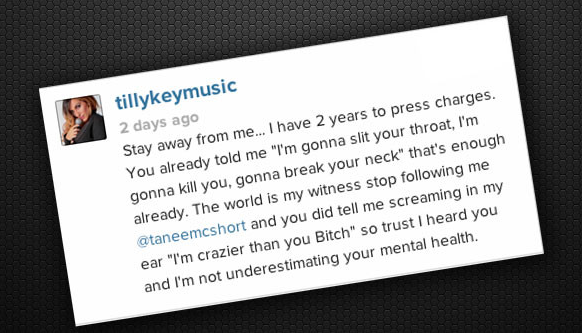 Tilly has filed a police report and the cops want to speak with Tanee! SMH....this will be messy.
In case you missed it, here's the fight clip:
In other shockers....
Antoine Dodson is saying out loud what many people are already thinking.
As we watched him renounce his "homosexual lifestyle" and father a child over the course of a few months, he told TMZ that's he wouldn't be surprised if his son dabbled in the "lifestyle" and he 'd try to help him. "I wouldn't be shocked because I lived that life before," adding, "I would try and get him help."
While Antoine believes gays can be "fixed", he added that he'd love his son either way. "Even if he couldn't be fixed it doesn't matter because I still support him no matter what."
Alrighty then....
Photos via Antonie's Instagram/Getty/TMZ