BRAIDLESS IN GUCCI: Beyoncé Gets WHITE HOT At Chime For Change 1 Year Anniversary Party With Solange, Donates $500,000
Jun 03 | by Natasha
Beyoncé switched up her look for Gucci's Chime For Change anniversary party tonight. The "XO" chick took out the braids and let it flow while rocking a white hot look by Gucci.
Check out her fab look inside...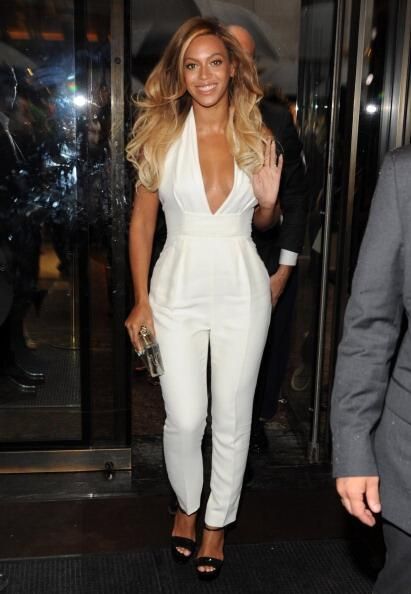 At the Gucci store on 5th Avenue in NYC, Beyonce rocked a sexy white jumpsuit for Chime For Change's 1 year anniversary party. And it was all hosted by Gucci Creative Director Frida Giannini and T Magazine Editor-In-Chief Deborah Needleman, which explains why the pop queen is covering the new issue of T magazine this week.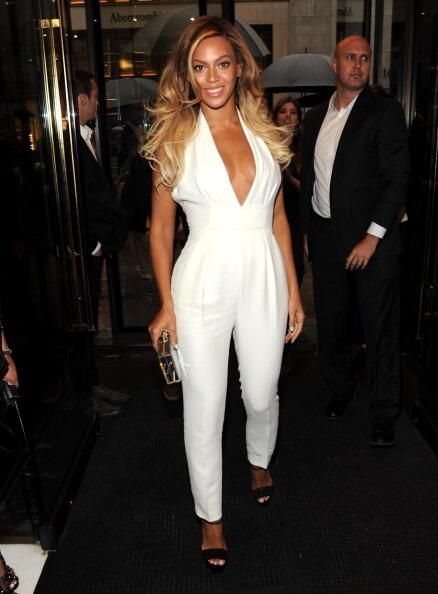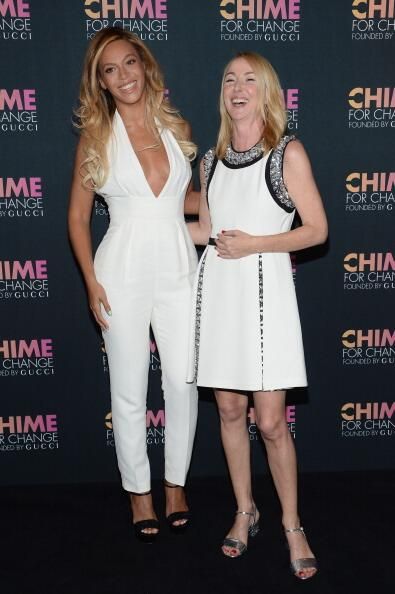 She laughed it up with Gucci Creative Director Frida Giannini, as both ladies, along with Selma Hayek, founded the Chime For Change organization.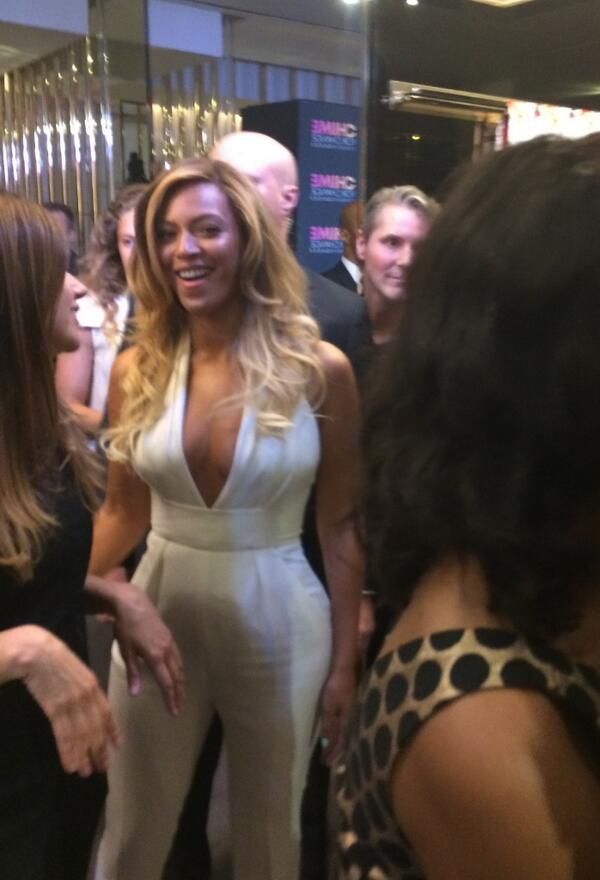 And little sis Solange was also there to support and rock a special guest DJ set in this cute orange and cream summery look.
The sisters, who are making their first public appearance since levatorgate (outside of their personal pics in New Orleans), chatted up actress Blake Lively.
Over the last year, Bey has participated in a commercial for the organization, whose mission is to raise funds and awareness in support of projects for girls and women around the world through sharing "powerful stories" about inspiring females. And she's rocked out with the Sound for Change concert, as well as told her own stories. Mrs. Carter shared her take on gender equality last April for the campaign saying:
"I have always felt strongly about equal opportunity for women. Girls have to be taught from early on that they are strong and capable of being anything they want to be. It's up to us to change the statistics for women around the world. I'm honored to be in the company of women who live fearlessly and set an example for the next generation of young ladies."
Fab look and a fab cause. And to show how serious she is about giving back to young girls, she donated $500,000 to the cause: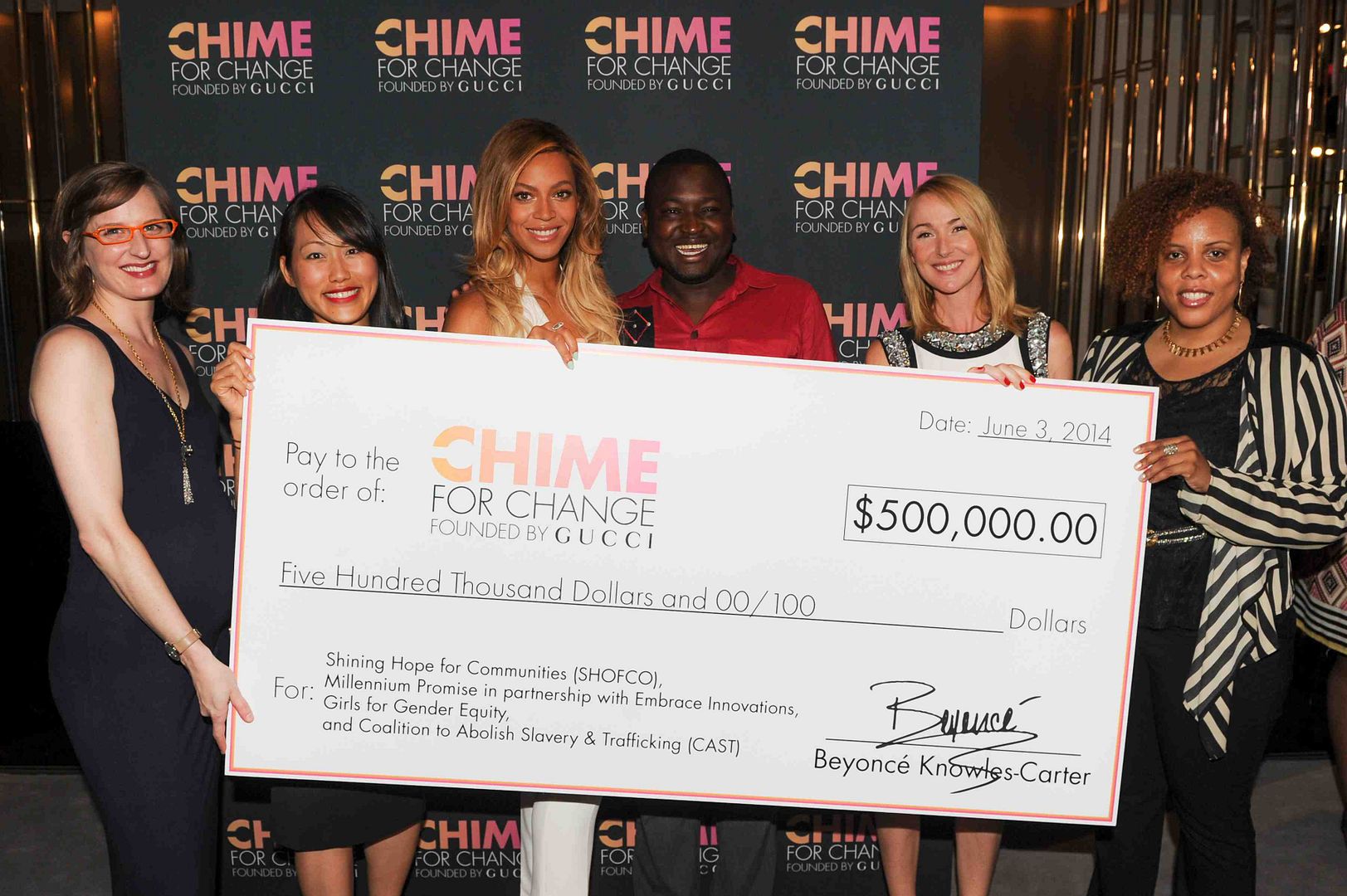 According to the press release issued by Gucci:
Beyoncé committed to donate $500,000 to fund Chime For Change projects for girls and women in the areas of Education, Health and Justice as follows:

EDUCATION: $125,000 to support 100 school girls at Shining Hope for Communities (SHOFCO) schools in Kenya for one year.
· HEALTH: $125,000 to provide 320 Embrace infant warmers to 100 rural health facilities in 11 Millennium Village sites across 10 countries in sub-Saharan Africa (Mali, Kenya, Uganda, Nigeria, Senegal, Ghana, Tanzania, Rwanda, Malawi, and Ethiopia). The Embrace infant warmers will help more than 1,900 at-risk newborns survive and thrive.
· JUSTICE: $125,000 to provide 600 Sisters in Strength Youth Leaders and Alumni in New York City with the critical educational and mentoring support, job training, counseling services, and resources they need to successfully navigate and graduate from high school and college through Girls for Gender Equity.
· JUSTICE: $125,000 to provide 25 human trafficking survivors in Los Angeles with counseling, medical care, legal services, and individual recovery treatment to rebuild their lives through the Coalition to Abolish Slavery & Trafficking (CAST).
Nice!
Twitter: @WomensWearDaily/Jamie McCarthy/Chime For Change