COVER GIRL: Beyonce Gets Understatedly Sexy For "T" Magazine
Jun 03 | by _YBF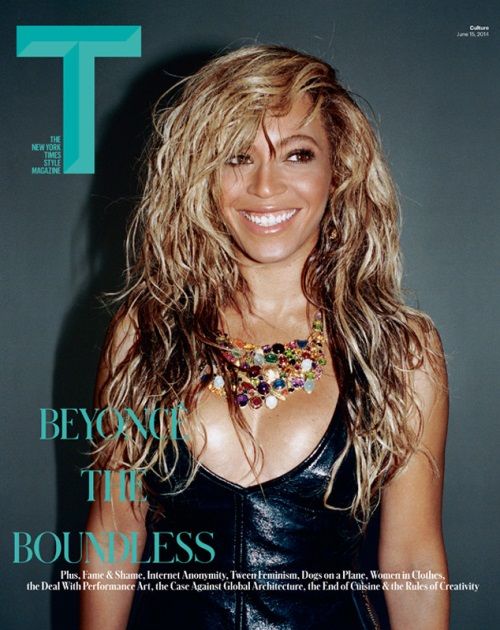 Beyonce posed for a pictorial in The New York Times Style Magazine, called T. See the understated yet super sexy photos inside....
In the midst of prepping for her "On The Run" tour with hubby Jay Z, Beyonce landed the cover of the NY Times Style Magazine this week.
Inside the pictorial, the ***Flawless singer rocked her signature blonde & brown tresses and modeled fashions from Louis Vuitton, Miu Miu and Chanel. Chick makes a white Vince tee and Louis Vuitton leather pants look like a million bucks.
A snippet of the cover feature on the Queen Bey buzzes her praises saying:
As "SNL" suggests, Beyoncé has become something more than just a superstar. She is a kind of national figurehead, an Entertainer in Chief; she is Americana. Someday, surely, her "Single Ladies" leotard will take its place alongside Mickey Mouse and the Model T Ford and Louis Armstrong's trumpet in a Smithsonian display case.
Historically speaking, this is no small achievement. Black women have always been dominant figures in American popular music, but no one, not even Aretha Franklin, has reached the plateau that Beyoncé occupies: pop star colossus, adored bombshell, "America's sweetheart."
But it also brings up her ability to be a hot topic of social media and academia:
Inevitably, Beyoncé is also a flashpoint, provoking ire from naysayers and ideologues of all stripes. In March, Bill O'Reilly decried "Partition," a song that details a Beyoncé-Jay Z tryst in a limousine, for setting a poor example for "girls of color." (Postmarital sex between consenting adults: immoral.) Last month, the black feminist author and activist Bell Hooks told an audience at a New School symposium: "I see a part of Beyoncé that is in fact antifeminist, that is assaulting — that is a terrorist . . . especially in terms of the impact on young girls." There is a growing scholarly literature on Beyoncé; the Women's and Gender Studies department at Rutgers University has offered an undergraduate course called "Politicizing Beyoncé." Beyoncé is, as a cultural studies professor might put it, popular culture's most richly multivalent "text." The question these days is not, What does the new Beyoncé record sound like? It's, What does Beyoncé mean?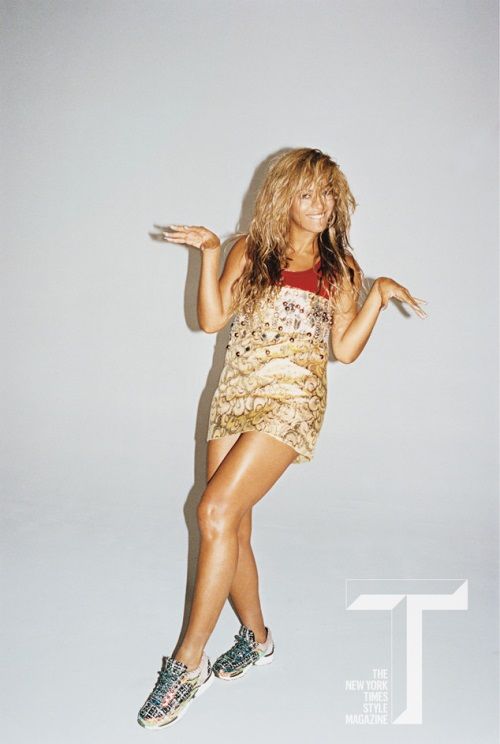 During a recent interview with Hello Beautiful, Kelly Rowland gave Beyonce and Michelle the highest praise, calling them her soul mates.
"I believe soul mates are not just in relationships, but they're in friendships. I have soul mates through Beyonce and Michelle [Williams] and [Beyonce's cousin] Angie [Beyince] and Solange [Knowles] and LaLa [Anthony]. I have soul mates. I'm so thankful for that too because I think they understand you. If there's something on my heart or my mind, before I can even pick up the phone, one of them is calling me saying, 'What are you doing? Are you ok?' We're connected and I think that's such a beautiful thing. It's the greatest gift you can have."
Love their friendship. Fab chick and fab pics.
Photograph by Juergen Teller