BOSS TALK: Swizz Beatz Talks Harvard Business School & Empire Building, Explains His Vacay With Alicia & Mashonda
Jun 04 | by _YBF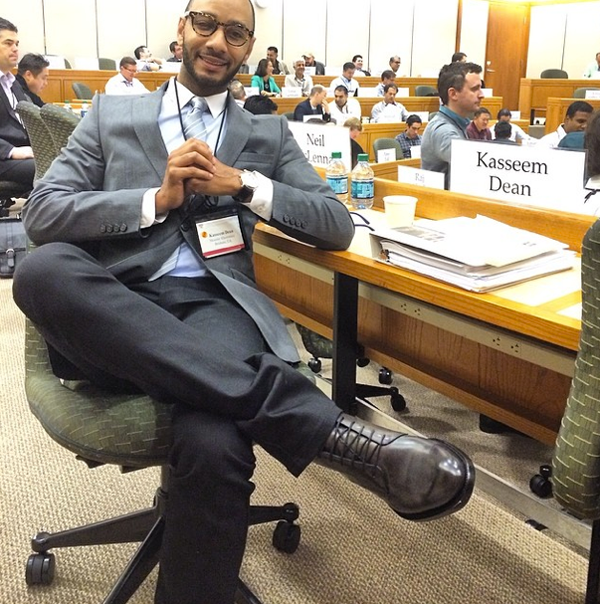 If we're going to take a lesson from anyone on how to build an empire with the most savvy and creative moves possible, it's Swizzy.
Swizz Beatz shares his college life experience being a business student at Harvard Business School in a new interview. Find out what he said about living the college life, building his empire and that controversial vacay with his wife....and ex-wife….
After partying at at Carmelo Anthony's 30th birthday bash with his wife and mother, producer turned Harvard student Swizz Beatz stopped by Power 105's Breakfast Club to share his college life experience and how he's adamant about continuing to build his brand. Alicia Keys' hubby also talked about actually living in a dorm on Harvard campus, owning his own studio, helping LaLa pick Carmelo Anthony's birthday present and working on music with DMX.

Here are the highlights:
On why he decided to go back to school:
"I just felt like you got to keep graduating your brand. A lot of people get complacent with their success and things that they have done before and I just wasn't comfortable with that because I started transitioning from being a producer to being a business owner. And I would be in theses rooms and no matter how big the deal is or how good it is people would still look at me like 'oh, he's the rapper guy,' 'he's the rapper friend.' I was like we all in this meeting because of what I'm bringing to the table. Being that I really didn't have those credentials to go with those different things, I didn't feel I was getting the respect I deserved so I said you know what, let me go sharpen my pencil a lil bit. Really walk back in these rooms a different person and a different man. And really invest that time into myself."

On if he's living at Harvard:
Swizz said he's staying in a dorm on campus and he doesn't have a room mate. He sleeps in a twin bed, has his own shower and his room is really smart. He decided to stay on campus to get the real college experience.

On his "owners program" academia:
Swizz admits that he's a small guy in his class. He said he's taking classes with people who's companies are making billions of dollars a year. A great place to network. He said it's the hardest class to get into in Harvard and you already have to already be successful and they fact check your resume.

On what made him build his own studio:
Swizz reveals he teamed up with his wife Alicia Keys and her main engineer to build the studio. He wanted to have a 5 star studio so when artist come in, they feel good.

On LaLa thanking him after she gave Carmelo Anthony his Corvette:
He said La and Melo are family so he helped her with choosing the car and hooking her up with the dealer.

On him responding to rumors about him cheating:
Swizz said he doesn't really respond on a lot of different things but the rumor about him sleeping with a fitness trainer, he couldn't let it slide. He said he kept quiet about his other "issues" due to his kids being involved and decided not to say anything (i.e. Mashonda)
On him vacationing with Alicia AND his ex-Mashonda:
"I thought that was a very positive message but even in that people still want the waters to be dark. They was saying all types of stuff. No, man there's kids involved. We got to go to graduations for a long time. We got to go to games for a long time. And our personal things that we threw in the past, that's the past. It's going on 5 years already. Mashonda, she didn't like fly on vacation, she happen to be over there already. She happen to be over there and she wanted to see our son."
So there we have it.
Check it:
Get it done Swizz!
The Randomness:
1. Donald Sterling seems to have had a change of heart after reports reveal he will now sell the Clippers to Microsoft CEO Steve Ballmer for $2 billion. STORY

Photos: Swizz's IG